Belle-Ville Pancake Cafe has been around since 1958 which originated from Osaka, Japan.

Belle-Ville Pancake Cafe opened its first Singapore outlet in Bugis Junction in 2018. It was so successful that it has even been featured on Michelin Guide Singapore 2018.

This is Belle-Ville Pancake's outlet in Square 2 @ Novena.
As you can see from the menu, Belle-Ville Pancake House specializes in millefeuille pancakes.

The millefeuille pancakes are made using fresh milk, separated egg yolks and high-grade wheat flour.
These millefeuille pancakes are purposely only cooked 80%, they will probably be the softest pancakes you have ever tasted.
You can choose to have 2 pieces, 4 pieces or 8 pieces of pancake with an assortment of toppings.
This is Grilled Apple with Homemade Caramel Pancake [S$12.20 for 4 pieces, S$16.20 for 8 pieces]. I am a little disappointed that the apple slices are candied and not fresh apples but the freshly-whipped cream and vanilla ice-cream somewhat makes up for it.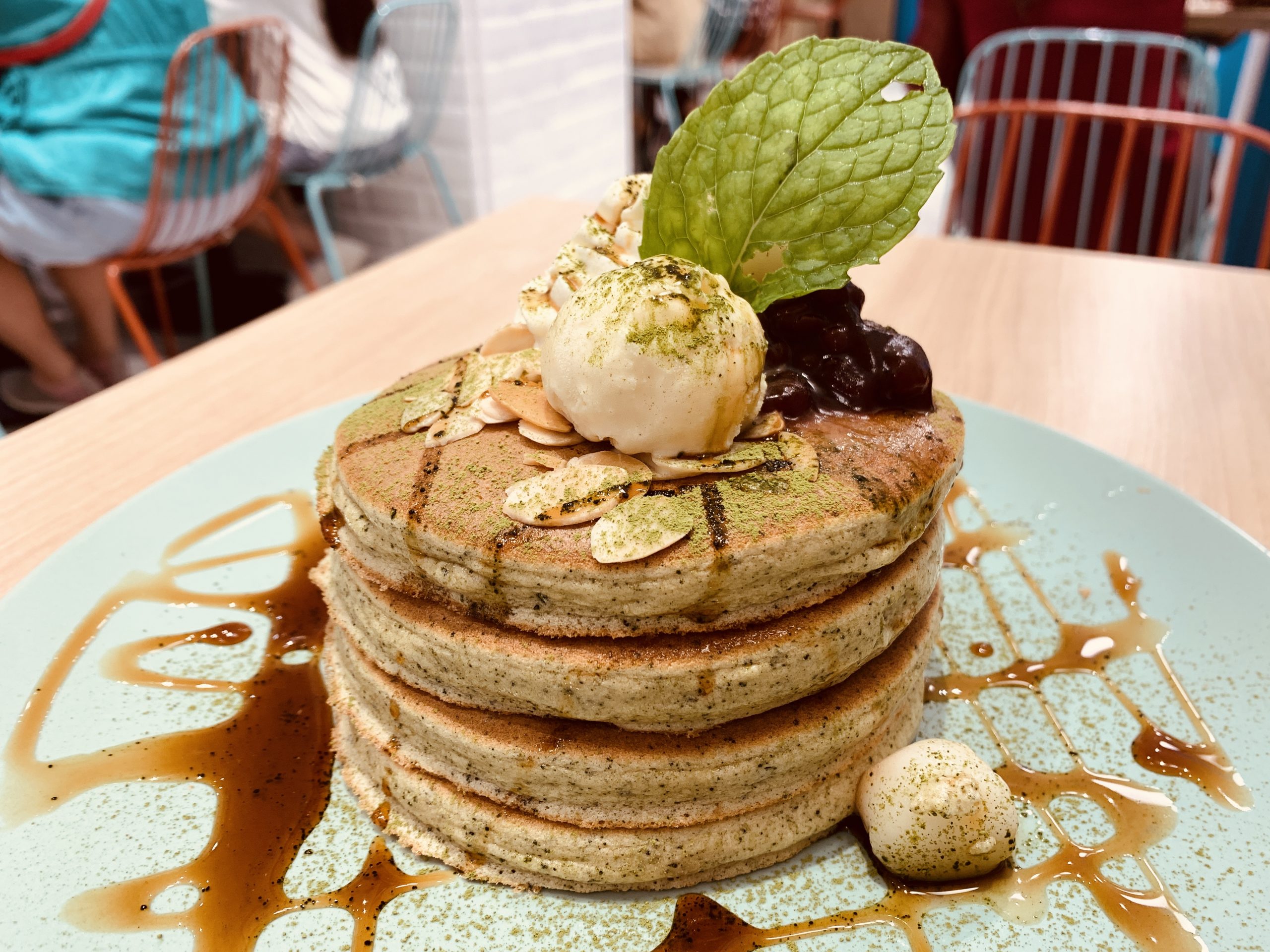 Matcha powder is blended into the batter for Matcha with Rice Ball and Red Bean Pancake [S$12.20 for 4 pieces, S$16.20 for 8 pieces].  You can't really taste the match in the pancakes but you can detect it from the greenish color of the pancakes. Topped with freshly-whipped cream, shiratama mochi and azuki red beans, it is a delightful Japanese-themed pancake stack. 
If you want to indulge, go for Strawberry and Mixed Berry Pancake [s$11.90 for 2 pieces, S$14.40 for 4 pieces] or Mango Pancake [S$11.90 for 2 pieces, S$14.40 for 4 pieces]. Rich Hokkaido cream and your choice of fruit are luxuriously sandwiched between layers of soft fluffy pancakes.

If you are looking for a drink to compliment your millefeuille pancakes, I highly recommend Belle-Ville Original Tea (Hot/Iced) [S$4.50]. 
This fragrant black tea is grown in Okinawa where perfect weather conditions, organic cultivation, mineral-rich soil and natural spring water produces the high-quality tea.

If tea is not your thing, there is a full page of cold drinks to choose from. 
Millefeuille pancakes requires a cooking time of 15-20 minutes as they are cooked upon order. 
If you are in a rush, you can get the millefeuille pancakes in the form of dorayakis named Pandora's Box. 
There are 4 flavors to choose from: 
Classic [S$4] 

Cream and Custard [S$5]

Matcha Azuki [S$5.50] 

Premium Cream and Custard with Strawberry [S$6]
You can get 3 Kind Set [S$13.70], 4 Kind Set [S$15.70] or 5 Kind Set [S$18.70]. 
These are more-thoroughly cooked than millefeuille pancakes but just as soft and fluffy.

Belle-Ville Pancake House (Novena) 
Address: 10 Sinaran Drive, Square 2 @ Novena #01-152/153, Singapore 307506
Telephone: 62598229
Opening Hours: Daily 9am – 9pm
Belle-Ville Pancake House (Bugis) 
Address: 230 Victoria Street, Bugis Junction #01-01B, Singapore 188024
Telephone: 62555456
Opening Hours: Daily 11am – 8pm
Belle-Ville Pancake House (Tanjong Pagar) 
Address: 100 Tras Street, 100AM #01-14B, Singapore 079027
Telephone: 67874389
Opening Hours: Daily 11am – 8pm