Hidden in the labyrinth of shops on the third floor of Square 2 @ Velocity, Hansang Korean Family Restaurant is not the easiest to find.

The name says "family restaurant" so I was expecting a cosy family-style restaurant but it turned out to be a grand modern restaurant in dark brown wooden colors.

The 12-page menu showcases over 80 Korean dishes and snacks, many of which are not commonly found in Singapore.
Most Singaporeans are probably only familiar with Korean kimchi pancake and seafood pancake. If fact, there are more than 10 types of Korean pancakes with different ingredients. 
Modum Jon [Small S$18.80, Large S$35.8] lets you taste 4 different types of pancakes in one sitting. I got 2 pieces of mushrooms, prawns (saewoo jon), mushroom filled with minced chicken (busut jon), fish fillet (saengson jon) and zucchini pancakes. 
Hansang Korean Family Restaurant makes their own tofu in-house everyday. Besides having tofu in the form of sundubu, you can also have it in pancake form, Dobu Jon (Tofu Pancake [Small S$11.80, Large S$21.80].
The tofu is pan-fried and topped with pickled spinach and pickled mushrooms. Have it with the accompanying homemade sweet and sour sauce, it is light and refreshing. 
I saw a video of Cholpan Kimchi Fried Rice with Cheese [S$13.80] on Hansang Korean Family Restaurant's Facebook page and it looked so good.
I was so happy when I saw it on the Lunch Promotion menu, but I was sorely disappointed by the quality. It was supposed to be a hot plate, but the plate is not hot at all. The small pool of cheese was hard and hidden under the salad, I only saw it when I had almost finished the meal. 
Another way of enjoying Hansang's homemade tofu is in the form of a tofu stew, known as sundubu in Korean. This is the Non Spicy Seafood Sundubu [S$17.80] but you can also order Spicy Seafood Sundubu, Spicy Pork Sundubu and Kimchi, Pork & Cheese Sundubu.
There are handmade tofu, prawns, mussels, clams and squid in the clear seafood broth. I just wished the soup could be served hot, it would have tasted so much nicer. 
Most Singaporeans know Boodae Jongol [S$42.80 for 2 persons, S$52.80] as Army Stew. The Lunch Promotion menu has Army Stew for 1 [S$17.80] which is perfect for solo diners like me. 
The bubbling hotpot comes loaded with sausages, kimchi, beans, mushrooms, ramyeon and fishcake skewer. It looks very red in color but it is only mildly spicy.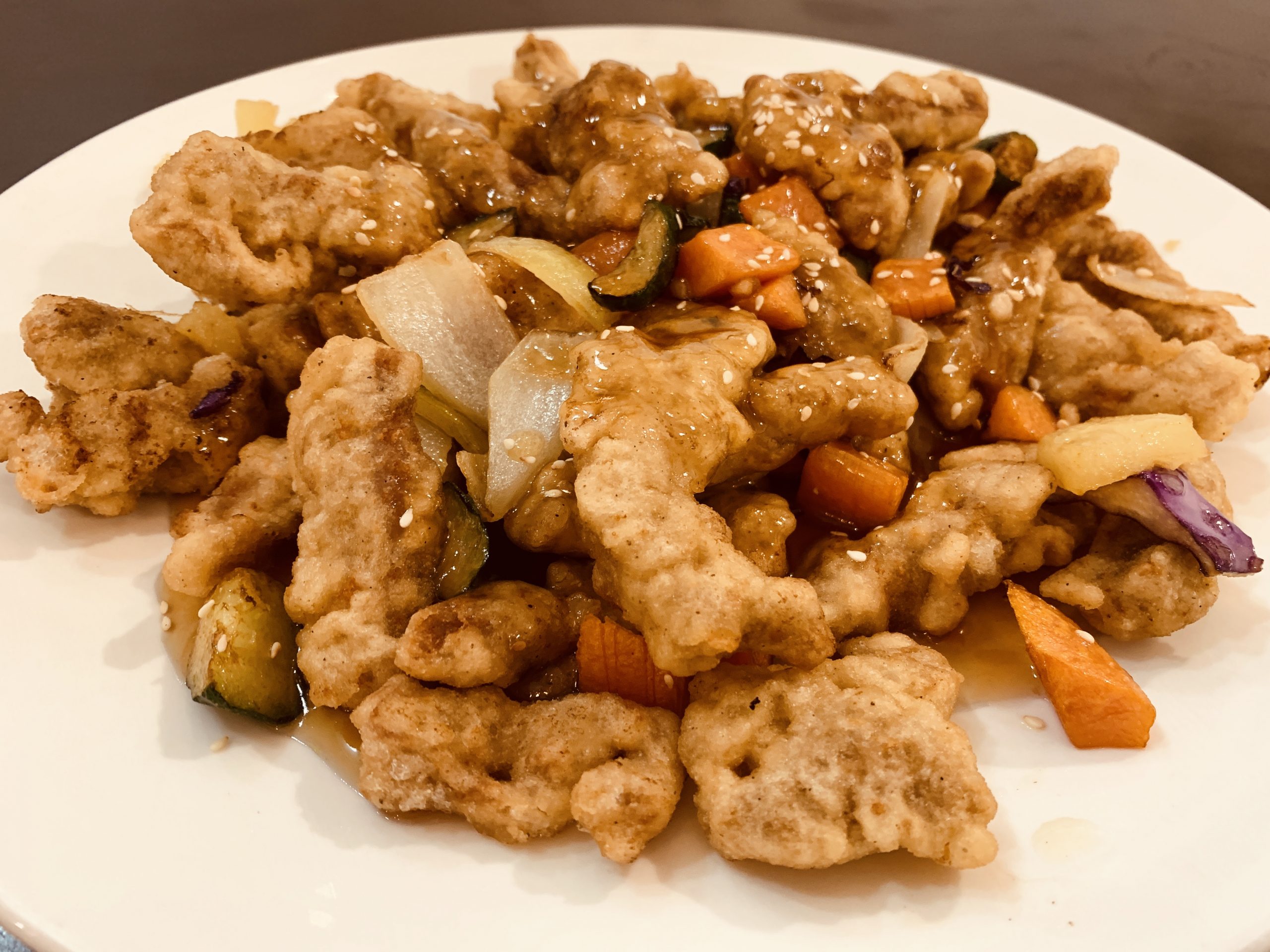 This is definitely the biggest (and most expensive plate of Tangsuyuk Pork [S$28.80] I have ever had. I am guessing it is meant to be shared between 3-4 people but it is just so good that I ended up finishing the whole plate by myself. 
I can tell that it is freshly-cooked upon order from the hotness and crispiness of the fried pork pieces. The sweet and sour sauce has the perfect balance. You won't want to stop after taking the first bite.

The Jajangmyun [S$15.80] wasn't as good as I expected. The noodles was a little too soft for my liking and the black bean sauce was a little bland.

If you happen to be around Square 2 @ Novena between 11.30am – 3pm, there is a Lunch Promotion menu which offers various Korean dishes at reduced prices. 
Even through Hansang Korean Family Restaurant is a little pricey, there is a wide variety of authentic-sounding Korean dishes. Among the dishes I have tried, I recommend Modum Jon and Tangsuyuk Pork.
Hansang Korean Family Restaurant
Address: 10 Sinaran Drive, Square 2 @ Novena #03-33, Singapore 307506
Telephone: 63976752
Fax: 63976754
Opening Hours: Daily 11.30am – 10pm
Website: www.hansangkorean.com
Facebook: facebook.com/hansangkorean