Eating is a national pastime in Singapore, as you can tell from the ever-increasing number of restaurants sprouting up all over the island. We like all kind of cuisines, but nothing beats a good buffet where we can enjoy an unlimited flow of food for a fixed price. 
Kiseki Japanese Buffet Restaurant is one such buffet restaurant. Located on the 8th floor of Orchard Central, it offers more than 200 buffet items over 29 categories. Kiseki Japanese Buffet Restaurant is part of Minor Food Group Singapore, just like Buffet Town International Buffet Restaurant. 
Kiseki Japanese Buffet Restaurant's pricing is fairly affordable, as listed below:
Lunch (11.30am – 3pm): Adult $22.80++; Child $12.80++
Dinner (6pm – 10pm): $33.80++; Child $15.80++
*Child refers to children of height 1.1 – 1.4m, children below 1.1m dine for free*
Kiseki Japanese Buffet Restaurant is easily recognisable with its huge signage and the statue of a sumo wrestler. You will pay at the entrance based on the number of people before entering the restaurant.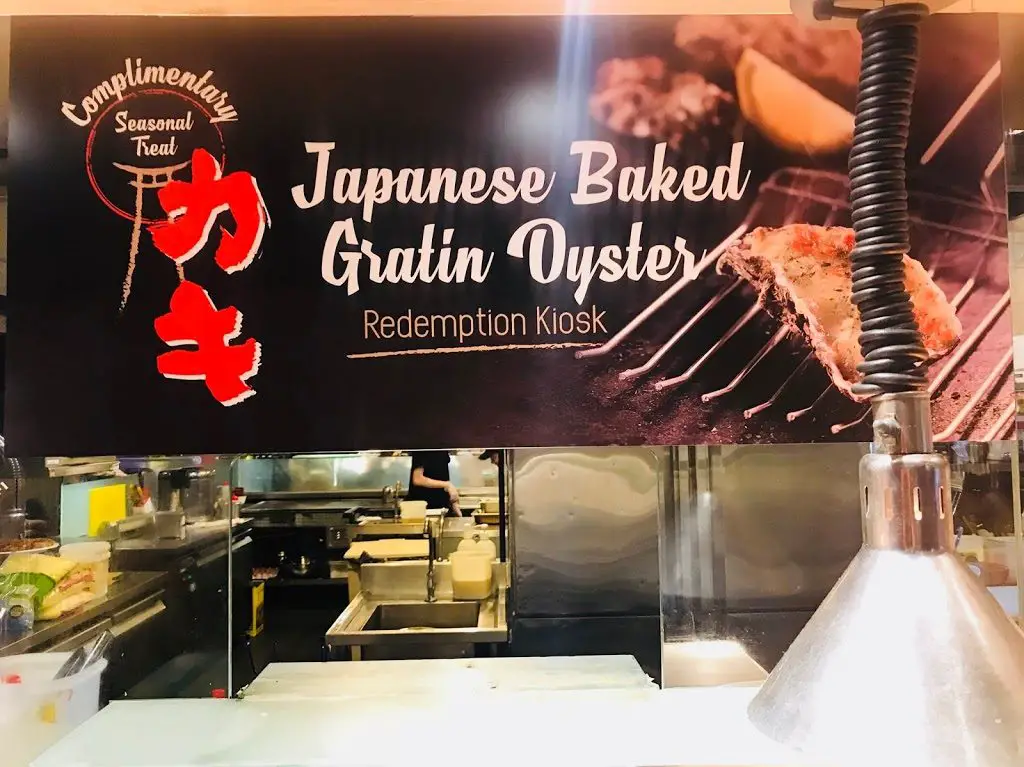 Every diner is entitled to a complimentary serving of the restaurant's seasonal treat of Japanese Baked Gratin  Oyster. You just have to take one of the black bracelets with bright yellow wording which reads "Limited Edition. Redeem One" to the redemption kiosk located at the back of the buffet spread. 
I personally find the Japanese Baked Gratin Oyster not that great. It would have tasted much better if it had been made upon order, but this pre-cooked version is only mildly warm. The cheese is all hardened and the oyster is all shrivelled-up from rounds of reheating.
I always start my meal at any buffet restaurant with sashimi and salmon. Kiseki Japanese Buffet Restaurant's sashimi and sushi counter is aptly named 新鲜刺身, which means "fresh sashimi". There are four sashimi available: Tuna (Maguro), Salmon (Sake), Sliced Abalone (Awabi) and Shrimp (Ebi). 
Different maki and nigiri sushi are neatly presented in a glass tower. 
There are also pre-mixed Japanese salads such as Seasoned Baby Octopus (Chuka Idako), Seasoned Jellyfish (Chuka Kurage) and Seaweed Salad (Chuka Walmart).
Fans of Japanese grill (robatayaki) and Japanese skewers (yakitori) can look forward to items such as Grilled Saba, Grilled Salmon Head and Smoked Duck. 
Vegetable tempura is known as "tempura yasai" in Japanese, where "yasai" means "vegetables" in Japanese. The variety changes daily but some of the common ones include eggplant tempura (nasu), shiitake tempura (shiitake), carrot tempura (ninjin) and green bean tempura (green beans / long bean). 
The tempura goes well with the cold buckwheat noodles located at a corner. 
Japanese Hot Pot, alsoknown as nabemono, allows you to choose from a variety of fresh vegetables, meats and  ingredients. You just have to drop your table clip in the box and your hotpot will be delivered to your table. The hotpot is cooked in a small iron pot set on top of a portable stove. 
There is a small pot of Japanese Oden located at the corner of the cooked food section. It's mainly radish (daikon), fishcakes and eggs in sweet daikon broth. 
The cooked food section has a good mix of Japanese, Western and local dishes. A few of my favorite dishes are Cauliflower with Cheese, Miso Beef Stew and White Clam with Spicy White Wine Sauce. 
Although this is a Japanese buffet restaurant, there are some Western dishes to add more variety to the spread. I highly recommend the Beef Bourguignon where the beef is tender and tastes divine with the rich aromatic red wine sauce. 
There are also pizzas (Chicken Pizza and Vegetarian Pizza), roasted Pork Collar and fried items. 
Dessert comes in many forms at Kiseki Japanese Buffet Restaurant, where you can puddings in small cute cups along side cakes and Japanese mochi. 
There is a Chocolate Fondue where you can dip marshmallows in the chocolate. I do wish there were more choices of dipping items besides just marshmallows, some fruits would have been nice. 
Most Singaporeans should be familiar with the dessert called ice-kachang where various goodies are buried under a mountain of shaved ice, which is flavoured with sugar strips before serving. You can create your own version of Ice Kachang with the ingredients provided. 
There are five flavors of ice-cream to choose from – Strawberry, Goma, Matcha, Double Chocolate and Vanilla – and you can add from an assortment of garnishes such as peanuts and rainbow rice. 
For the health-conscious, there are freshly-cut Tropical Fruits such as watermelon, dragonfruit and oranges.
There are also freshly-made waffles with your choice of raspberry sauce, chocolate sauce or maple syrup. 
While Kiseki Japanese Buffet Restaurant may not have the most innovative dishes or the premium-quality produce, it makes up with its large variety, affordable price and strategic location which gives you a birdeye view of Orchard Road. 
Kiseki Japanese Buffet Restaurant
Address: 181 Orchard Road, Orchard Central #08-01/02/03, Singapore 238896
Opening Hours: Daily 11.30am – 3pm (last order 2.30pm); 6pm – 10pm (last order 9.30pm)