One reason I love the Eat at Seven enclave in Suntec City is because the restaurants are always changing. A new Japanese restaurant has taken over the spot previously owned by Menya Takeichi. 
Let's go and check it out. 
Mazesoba is "mixed noodle" in Japanese. Chef Takuma Ishikawa created KOKORO Mazesoba in Tokyo, Japan in 2013. KOKORO Mazesoba won the Best 2014 Mazesoba Award in Japan. 
The KOKORO Tokyo Mazesoba restaurant in Suntec City is decked out in wooden tables and chairs. Fluorescent white lights illuminate the interior and the open layout makes the restaurant feel very spacious.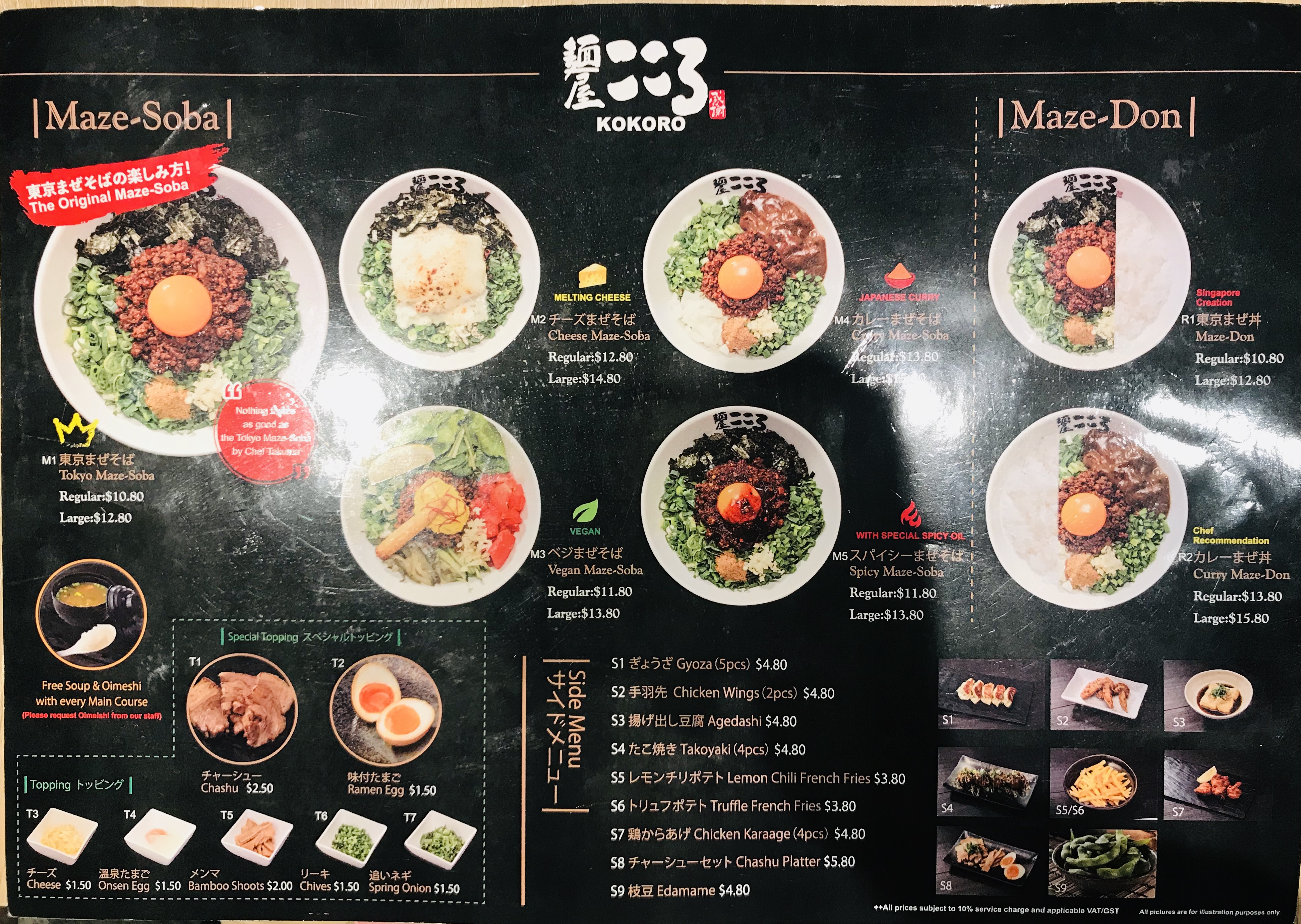 There are only 7 mains on the menu, 5 types of maze-soba and 2 types of maze-don. Maze-don swaps half of the soba for Japanese rice. 
If you don't know how to enjoy your maze-soba, look out for these illustrated instructions on the wall. The instructions are as follows: 
Mix all the ingredients well.

Add in sauces. You are recommended to add in their homemade vinegar. 

Enjoy your soba.

When you have finished all the soba, ask the staff for a scoop of rice. Mix it with the remaining sauce and enjoy oimeshi. 
This is the signature Tokyo Maze-Soba [$10.80 for Regular, $12.80 for Large]. The soba noodles are below, topped with 12 ingredients. Nori (Seaweed), minced meat sauce, ground saba fish, green onions, chives, bamboo shoots, chopped garlic and poached egg. It looks like a lot, but somehow the flavours come together perfectly, especially when you add in their homemade vinegar. The vinegar is super sour, but it balances out the saltiness from the minced meat sauce. 
The soba noodles here are very different from the soba noodles found outside. For one, the noodles are much thicker than other soba noodles. They look more like udon, but they have a firmer texture and deliciously chewy. These soba noodles are made from fibrous whole-wheat flour and purified water.  
Cheese Maze-Soba [$12.80 for Regular, $14.80 for Large] is basically adding a piece of cheddar cheese on top of the poached egg, which is then torched. It does give the dish a little creaminess, but the different is not pronounced. 
Besides the original Tokyo Maze-Soba, the other mazesoba I had my eyes on is this Curry Maze-Soba [$13.80 for Regular, $15.80 for Large]. Everything else remains the same, except that the seaweed is swapped for chicken curry. The curry is not spicy but the curry taste is a little strong. 
Those who are health-conscious can go for the Vegan Maze-Soba [$11.80 for Regular, $13.80 for Large]. All the ingredients are changed to vegetables like rocket leaves, cucumber, corn and carrot. I don't think it's fully-vegetarian because there is still minced meat sauce. 
After you have finished up all the soba noodles, ask the staff for a scoop of rice. Mixed the remaining sauce with the rice for some tasty oimeshi. 
If you are feeling peckish, KOKORO Tokyo Mazesoba offers 9 sides to choose from. This Chasu Platter [$5.80] gives you bamboo shoots, two halves of Japanese flavoured egg and two pieces of chasu. I think this is pretty good value for money, don't you think?
Another side to consider is Gyoza (5 pieces) [$4.80]. They don't specialise in gyoza, so forgive them for the charred ends. Besides that, the filling is succulent and moist. 
If you have never had dry soba, KOKORO Tokyo Mazesoba is the place to try it. Try going during the weekends, it's a madhouse on weekday lunchtime. 
KOKORO Tokyo Mazesoba
Address: 3 Temasek Boulevard, Suntec City Mall #03-313, Singapore 038983
Telephone: +65 6235 3386
Opening Hours: Monday – Sunday 11am – 10pm