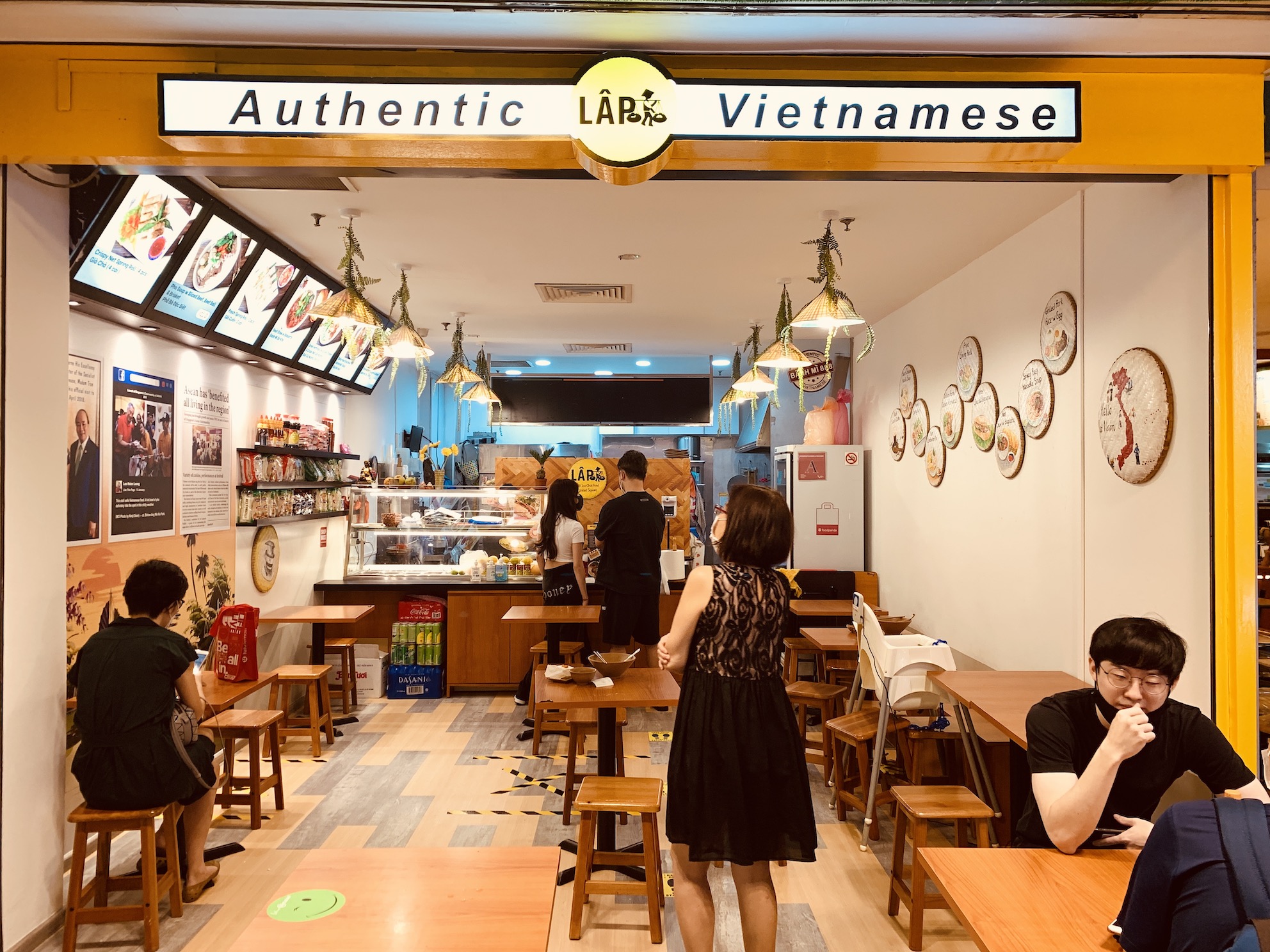 I discovered Lap Vietnamese Restaurant when I was exploring United Square. As the name suggests, this smallish restaurant which can seat 20 people specializes in Vietnamese cuisine. It is located next to Food Junction so it should be quite easy to locate.

The menu features spring rolls (goi), baguettes (banh mi), noodles (pho), rice dishes (com), desserts (che) and beverages (nuoc uong). 
The Pork Baguette (Banh Mi Heo) [S$7] is out of this world. The baguette is baked until the outside is crumbling crispy. Inside, there are vegetables, slices of ham, pork belly and special homemade sweet and spicy sauce.    
There is that satisfying crunch when you take a bite and the different flavors come together so perfectly. It is even better than the banh mi I had from Golden Mile Banh Mi a few weeks ago. 
The other options are beef, chicken, sardine and vegetarian.
When I asked for a recommendation, the owner recommended Pho Soup with Sliced Beef, Beef Ball and Brisket (Pho Bo Dac Biet) [S$11.10].
This is the ultimate bowl of beef pho. The soup is clear yet flavorful, and the long flat rice noodles slips down the throat smoothly. The beef slices are cooked yet tender, beef balls are deep-fried to give them a good crunch. They ran out of brisket so the owner gave me more beef slices to make up for it. 
There is even a small retail section where you can get Vietnamese condiments and noodles. 
Lap Vietnamese Restaurant is a great little restaurant in United Square for some authentic Vietnamese cuisine.

Lap Vietnamese Restaurant 
Address: 101 Thomson Road, United Square #B1-06, Singapore 307591
Telephone: 93211985
Opening Hours: Daily 11.30am – 8.30pm
Facebook Page: https://m.facebook.com/pages/category/Restaurant/Lap-Vietnamese-Restaurant-339938633115010/