I have been to New Ubin Seafood's outlet in Hillview (which has unfortunately closed) and the tasty dishes left a deep impression on me.
Here is New Ubin Seafood (Chijmes)'s Chinese New Year Set Menu 2023 for your reference. The set we had was Wealthy Bunny Menu at S$888++ for 10 people.
New Ubin Seafood (Chijmes) – Wealthy Bunny Menu
In Singapore, the first dish of any Chinese New Year menu is always yusheng or Prosperity Toss. Yusheng is supposedly from China, but friends in different parts of China say they have never seen such a thing. Yusheng's literal meaning is "raw fish" but since it sounds like "余升" which means "increase in abundance". Therefore, yusheng symbolises abundance, prosperity and vigor.
Golden Fortune Lo Hei with Salmon comes pre-plated with shredded cucumber, carrots, red and green pickles, egg omelette, crushed peanuts, pomelo, ginger slices and onion slices. The staff says auspicious words as she adds in the sauces, salmon slices, mini abalone and crisps.
I am glad that New Ubin Seafood changes shark's fin soup to Double-Boiled Superior Soup with Fish Maw and Crab Meat. The soup is just as aromatic without the need to kill sharks just for their fins.
The soon hock used in Deep-Fried Crispy Soon Hock with Sweet & Sour Sauce is really fresh. The fish meat is firm and juicy while the sweet & sour sauce brings out the sweetness of the flesh.
Wok-Fried Tiger Prawns with Sambal Chincalok and Petai is my favourite dish of this meal. The huge succulent tiger prawns taste so good with sourish fermented shrimp paste and petai beans.
I find Coffee-Rubbed, Oven-Baked Whole Golden Chicken just like regular roasted chicken. The coffee-rub is supposed to give the chicken sweet, savoury and spicy flavours but I did not taste any of that.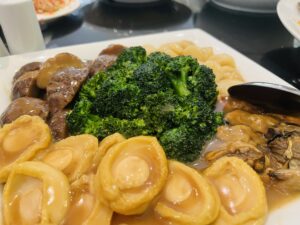 Abalone, Scallops, Braised Clam, Shiitake Mushrooms and Brocolli is like a deconstructed version of the classic peng cai. Inside of serving it in a claypot, New Ubin Seafood lays all the ingredients on a huge plate which makes eating easier, but the taste is still the same.
The last savoury dish is  Braised Pork Knuckle Bee Hoon in case you are still hungry. The pork knuckle is fall-off-the-bone tender and the bee hoon taste superb cooked in the pork knuckle braise.
Having a bowl of sweet classic 8 Treasures Cheng Tng is the perfect finish to this Chinese New Year meal.
You can find the locations of all 3 New Ubin Seafood outlets on their website: https://newubinseafood.com/