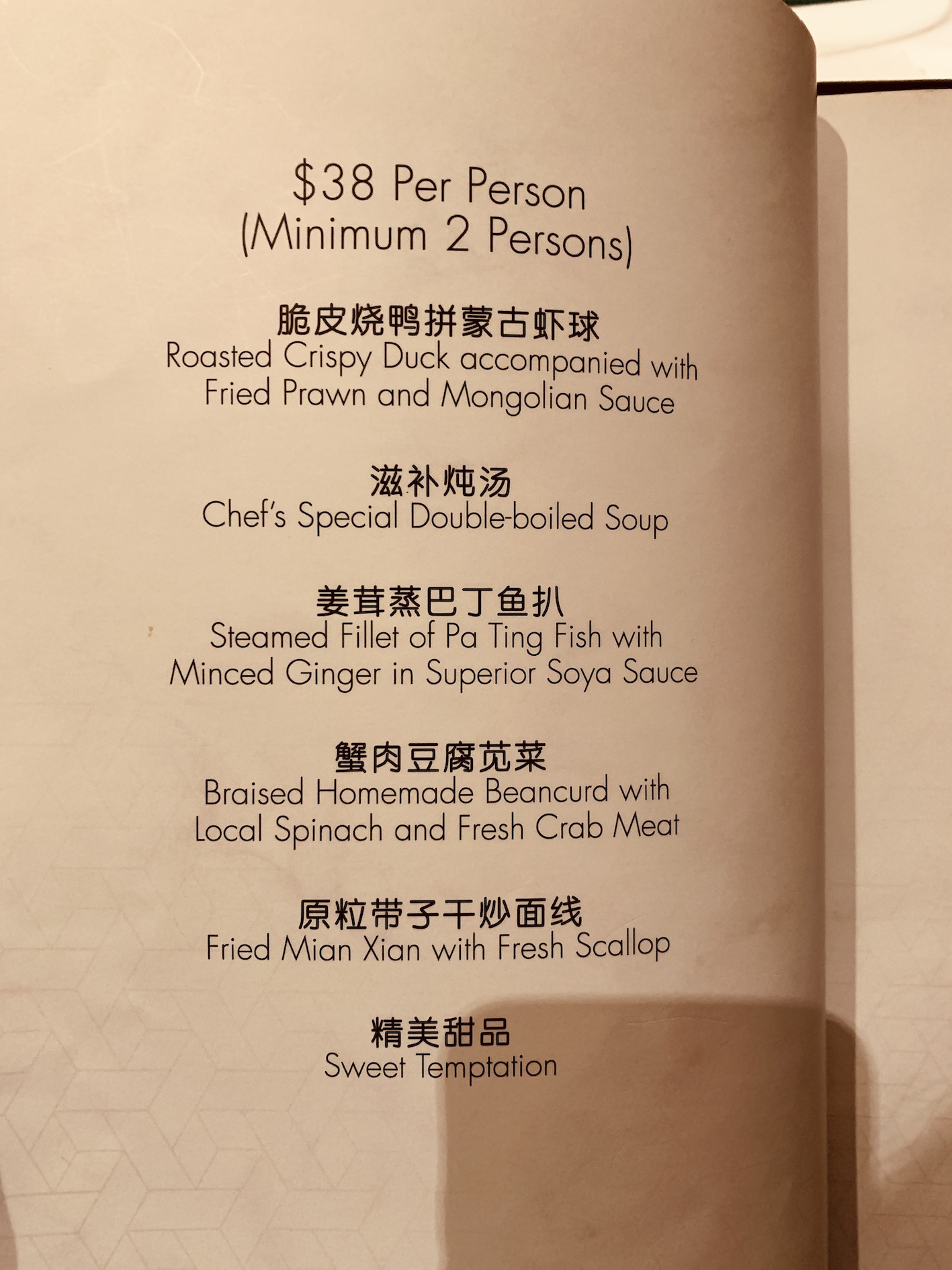 I recently had an excellent 6-course dinner at Peach Garden (Chinatown Point) for just S$38++ per person (minimum 2 person). It's such a value-for-money deal so I want to share it with all my readers. 
Due to Covid-19, all the dishes are served in individual portions with beautiful presentation. 
The first dish is Roasted Crispy Duck accompanied with Fried Prawn and Mongolian Sauce 脆皮烧鸭拼蒙古虾球.

I would never have thought to pair duck with prawn, but it works really well as an appetizer. The crunchy prawns are coated with a sweet and salty sauce. The 4 pieces of roasted duck comes with a smear of honey which takes away the gamey taste. 
Next, we have Chef's Special Double-boiled Soup 滋补炖汤 which happens to be chicken soup on that day. The soup is aromatic and fragrant, nourishing your body as you drink it. 
The third course is Steamed Fillet of Pa Ting Fish with Minced Ginger in Superior Soya Sauce 姜茸蒸巴丁鱼扒. The pa ting fish meat is tender without fishy taste so there is really no need for so much minced ginger. 
Next we had Braised Homemade Beancurd with Local Spinach and Fresh Crab Meat 蟹肉豆腐苋菜. The homemade tofu sits on a bed of poached spinach and covered with crab meat gravy. The sweetness from the crab meat compliments the silky tofu and spinach. 
The last second dish is Fried Mian Xian with Fresh Scallop 原粒带子干炒面线. I have not had fried mian xian before and I quite like the smoothness of it as compared to the drier bee hoon. The fresh scallops that comes with it instantly elevated this simple dish. 
The dessert, or Sweet Temptation 精美甜品 as it is known here, is Mango Pomelo Sago, same as the one I had at Tasty Loong. This is a fail-proof dessert commonly served at many Chinese restaurants. It is sweet and creamy with the alluring fragrance of mango, I just can't get enough of this dessert.

I like that each dish is individually served and portioned so you feel just full enough after the 6-course meal. The presentation is impeccable and each dish is well-executed. At just A$38++ per person (minimum 2 person), I think this  is so worth it. 

You can find information about the all Peach Garden restaurants here.