I recently had dinner with my ex-colleagues at Whampoa Keng Food Street Steamboat Restaurant which is also known as Queen of Wok.
Just like Nam Hwa Chong Fish Head Steamboat Corner, Whampoa Keng Food Street Steamboat Restaurant specializes in fish head steamboat and zi char dishes. 
You have a choice of red garoupa, bucket pomfret or bardan for your Whampoa Keng Signature Fish Head Steamboat 黄埔庆鱼头炉 [S$45-120].
We chose red garoupa fish which the lady boss recommended. The restaurant still uses charcoal to cook the fish head steamboat which somehow gives the steamboat a richer taste. 
The soup base is milky-white and fragrant. There are yam and vegetables such as cabbage and seaweed in the soup which gives the soup a slight sweetness. The firm fish slices are testament to the freshness of the fish.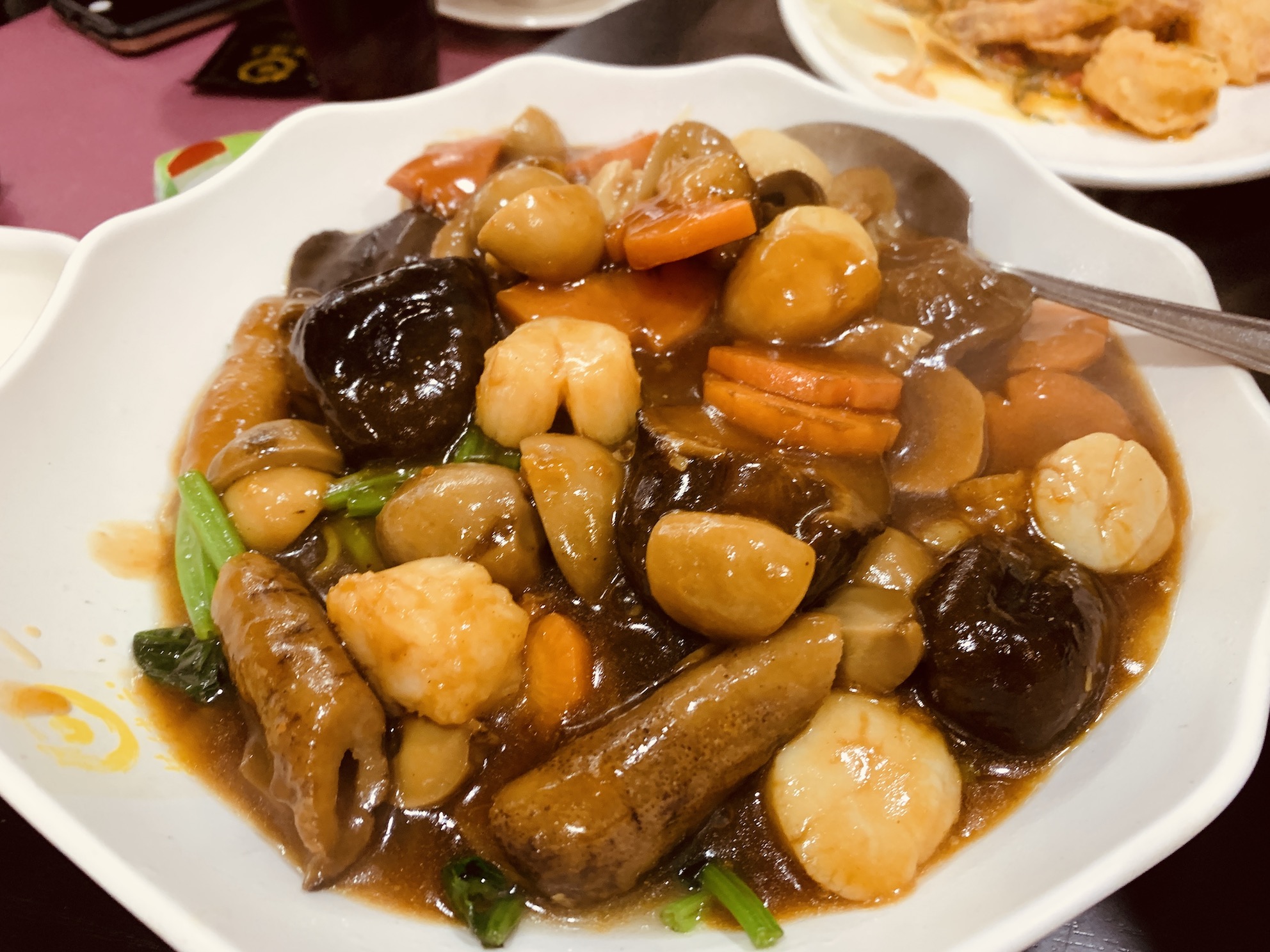 Mushrooms, Sea Cucumber & Scallops with Spinach 冬菇海参带子炒菠菜 [S$32] is a classic favorite that everyone enjoys. The thickened gravy gives the dish a luxurious feel.

Signature Deep Fried Prawn Rolls 招牌炸虾枣 [S$14] is another signature dish. Minced pork and prawn are wrapped in beancurd skin and deep-fried till the exterior is a beautiful golden-brown color. The sweetness from prawns makes this a delightful snack.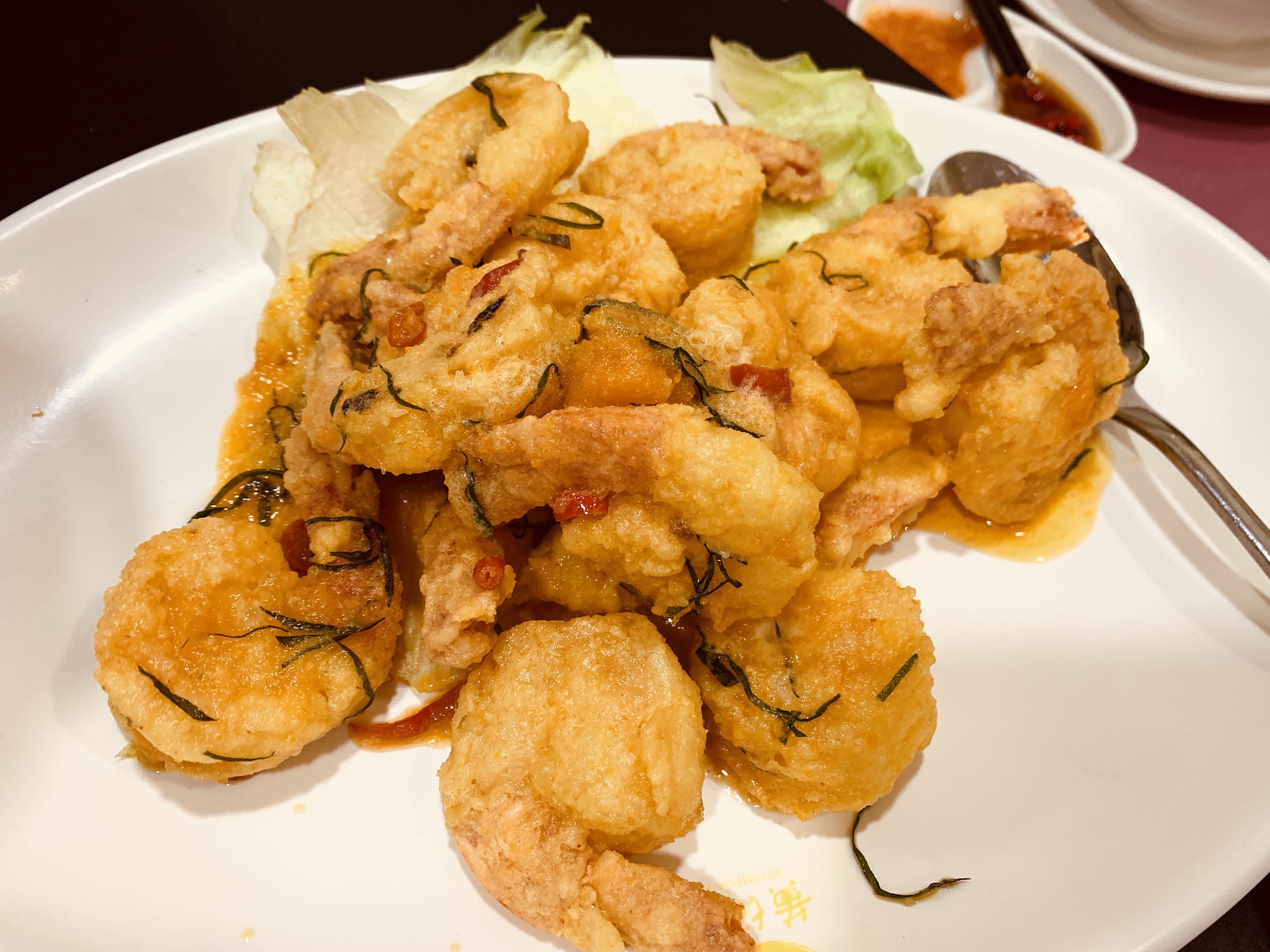 I love anything with salted egg but Salted Egg Yolk Prawn 咸蛋虾球 [S$25] was pretty disappointing. The huge prawns themselves are juicy and crunchy but the salted egg sauce that coats the prawns is not aromatic enough. It lacks the richness of salted egg.  
The lady boss recommended Clay Pot Indonesian Style Chicken 沙煲印尼鸡 [S$16]. The fried chicken pieces are cooked with shallots and a sweet, sour and spicy sauce that is finger-licking good. 
Sweet & Sour Pork Ribs with Fried Shredded Cod Fish 龙须排骨 [S$16] is unique to the Rangoon Road outlet. This is essentially sweet and sour pork topped with dried shredded fish. The pork ribs are bigger and flatter and fried till extremely crispy. The sweet and sour sauce is a dark-brown color with a more pronounced tanginess. 
Whampoa Keng Food Street Steamboat Restaurant is the perfect place for hearty fish head steamboat and zi char dishes at wallet-friendly prices. 
Whampoa Keng Food Street Steamboat Restaurant (Rangoon Road)
Address: 116 Rangoon Road, Singapore 218394
Telephone: 90232854 (Sharon) 
Opening Hours: Daily 11am – 11pm
Website: https://whampoakeng.getz.co/