A friend, who happens to be a lecturer at ITE College West, invited me to dinner at Amber West.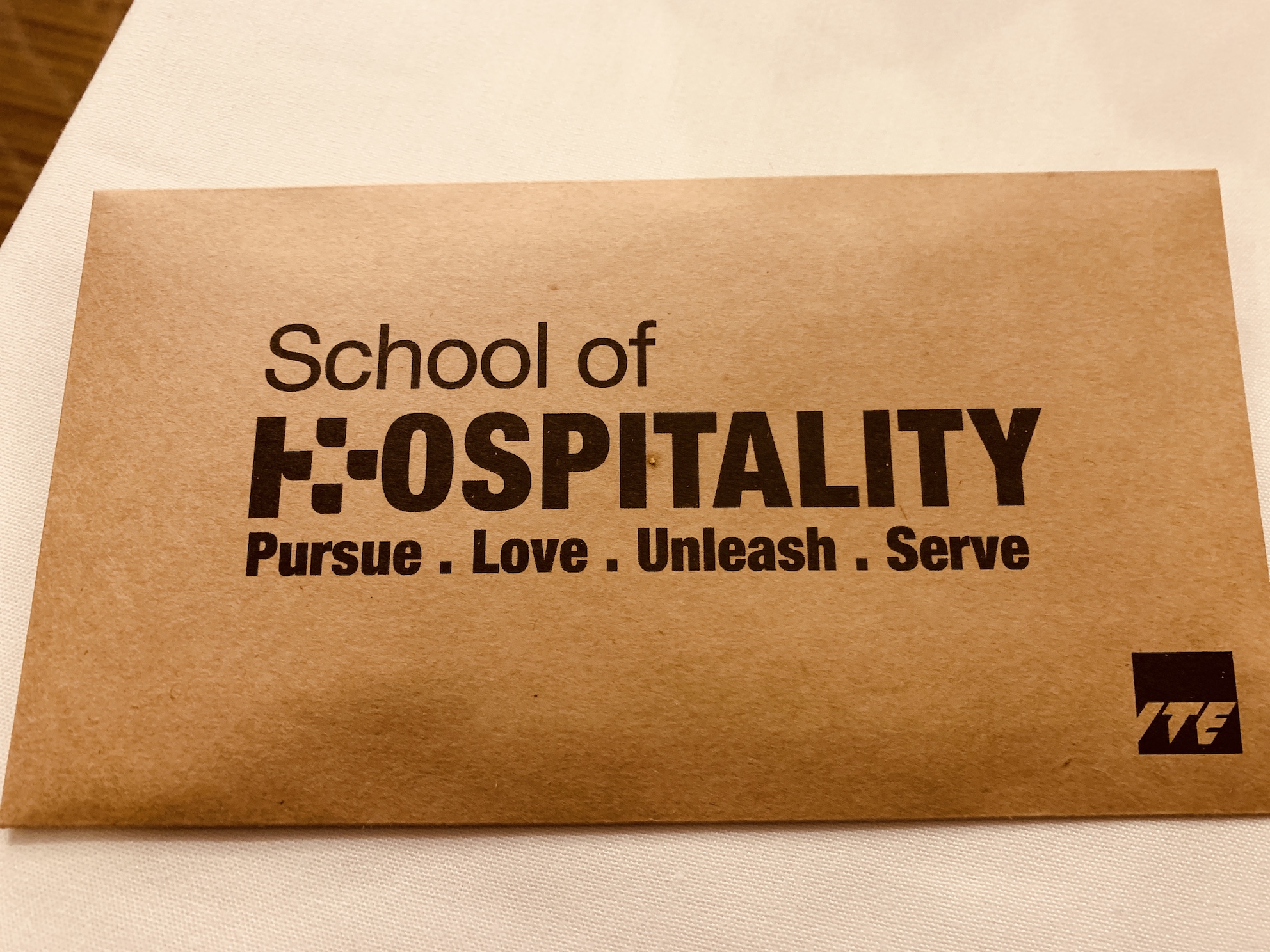 Amber West is ITE's School of Hospitality fine-dining training restaurant where students put what they have learnt into practice. Students run the restaurant with guidance from their lecturers.
The restaurant is open to the public, but you need to make a reservation in advance.
The carpeted floors, white linen tablecloths, artfully folded  napkins and brown armchairs gives the restaurant a posh feel. It really does feel like a fine-dining restaurant. 
This is Amber West's dinner set menu. Ironically, both the 3-course and 4-course set dinner are both S$25. We decided to go with the 4-course set dinner which includes an appetizer, soup, main and dessert.
The student-concocted Mocktail of the Day was Sparkling Tart Cherry Mocktail. This refreshing mocktail was made of cherry juice, orange juice and lime juice. I like the sourness of the mocktail which cleanses my palate in preparation for the upcoming dishes. 
Amber West –  Appetizers
Pie Tee Seafood Salad [S$5] is an interesting modernized remake of the Peranakan kuih pie tee. Bits of squid, seabass, roasted peanuts, sesame seeds and cilantro fills the thin crispy pastry shells. It is light and refreshing, a great appetizer to start a meal. 
Mango Chicken [S$6.50] is another interesting appetizer. A deep-fried chicken patty sits on top of a tower of glass noodles with frisee and mint dressing. The chicken patty is flavorful while the glass noodles below is light in flavor. The contrast in flavors is rather interesting. 
Amber West – Soups 
The Soup of the Day [S$5] was Cream of Cauliflower which turned out to be pretty good. The cauliflower taste is not overwhelming while the cream gives the soup a little richness. 
Kabocha Squash Soup with Tofu Croutons [S$6] is an interesting blend of vegetable dashi stock with butternut, garnished with deep-fried tofu. Kabocha is a type of Japanese pumpkin which tastes like sweet potato mixed with pumpkin. 
Amber West – Mains 
I love the plate presentation of Crusted Chicken Breast [S$10]. The sautéed mushrooms, carrots, baby bok choy and slices of radish reminds me of plants in the forest. The two blackish balls are in fact potato balls which resembles tree stumps. The two pieces of chicken breast have crust with 11 spices which makes it very flavorful. 
Braised Beef Noodles [S$12] sounds very ordinary but I was pleasantly surprised by how tender the beef was. The thin egg noodles doesn't have a very strong yeast taste. 
Amber West – Desserts 
I really wanted to try Flambé Dessert of the Day [S$6.50] where spirit-covered dessert is flames at the table but it was sold out.
We had Chempadak Creme Brûlée [S$5], an Asian twist on a classic French dessert. Chempadak is a distant cousin to jackfruit but it is richer in taste. Infusing chempadak into creme brûlée is an interesting idea which gives the dessert another layer of texture.

I think the concept of student-run restaurant such as Amber West is a brilliant idea. It gives the students real-world practice in a supervised environment. This makes dining at Amber West even more memorable as you are indirectly helping these students.
The food is comparable to outside restaurants thanks to guidance from chef lecturers. 


Amber West
Address: 1 Choa Chu Kang Grove, ITE College West Block 2 Level 4, Singapore 688236
Telephone: 64310178
Opening Hours: Monday 12pm – 2pm, Tuesday – Friday 12pm – 2pm + 6pm – 8pm (closed on Saturdays and Sundays) 
Email: FNBCW@ite.edu.sg
Website: https://www.ite.edu.sg/colleges/ite-college-west/reservations-at-amber-west-enquiries-at-hotel-west
Chope Reservation: https://www.chope.co/singapore-restaurants/restaurant/amber-west