CLOVE, the all-day dining buffet restaurant on level 2 of Swissotel The Stamford has been revamped into a casual western restaurant that specializes in burgers and shakers. 
The transformation into a fast food restaurant is understandable given the current Covid-19 pandemic situation globally which makes the resumption of buffets highly unlikely in the near future. 
The buffet counters have now been converted into open kitchen concept where you can see the chef preparing the meals. The dining area has retained the open-concept design but why is there a cow in the middle of the restaurant? 
CLOVE's menu reminds me of Shake Shack with the same burgers, thick shakes and concretes.

Double Up [S$26] is CLOVE's signature burger. This monster of a burger uses angus patties from Stanbroke, pickled onions and chilli, cheddar cheese, bacon jam and parmesan aioli.  
I personally feel that the beef patties are a little dry but the symphony of flavors from the various ingredients makes up for it a little. 
Moo-CHAS Grass-IAS [S$18] is CLOVE's version of the impossible burger. The plant-based patty is paired with homemade beef chilli, guacamole,  coriander, jalapeño mayonnaise, pickled chilli and lime yogurt. The balance of creamy, spicy and savory flavors makes this meatless burger just as good as its meaty counterpart. 
I was curious if Lobster Mobster [S$28] is as good as Burger & Lobster's Original Roll so I ordered one to try. The lobster is poached with butter which gives the sweet lobster meat a little richness. Cayenne cocktail slaw and baby kale from the hotel's own aquaponics farm completes the burger. Burger & Lobster's Original Roll is packed with more lobster meat but the taste is similar.

Fried Chicken Wings & Drumlets Marmite Soy Glaze, Sriracha Lime [S$16] and Onions Rings [S$6/8] are excellent sides. The onion rings are crispy on the outside and sweet inside, the sourness of sriracha lime balances the richness of marmite soy glaze of the fried chicken wings and drumlets. 
There are altogether 9 Thick Shake [S$10] flavors, we chose Salted Caramel which lived up to its name. It is rich and creamy with the balance between sweet and salty. 
Served in tall glasses and decorated with whipped cream and matching ingredients, CLOVER's Concretes are quite a sight to behold.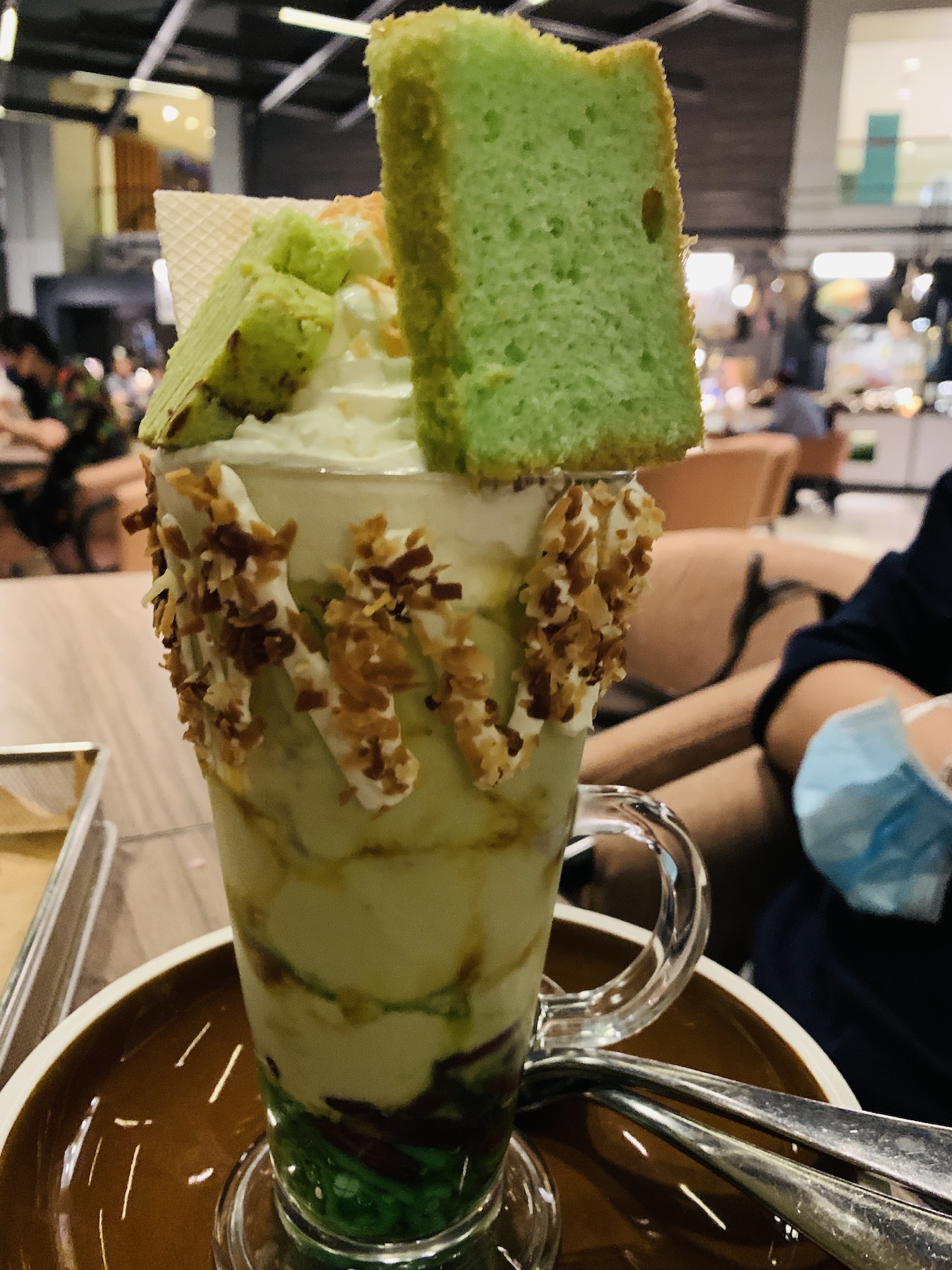 "Avochendol" [S$14] combines avocado with chendol ingredients such as gula melaka, jelly, azuki beans and coconut. The dessert is topped with whipped cream, pandas cake and waffles. Whipped cream studded with chopped almond flakes decorates the glass. 
In Rum & Beer [S$14], the glassful of root beer and rum combination is topped with whipped cream, raisins and brownies. Whipped cream studded with chocolate-coated chips adorns the glass. There's not much rum, you will mostly taste root beer. 
Sweet & Sour Choc [S$12] is a sweet and sour dessert made to look like a burger. The "burger buns" are made of madeleine which sandwiches lemon curd "cheese", chocolate crumble "beef patty" and green agar "lettuce". I find it a little too sweet for my liking but the presentation is impeccable. 
If you are looking for handcrafted burgers using sustainably-sourced ingredients, CLOVER is a good place to try. 

CLOVER 
Address: 2 Stamford Road, Swissotel The Stamford Level 2, 178882
Telephone: 64316156
Opening Hours: Wednesday – Sunday 11am – 10.30pm (closed on Mondays and Tuesdays) 
Website: https://www.swissotel-singapore-stamford.com/restaurants-bars/clove/