Lucky Plaza is my go-to place for cheap and delicious food in Orchard Road. Not only are there Filipino (Inasal) restaurants and shops, there are also a few Indonesian restaurants (Bebek Goreng Pak Ndut) worth checking out. 
Ayam Penyet Ria to the right of Bebek Goreng Pak Ndut on the first floor of Lucky Plaza. Yes, the restaurant on the fourth floor of Lucky Plaza is the same restaurant.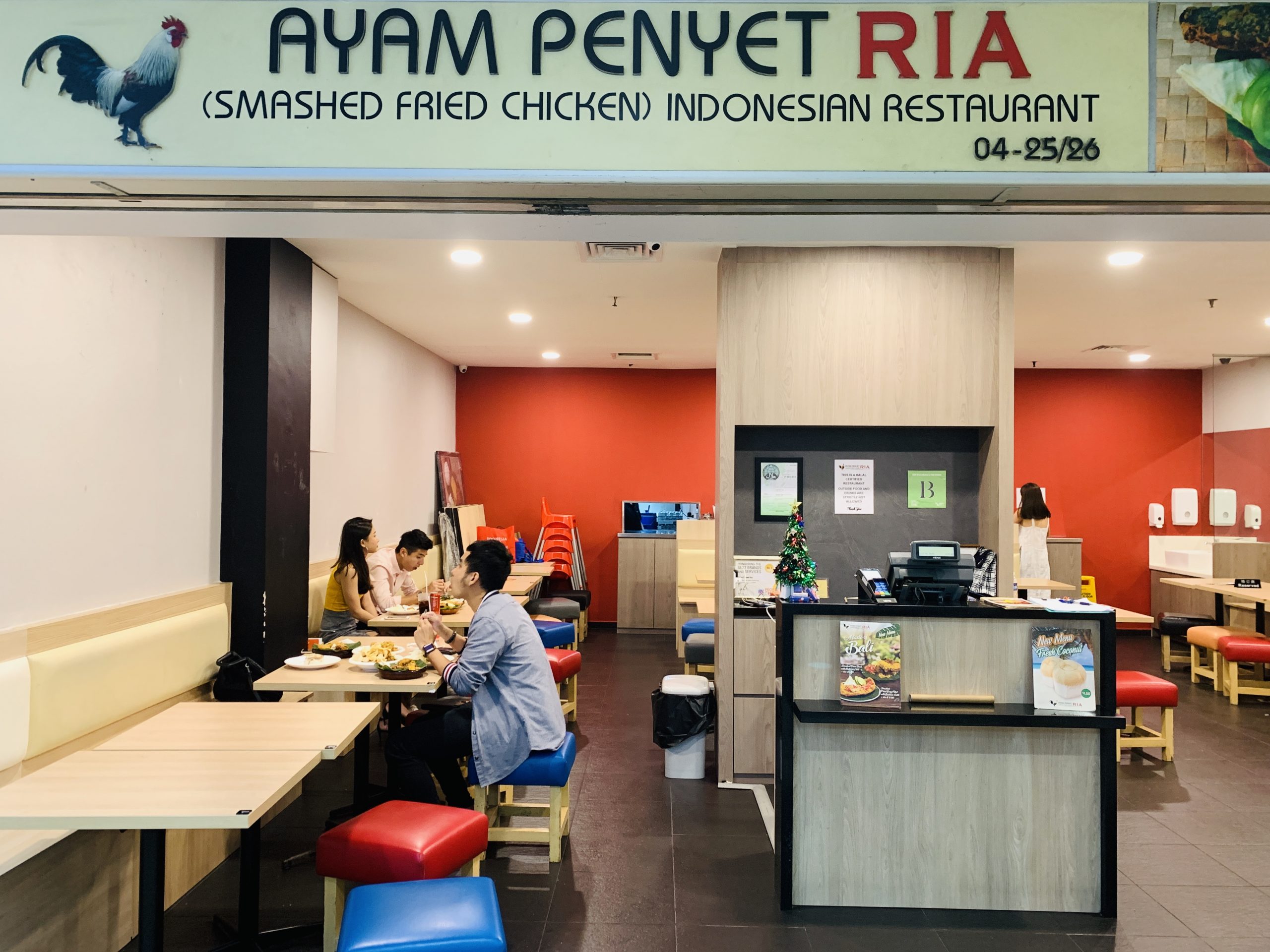 Ayam Penyet Ria was established in 2004 as a family-owned restaurant serving authentic Indonesian food. Ayam Penyet Ria claims to have pioneered the popular Indonesian dish ayam penyet (smashed fried chicken). Ayam Penyet Ria now has 4 outlets in different parts of Singapore.


Besides ayam penyet, Ayam Panyet Ria also has many other combinations of fried food, entrees and soups. 
This is the restaurant's signature Ayam Penyet + Nasi [S$7.90]. While Bebek Goreng Pak Ndut's ayam penyet is a little dry, Ayam Penyet Rita's chicken is tender and moist. The sambal chilli is really spicy, those who love spicy food will love it.

If you don't like fried food, there is also the roasted version known as Ayam Bakar + Nasi [S$8.70]. The chicken is roasted with sweet dark sauce which gives it a dark brown color. The meat is tender and juicy with just the right amount of sweetness. 
If chicken ("ayam" means "chicken" in Indonesian) is not your thing, there are also various seafoods to choose from. Ikan Bawal Penyet + Nasi [S$9.90] is another signature of the restaurant. A whole pompret is smashed and fried. The fish meat is tender and juicy, it's a very filling meal.


Ayam Penyet Ria's soups are not as good as Bebek Goreng Pak Ndut. There were only a few miserable pieces of oxtail in Sop Buntut [S$8.50]. Sop Sayur Asam [S$4.50] tastes interesting but the portion is too small.
Ayam Penyet Ria is another restaurant in Lucky Plaza that specializes in Indonesian food. The rice dishes are good but the soups are not as great.

You can find the addresses and telephone numbers of all 4 Ayam Penyet Ria outlets here.