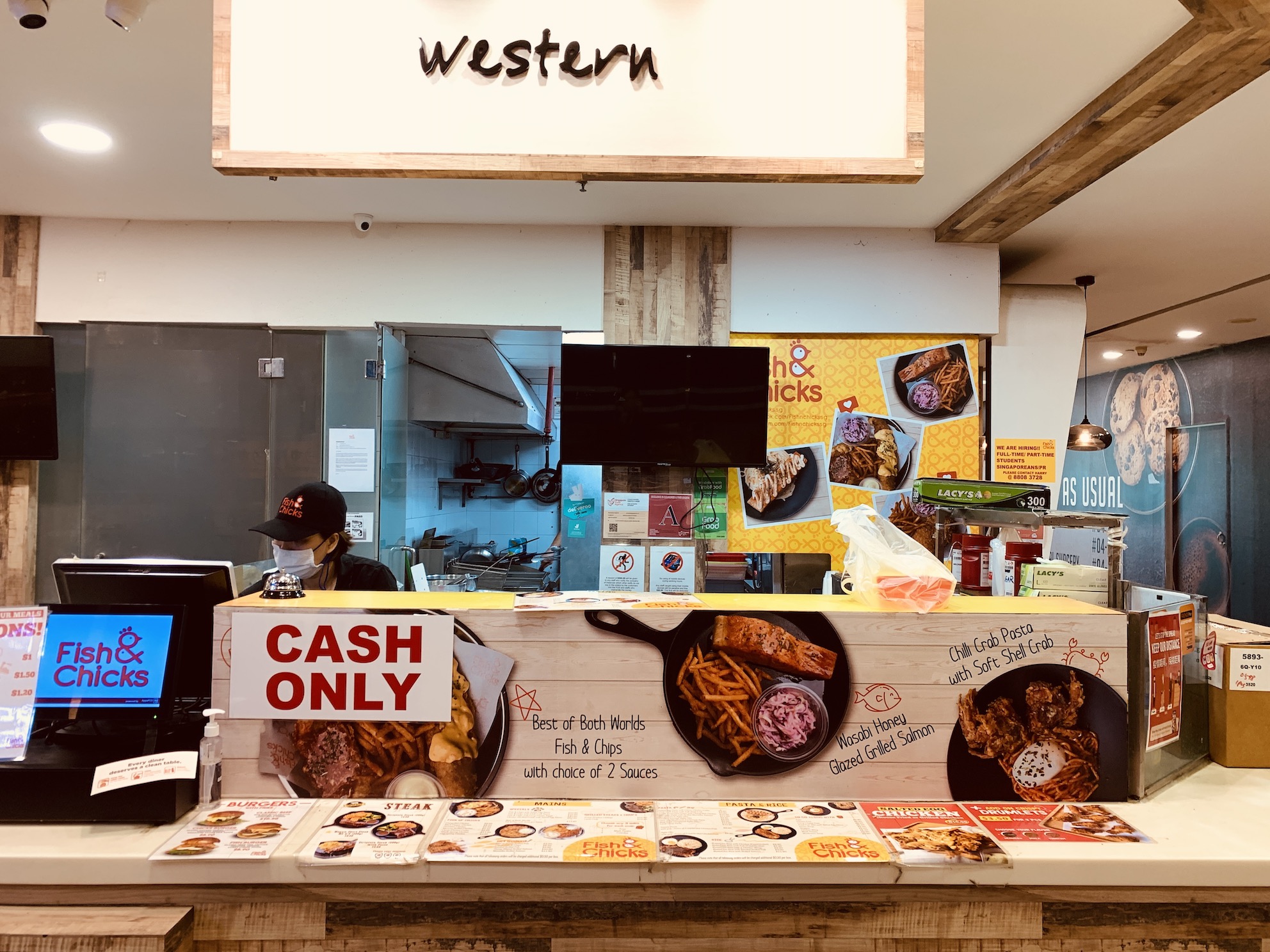 I was trying to decide what to eat for lunch one day when my colleague told me, "You should try Fish & Chicks in Square 2 Koufu. They have this Mentaiko Pasta with Grilled Mentaiko Salmon which is simply the best."
I have heard quite a lot of positive reviews of Fish & Chicks from family and friends. I have been wanting to try their food and since there is one near my workplace, I decided to follow my colleague's advice. 

It took me a while to find the stall which  is actually just at the entrance of Koufu food court. It's misleading because the signboard says "Western". Only when you look at the menu do you realize it is actually Fish & Chicks. 
This is the Mentaiko Pasta with Grilled Mentaiko Salmon [S$12.80] that my colleague was telling me about.
The pasta lies in a pool of creamy mentaiko sauce and a huge slab of salmon fillet with mentaiko mayonnaise sits on top. My colleague is right, this is the best. The mentaiko cream sauce and mentaiko mayonnaise goes so well with the pasta and salmon, it's like a match made in heaven. 
I actually intended to get Chicken (Grilled/Fried) with Salted Egg Sauce [S$10.90] as a side dish, but the portion is so huge, it is a meal on its own. 
The huge piece of fried chicken is super crispy and tender inside. The meal comes with perfectly-crispy fries and coleslaw which helps to balance out the oiliness of the fried chicken. 
The salted egg sauce is so damn good. It is thick and creamy with grainy saltiness that makes any meal special. 
On hindsight, I should have gotten the grilled chicken instead, it would have made the meal slightly less sinful. 
The Fish & Chips with Salted Egg Sauce [S$10.90] is equally as crispy and that salted egg sauce is spot-on. The fish fillet does not have the metallic taste I tasted at other places. 
Fish & Chicks really understands the Singaporean pallet which is probably why it became so popular so fast. Their Asian-fusion Western dishes are really spot-on. 
All Fish & Chicks outlets are in food courts which greatly reduces their rental expenses. This allows Fish & Chicks to keep their prices low. 
Quite a few of Fish & Chicks outlets are halal-certified, but I am not sure if all of the outlets are.
Fish & Chicks 
You can find the addresses of all 12 Fish & Chicks outlets here. 
Telephone: +65 9828 3490
Email: fishnchickssg@gmail.com
Opening Hours: Daily 11am – 9.30pm
Website: https://fishnchicks.sg/