I have been having this huge craving for Korean fishcake skewers. I was planning to go to Dookki just for the Korean fishcake skewers, until a Google search revealed that Sanjin Amook in ION Orchard specializes in Korean fishcake skewers. 
Not only does Samjin Amook specialize in Korean fishcake skewers, it is Korea's oldest Amook brand in business for over 3 generations since 1953. Samjin Amook prepares 40 different types of amook everyday, using ingredients imported directly from Busan. 
The Stall 
Samjin Amook is located on basement 4 of ION Orchard, the food haven of ION Orchard. 
The stall is clean and bright with white walls and navy blue counter wall. A navy blue sign at the left hand corner says "The Amook".

Samjin Amook – The Food
Samjin Amook has 40 different types of Korean fishcakes to offer but they usually only display the 15 most popular ones.

I actually ordered one serving of Tteobokki [S$5] and Korean Fishcake Skewers Amook Mixture [3 for S$10] each but the Korean lady manning the counter either didn't understand or hear me correctly. She gave me Original Amook Soup [S$3] and Skewer Amook Soup [S$3.50] instead. Since I am really here for the fishcake skewers anyway, it's fine by me. 
The fishcake skewers are cooked in a soothing daishi stock. The chewy fishcake in daishi stock is very comforting.

I also get 2 of the deep-fried skewers, Shrimp Katsu [S$5] and Amook Bite [S$2.50]. I think these will taste better if they are freshly-fried, it's a little cold and hard on the outside.

Gimmali [S$2], Korean deep-fried seaweed spring rolls, is more commonly known as gimmari in Korea. This is a popular fried snack that is essentially a simple version of japchae (Korean glass noodles) stuffed in a seaweed sheet. Once the seaweed sheet is rolled up, it is coated with frying batter and deep fried.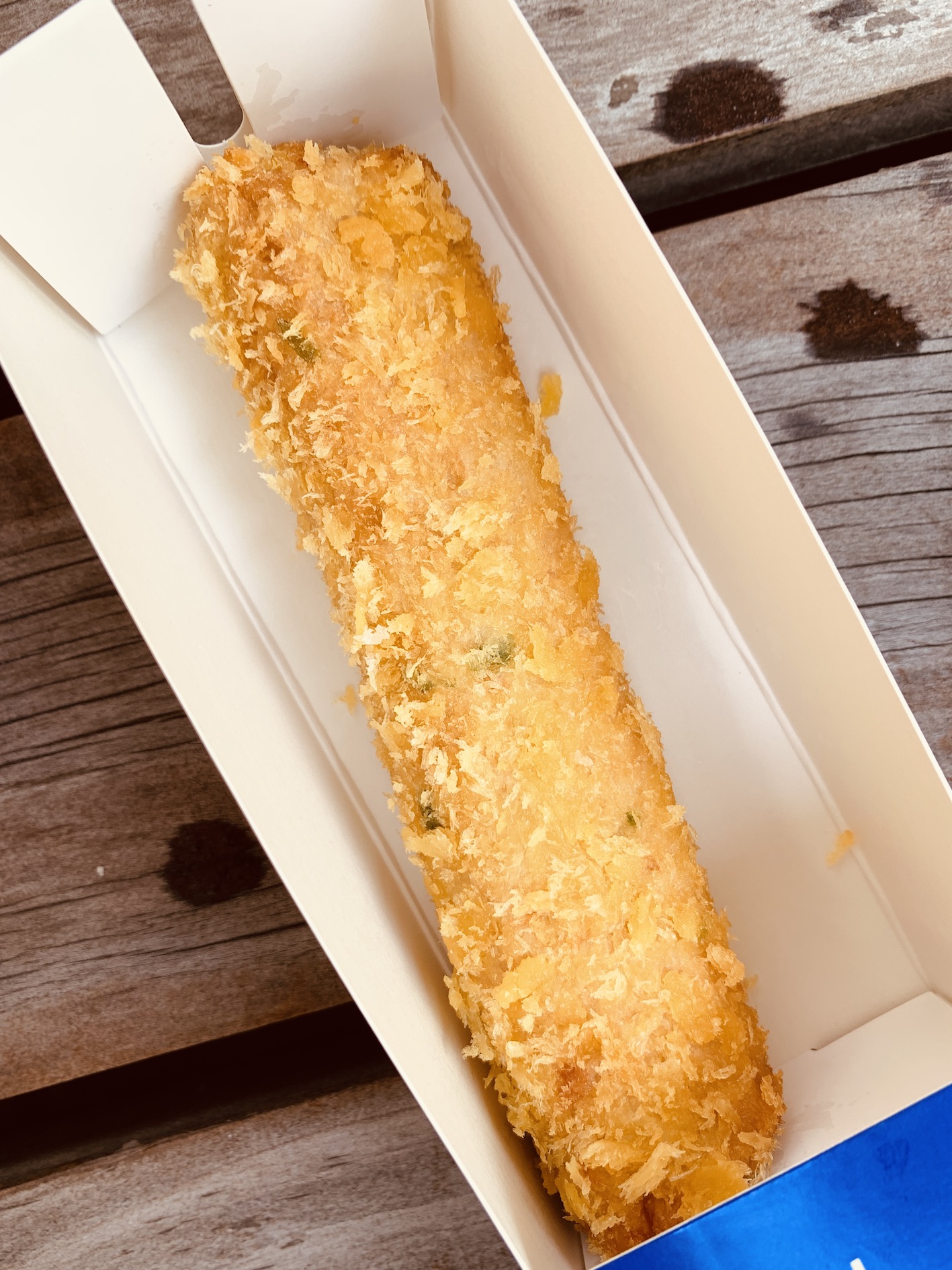 Sweet potato and cheese sounds like a weird combination but Sweet Potato Cheese Stick Amook [S$3] is actually pretty nice. The sweetness from sweet potato and saltiness from cheese balances each other out. If the outside is hot and crispy, it will be perfect.
Chewy rice cake inside fishcake sounds like the perfect match but I was disappointed with Rice Amook Stick [S$4]. The rice cake inside is chewy but a tad too hard. Combine that with cold fishcake and it's a disaster. 
Samjin Amook has been making fishcake (amook) for 50 years. Singaporeans can try their delicious fishcakes at ION Orchard and JEWEL Changi Airport.

Samjin Amook (ION Orchard)

 
Address: 2 Orchard Turn, ION Orchard #B4-34, Singapore 238801
Telephone: 67590988
Opening Hours: Daily 11am – 10pm
Samjin Amook (JEWEL Changi Airport) 
Address: 78 Airport Boulevard, JEWEL Changi Airport #B2-232 , Singapore 819666
Telephone: 62149633
Opening Hours: Monday – Thursday 11am – 9pm, Friday – Sunday & Public Holidays 10am – 10pm
Website: http://samjinamook.com/mindex.html
Facebook Page: https://m.facebook.com/samjinamooksg/