I chanced upon Hong Kong Dim Sum Shop 香港点心专门店when I was out with a friend. The pictures of the dim sum dishes on the wall looks legit, I decided to check out the dim sum here.
I have always thought Fortune Centre is a ghost town but I was pleasantly surprised by the buzz of activity when I visited on a Saturday afternoon. There are many interesting eateries in Fortune Centre as well as eccentric shops selling crystals and whatnots.
Hong Kong Dim Sum Shop is on the ground floor, near to the entrance. The walls are decorated with blown-up pictures of the dim sum they offer. All the tables were filled which is a good sign, but I didn't have to wait long as the turnover is quite fast.
What I Ordered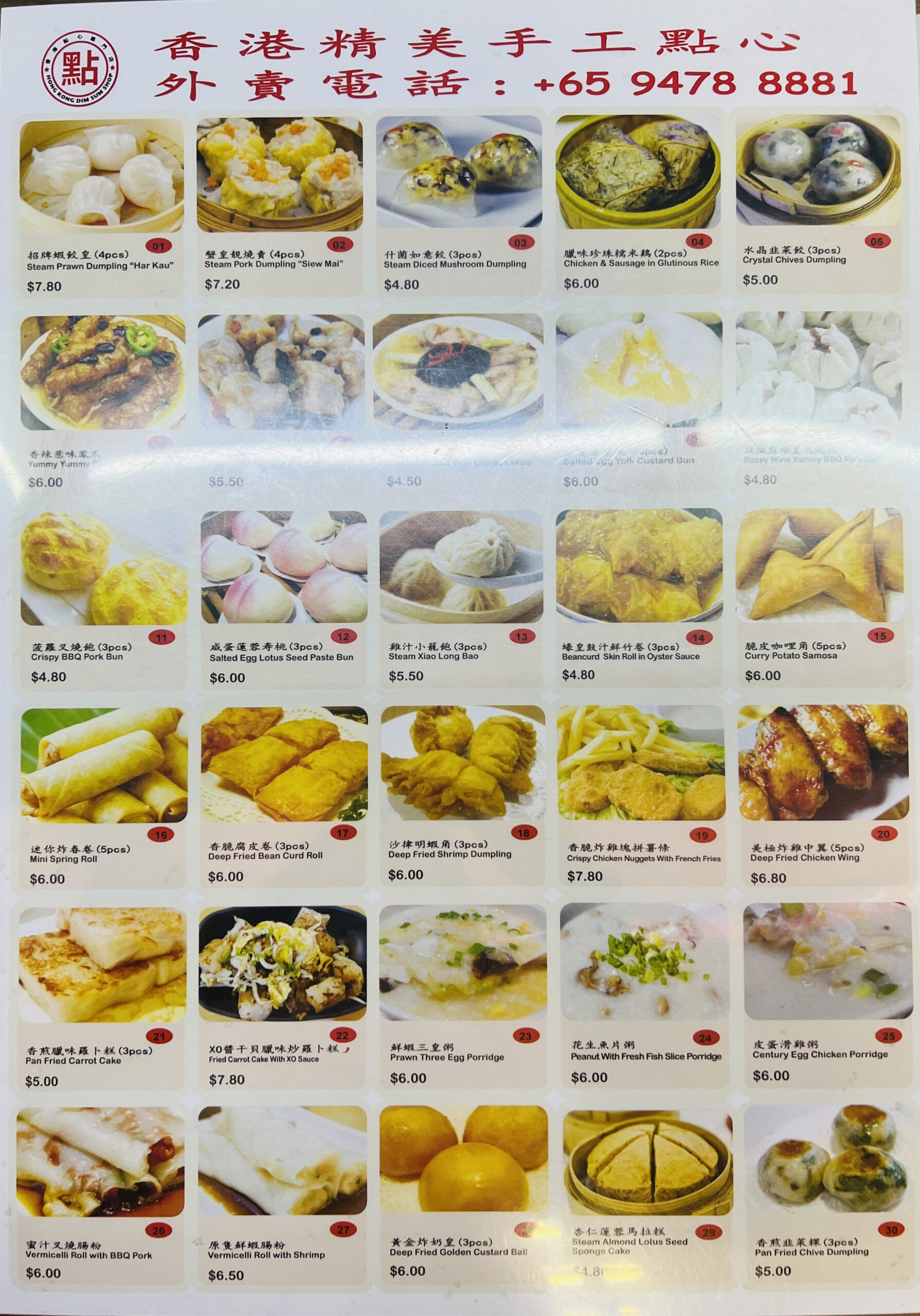 This is Hong Kong Dim Sum's menu for your reference.
There are 50 dishes and 24 drinks to choose from. Prices range between S$4.50 – S$10.80 which is a little pricier than Swee Chun Tim Sum Restaurant.
Steamed Prawn Dumpling "Har Kau" [S$7.80] is one of the most classic of Cantonese dim sum. I love the huge prawn filling that is so satisfyingly crunchy.
Steam Dice Mushroom Dumpling [S$4.80] is a nice vegetarian alternative to great choice if you want something healthy and vegetarian. You can see the different colours of the ingredients through the crystal dumpling skin and it looks really pretty.
Out of everything that I ordered, I enjoyed Crispy BBQ Pork Bun [S$4.80] the most. The bun itself was buttery and crumbly, and the barbecue pork filling is sweet and sticky. It reminds me of Tim Ho Wan's Baked Bun with BBQ Pork.
Salted Egg Lotus Seed Paste Bun [S$6 ] are shaped like peaches, which the Chinese believe symbolises longevity. The lotus paste inside is a little too sweet for my liking. I should have ordered Salted Egg Yolk Custard Bun [S$6] instead.
I regretted ordering Vermicelli Roll with Shrimp [S$6.50] as you can find it pretty much everywhere in Singapore.
There are also more filling dishes such as Lemongrass Pork Chop with Egg Fried Rice [S$10.80]. Even though the egg fried rice is not quite as good as Din Tai Fung's, it is a filling and satisfying meal.
Oh, I totally forgot to take a picture of the Deep Fried Chicken Wings [S$6.80]. It arrived at my table fresh from the wok, still piping hot. The chicken wings were well-marinated and taste fantastic.
Hong Kong Dim Sum Shop
Address: 190 Middle Road, Fortune Centre #01-06, Singapore 188979
Telephone: 84828881
Opening Hours: Daily 8am – 11pm
Facebook Page: https://www.facebook.com/pages/Hong-Kong-Dim-Sum-Shop/107400810102463