I was very inspired after reading an article about how Joseph Knowles from Vancouver became the best-dressed man from thrifting. "Thrifting" means shopping in thrift stores. A search on Google reveals that there are actually quite a few thrift stores in Singapore and thrifting has become more popular in the past few years. 
I decided to try out thrifting. I made a beeline for The Salvation Army Praisehaven Mega Family Thrift Store in Bukit Timah one Saturday after work. After spending around 2 hours in there, I spent $10.70 on two dresses and a blouse and the kind cashier gave me the Mac keyboard cover for free. You can read about my first thrifting experience here.
I am not the shopping kind of girl and shopping of any kind drains me. After two hours of shifting through hundred of clothing, I needed to refuel my energy. 
I headed to the nearest shopping centre around 1o minutes away, known as HillV2. There are quite a number of restaurants but the friendly chatter coming from iO Italian Osteria attracted me and I decided to dine here. 
In Italy, an "osteria" is a place where simple and filling food are served to shared tables, encouraging diners to share the food and drinks. 
Exposed ceiling and low-hanging lights gives the restaurant an industrial look, yet the wooden tables and chairs makes the place feel very warm and cosy. 
This is iO Italian Osteria's menu which you can also see here. Two-thirds of the menu are dedicated to in-house baked bread and pizza, small bites of authentic Italian street food, starters, pastas, main courses and desserts. The remaining one-third to the right is filled with different kind of drinks, both alcoholic and non-alcoholic. 
iO Italian Osteria has monthly special cocktails for regular patrons who have grown tired of the usual cocktails on the menu. This is Stazione Centrale Mondena [S$18], named after a railway station in northern Italy of the same name. It gets its dark red color from rum and red wine. It tastes a little like Spanish sangaria. 
There are also many other wines such as this small glass of dessert wine that I was given to try, on the house. 
If I can only eat one bread for the rest of my life, it will be this Traditional Stuffed Roman Schiacciata [S$10 for Small, S$18 for Large]. Freshly from the oven and piping hot, mushroom, cream cheese and truffle oil is held between two pieces of crispy flatbread. It is almost like eating the dry version of mushroom soup, a tastier version. 
I decided to skip the starters which are otherwise known as "antipasti" in Italian and opt for Olive All'Ascolana, Stuffed Fried Olives [S$9] from the Italian street food section. The green olives are stuffed with minced meat and vegetables and deep fried till crispy brown. Each piece is like a little nugget of gold, with a delicious filling. 
I don't know if it's the oil or the psychological effects of the word "homemade" but Homemade Tagliolini, Prawns, Lemon, Aromatic Breadcrumbs [S$22] is the best pasta I have ever had. Most of the ingreidnts are very common, but the homemade tagliolini pasta and lemon sauce fuses all the different ingredients perfectly. 
On top of the good selection of meals on the menu, iO Italian Osteria regularly have "specials". These are newly-created dishes that has not been formally added into the menu. The special on the day I visited was Truffle-Crusted Sea Bass with Green Beans, Enoki Mushroom and Baby Corn. I personally like the presentation of the fish with the blue plate looking like a fish swimming in the sea. What I did not like is the truffle coating overpower the taste of the sea bass. 
Panna Cotta [S$10] is one of my favorite Italian desserts. Although it is just sweetened cream thickened with gelatin, a good panna cotta can be equally additive and comforting. However, I don't really like iO Italian Osteria's version as the chocolate syrup on top destroys the delicate sweetness underneath and the panna cotta itself is not as creamy as I would have liked. 
Siva, the restaurant manager, recommended that I try the Pistachio Tiramisu [S$14]. I like that the strong coffee taste has been replaced with the subtle aroma of pistachios. It is a light dessert that everyone will enjoy.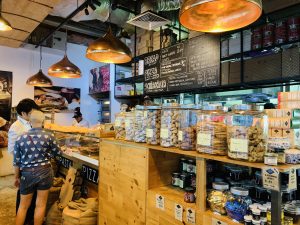 There is a small retail section located near the entrance of the restaurant. You can buy truffle oil, Italian wines, pasta, jams here. iO Italian Osteria also has its own in-house bakery which bakes their own breads daily used in the restaurant and for sale. 
iO Italian Osteria is not your run-of-the-mill Italian restaurant and the prices tell it all. The bill will easily run into hundreds but the delish food is worth it. Look for the restaurant manager, Siva, if you need food recommendations. I have not been to Italy so I can't vouch for the authenticity of the dishes but they sure make for a fine substitute. 

iO Italian Osteria 
Address: 4 Hillview Rise, HillV2 #02-01, Singapore 667979
Telephone: 67107150 
Opening Hours: Monday – Friday 11.30am – 10pm; Saturday – Sunday 10am – 10pm
Website: https://io-osteria.com