Although I am Chinese and I frequently patronize Chinese restaurants, I am not very familiar with Cantonese and Teochew cuisine.
The only few Cantonese restaurants I have been to are Moi Lum, Sik Bao Sin and Red Star Restaurant, many of which were introduced to me by my ex-colleagues. 
It has been a while since I last met up with my ex-colleagues. It was one of my ex-colleague's birthday so we decided to meet and do some catching-up.
The birthday girl decided on going to Ban Heng, which is located on 11 floor in Orchard Central. I rarely venture up past level 3 of Orchard Central, I would never have guessed that there are shops on the 11th floor, let alone a Chinese restaurant. 
Ban Heng has been in operation in Singapore since 1972, which means it has over 40 years of history. There are altogether 5 Ban Heng outlets in Singapore – HabourFront Centre, Orchid Country Club, Aranda Country Club, Orchard Central and Boon Keng.
Ban Heng is offering a All-You-Can-Eat-Ala-Carte-Buffet (Lunch and Dinner). One dines FREE with every 3 paying adults, promotion is ends on 31 December 2019. You can find both Menu A and Menu B here. 
Menu A Prices: 
Monday – Friday $27.80++ per adult
Saturday – Sunday & Public Holiday Eve $30.80++ per adult 
Public Holidays +32.80++ per adult 
Children (height 100-140cm) $16.80++, children under 100cm eat for free 
Menu B Prices: 
Monday – Friday $34.80++ per adult
Saturday – Sunday & Public Holiday Eve $37.80++ per adult 
Public Holidays +39.80++ per adult 
Children (height 100-140cm) $16.80++, children under 100cm eat for free 
While you wait for your food to arrive, you can help yourself to the free-flow dishes. There were fried mantou, chilli crab, fried chicken, cola chicken, cereal prawns, spring rolls, fried rice and fried bee hoon and fish maw soup with seafood on the day we were there. 
We ordered BBQ Chicken Satay served with Cucumber & Onion 烧烤肌肉沙爹 from the Chef's Recommendation section. The satays are nice but not fantastic, with a touch of smokiness. 
There is really no need to order any soups since there is Fish Maw Soup with Seafood 海味鱼鳔羹 at the free-flow station but my dear ex-colleague went on to order Shark's Fin Soup with Crabmeat 干贝蟹肉鱼翅. It is limited to one serving per table and the kiasuness in her probably feel it's a loss if she doesn't order it. The soup is thick and flavorful with generous chunks of crab meat and shark's fin. 
For appetizers, we had Deep-fried Beancurd Skin 香脆烤素方 and Salted Egg Yolk Fish Skin 咸蛋黄香脆鱼皮. The beancurd skin is crispy but unremarkable while the fish skin are deep-fried and generously coated with salted egg sauce. They are almost as good as IRVINS Salted Egg. 
From the poultry & meat section, we ordered Roasted Chicken with Prawn Crackers 脆皮虾饼烧鸡, Wok-fried Sweet & Sour Pork 酸甜咕噜肉 and Braised Dong Po Pork Belly served with Steamed Bun 东坡肉配荷叶包. The chicken is a little dry and the pork belly is too oily. I really liked the the sweet and sour pork which has the right balance between sweet and sour. The meat is tender yet chewy.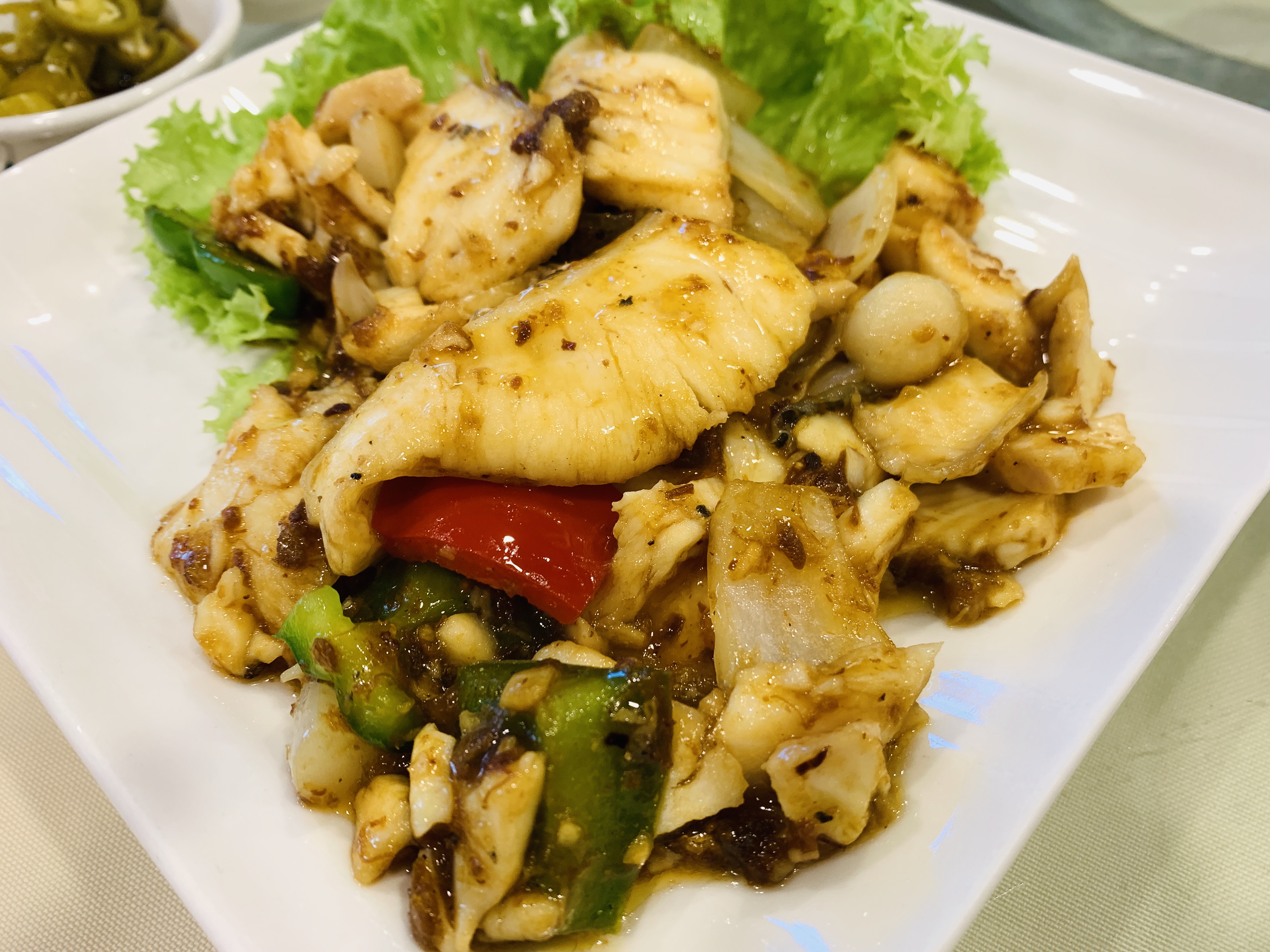 Steamed Patin Fish with Fermented Chilli & Garlic 剁椒蒸巴汀鱼 is seriously one of the best dishes from this ala carte buffet. The fermented chilli and garlic brings out the sweetness of the fresh patin fish. Stir Fried Sliced Fish with XO Sauce XO酱炒鱼片 is not bad too. 
We also ordered some vegetable dishes to balance out all the meats. Braised Eggplant with Minced Pork 鱼香茄子, Wok-fried Kang Kong with Sambal 马来风光, Poached Local Spinach with Three Type of Egg 三皇蛋苋菜, Stir-fried Kai Lan with Garlic 蒜蓉芥兰 and Deep Fried Crispy Wild Mushroom 七味炸鲜菌. We ordered almost every dish in the  tofu & vegetable section but nothing outstanding. 
There are desserts at the free-flow desserts section. There is also 7 flavors of ice-cream. 
Ban Heng (Orchard Central) 
Address: 181 Orchard Road, Orchard Central #11-01/02, Singapore 238896
Opening Hours: Lunch 11.30am – 3pm; Dinner 6pm – 10pm
Email: oc@banheng.com.sg