Located on the 5th floor of Clementi Mall, Madly Good is a dessert cafe that specializes in waffles, crepes and pancakes.
Design
Madly Good's shop is only for ordering and payment, the seating area is in the corridor in front of the shop.
The seating area in the middle of the walkway feels like a slice of oasis. I like the wooden tables and chairs which gives the place a more natural feel. Wooden fences with green plants makes this place feel very comfortable.
The Food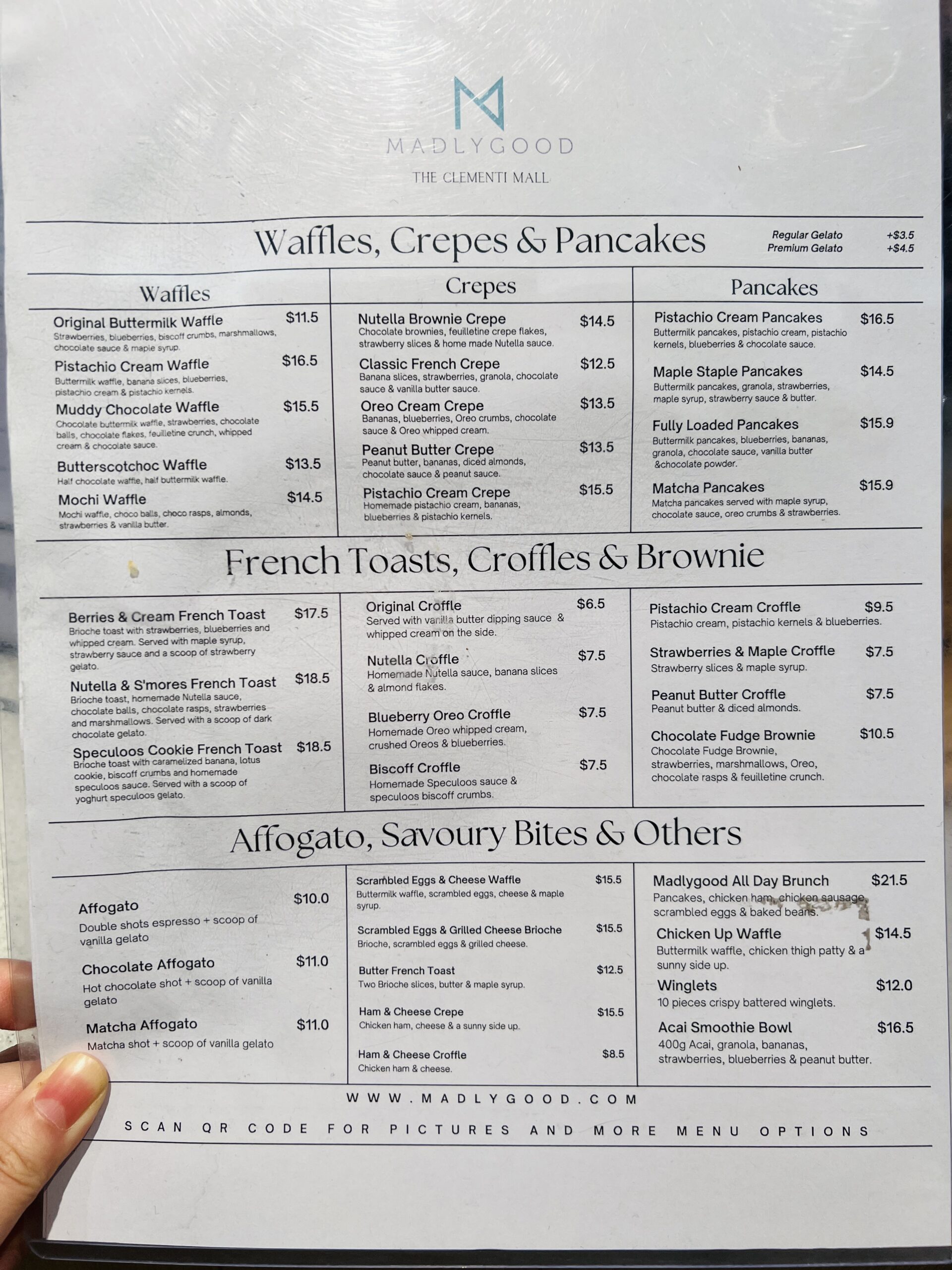 Besides waffles, crepes and pancakes, Madly Good also offers some savoury bites and affogato.
Madlygood All Day Brunch [S$21.5] is Madly Good's version of the big breakfast. The chicken sausages, chicken ham, scrambled eggs and baked beans are pretty normal but the pancakes are to-die-for. These oval-shapes pancakes are so thick they are almost like bread, yet they are so moist and fluffy. I will come back for these pancakes anytime.
Waffles and pancakes can be found in many cafes in Singapore but crepes are a little more rare. The crepes in Pistachio Cream Crepe [S$15.50] are not the crispy ones I am used to having, instead they are super soft and pillowy. There are banana slices both inside the folded crepe and outside. I was worried that their homemade pistachio cream might be too sweet but it has the perfect balance of sweetness and taste so delightful with the soft crepes. The crushed pistachios add the perfect touch to this amazing dessert.
You have an option to add a scoop of ice-cream to this crepe dish but I think the Fudgy Pudgy flavor is not a good fit. Something a little more creamy and fruity might have been better.
Madly Good has a full page of menu dedicated to drinks. You will find both hot (speciality coffee, Japanese and English teas) and cold drinks (tea lattes, iced teas and naturals sodas). There are also milkshakes, floats and ice-blended drinks such as this Caramel Ice Blended [S$7.50].

Madly Good (Clementi)
Address: 3155 Commonwealth Avenue West, The Clementi Mall #05-22, Singapore 129588
Telephone: 80447130
Opening Hours: Daily 11.30am – 10pm
Madly Good (Jurong East)
Address: 2 Jurong East Central 1, JCube #03-12, Singapore 609731
Telephone: 66943235
Opening Hours: Monday – Friday 12.30pm – 9.30pm, Saturday 11.30am – 10.30pm, Sunday 11.30am – 9.30pm
Website: https://www.madlygood.com