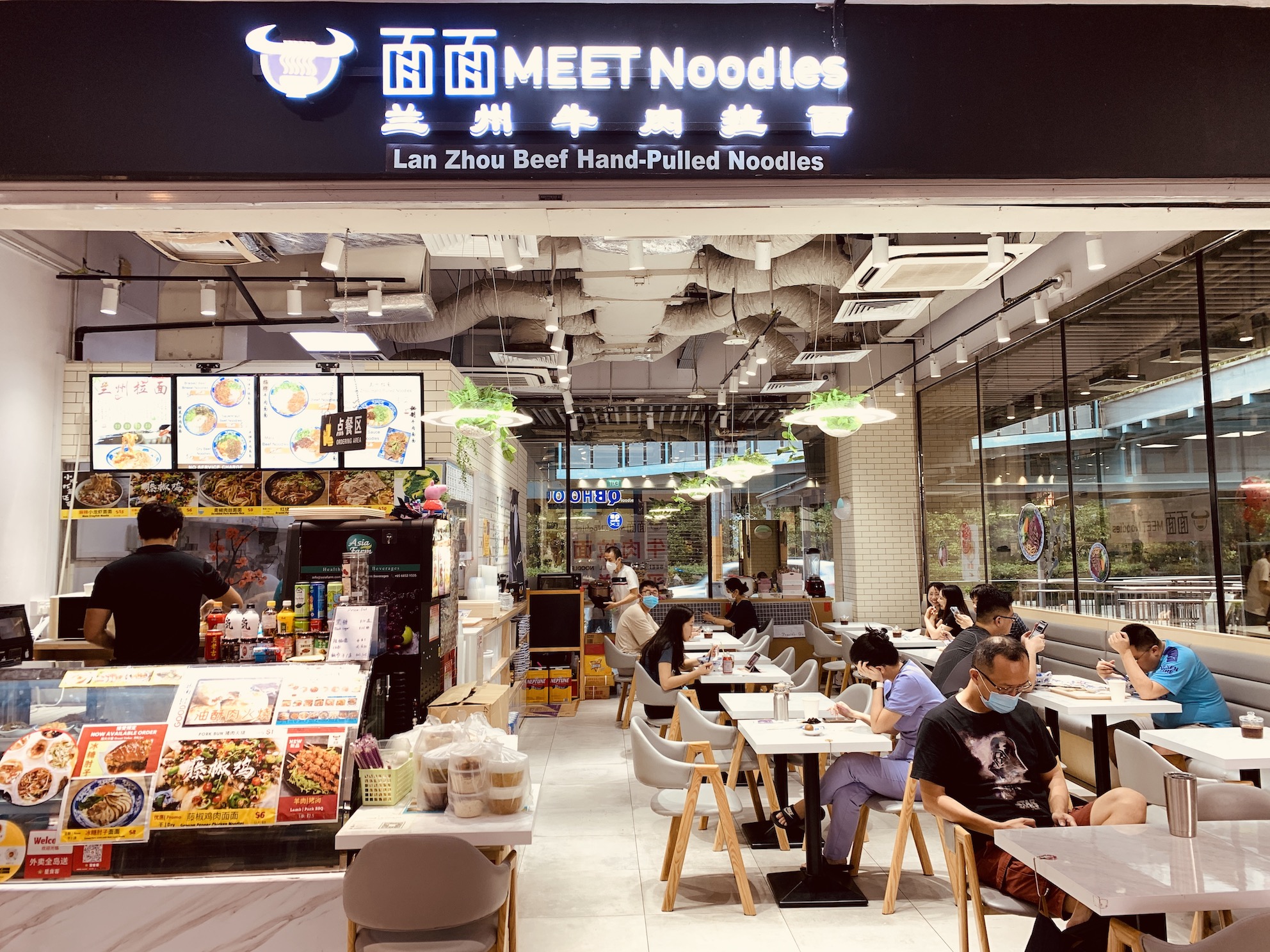 When I ate at Ma Zi Lu Beef Noodle back in 2019, I didn't know much about lanzhou beef noodles. I was only there because it was a newly-opened restaurant and many people were talking about it. Those hand-pulled noodles are so springy and tasty that I kept going back for more. I was so sorry to see the  restaurant close down but I have found another restaurant that does the same hand-pulled noodles – MEET Noodles in Grandtral Mall in Clementi.

Now I know that an authentic bowl of lanzhou beef noodle must meet these 5 criteria – 一清二白三红四绿五黄 which translates to:

clear soup 

white radish slices 

red chilli oil 

chopped green spring onions 

yellowish hand-pulled noodles
Besides beef noodles, MEET Noodles offers many other types of noodles and Shaanxi snacks. Here is the menu for your reference.

MEET Noodles offers 7 different types of noodles to choose from with varying thickness from right to left.
The Food
This is MEET Noodles' Signature Beef Noodle 招牌牛肉面面 [S$6]. Look at how clear the soup is and the generous amount of sliced beef. The hand-pulled noodles are springy and al dente. White radish slices and chopped green onions makes the bowl of noodles look more appetizing. I am not a spicy-lover so there is no chilli oil in my bowl of noodles. All in all, a great bowl of lanzhou beef noodles. 
There is also Special Sauced Beef Noodle 秘制牛肉面面 [S$12] which is really the upsized version of Signature Beef Noodle. It has twice the amount of noodles and beef slices, sure to keep any big-eater happy. 
MEET Noodles is currently running a promotion where you get a free bowl of beef noodle when you buy the Special Sauced Beef Noodle.
The Mutton Soup Noodle 羊肉汤面面 [S$10] is equally as good. The soup is not as clear, you will find a thick layer of oil on top because mutton is fattier than beef. Each piece of mutton is tender and flavorful. The amount of noodles and mutton pieces is very generous, you will definitely have your fill. 
Alternatively, you can also order Mutton Soup with Paomo for the same price. This is the classic way of eating mutton soup in Xi'an and other parts of Guangdong. Paomo is steamed leavened flat bread that is chopped-up and soaked in mutton or beef stew before eating. 
MEET Noodles also sells some interesting snacks and side dishes that are not commonly available in Singapore. 
Many Chinese call this the Chinese Hamburger and it is known as Beef Burger 肉夹馍 [S$5] at MEET Noodles. This is a Shaanxi snack and it is popular all over China.
A thin crispy round-shaped pastry is sliced open from the side and stuffed with chopped marinated beef. I like MEET Noodles' version because the beef is not overly salty and the pastry is crumbly-crispy.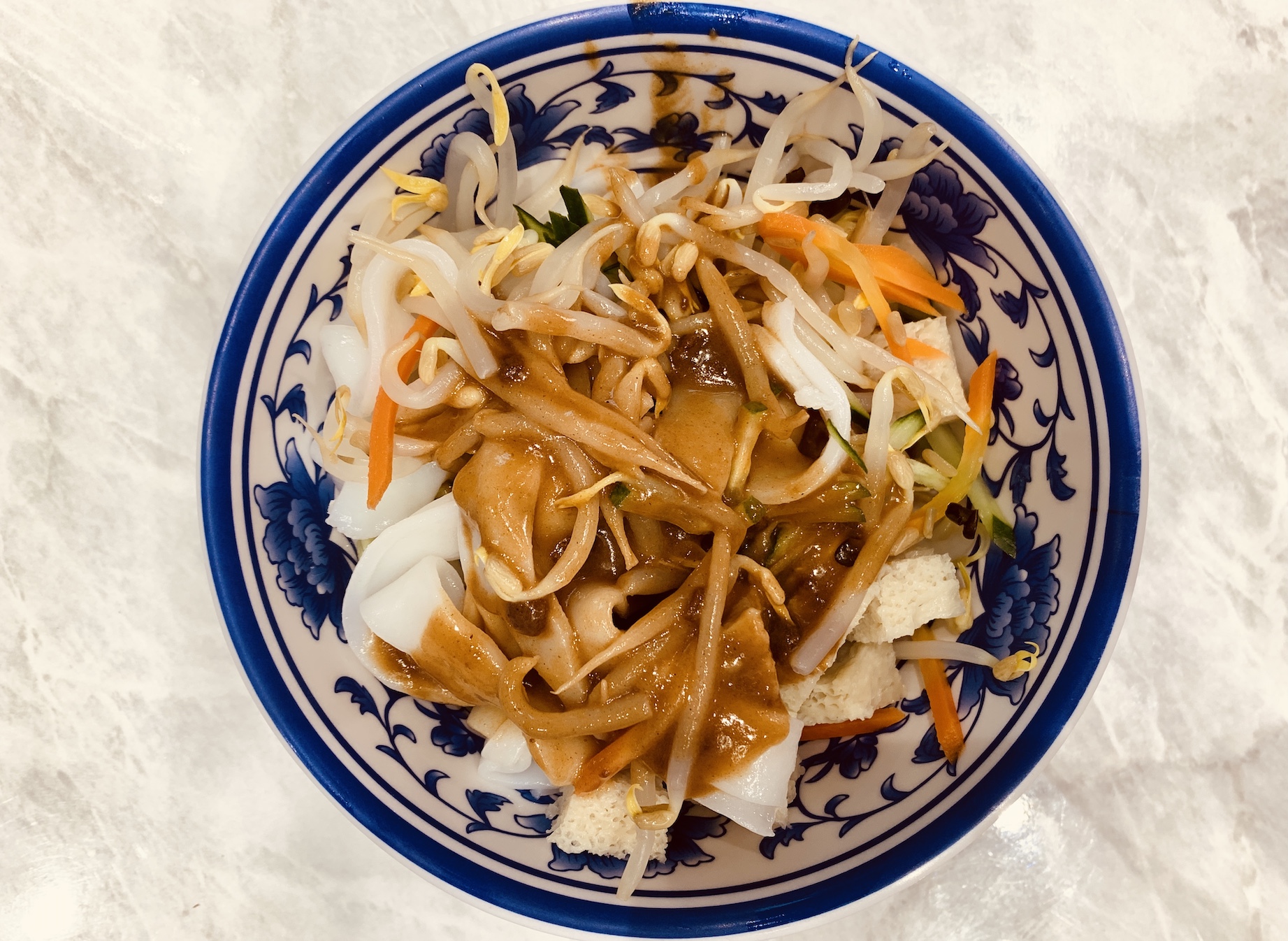 Another popular Shaanxi speciality dish is liangpi. It looks like flat glass noodles and it is made from wheat or rice flour. MEET Noodles' version is the classic Sesame Cold Noodle 芝麻凉皮 [S$4]. The cold flat noodles are mixed with salty Chinese sesame paste, sliced cucumber, gluten, sliced carrots and minced garlic. You can opt to have it with or without chilli oil. It is a refreshing dish that is perfect for summer. 
I am usually not a fan of pork knuckles as they tend to be too greasy but MEET Noodles' Pork Knuckle [S$5] is marinated with crystal sugar which helps to reduce the oiliness. 
I am totally blown away by MEET Noodles' Lamb BBQ [S$2.50 per stick]. The lamb meat is so tender yet firm with the enticing aroma of cumin powder. It is pretty expensive, but still affordable for the occasional indulgence.  
MEET Noodles is now my go-to restaurant for lanzhou beef noodles and Shaanxi specialty snacks. The portions are generous yet prices are reasonable. 
MEET Noodles 
Address: 3151 Commonwealth Avenue West, Grantral Mall #01-15, Singapore 129581 
Telephone: 86995186
Opening Hours: Daily 10.30am – 10pm
Facebook Page: https://m.facebook.com/meetnoodlessg/