If you have been following my blog, you know that I have been on a unagi craze for the past few weeks.
I have already been to Man Man Japanese Unagi Restaurant, Una Una, Unaemon and Uya Japanese Unagi Restaurant. The last unagi restaurant on my list is Unagi Ichinoji.
Unagi Ichinoji originated from Tokyo, Japan. This unagi speciality restaurant has been around for 125 years and it is known as Miyagawa Hoten in Japan. The Singapore outlet at Robertson Quay is their first overseas outlet. 
Unagi Ichinoji can be a little tricky to find. I walked around Village Residence Roberson Quay twice before I finally found the place. Look out for the signage that says "Village Residence Robertson Quay" between Italian restaurant Mondo Mio and Japanese restaurant Amazing Hokkaido. 
Unagi Ichinoji's black-colored exterior shows understated elegance. Black wooden panel and glass sliding doors merges traditional Japanese elements with contemporary design. 
The seating capacity of Unagi Ichinoji is much small than the other restaurants. There are 4 counter seats and 3-4 tables, the total seating capacity is around 20 people or so. This is probably why there is always a long queue at Unagi Ichinoji.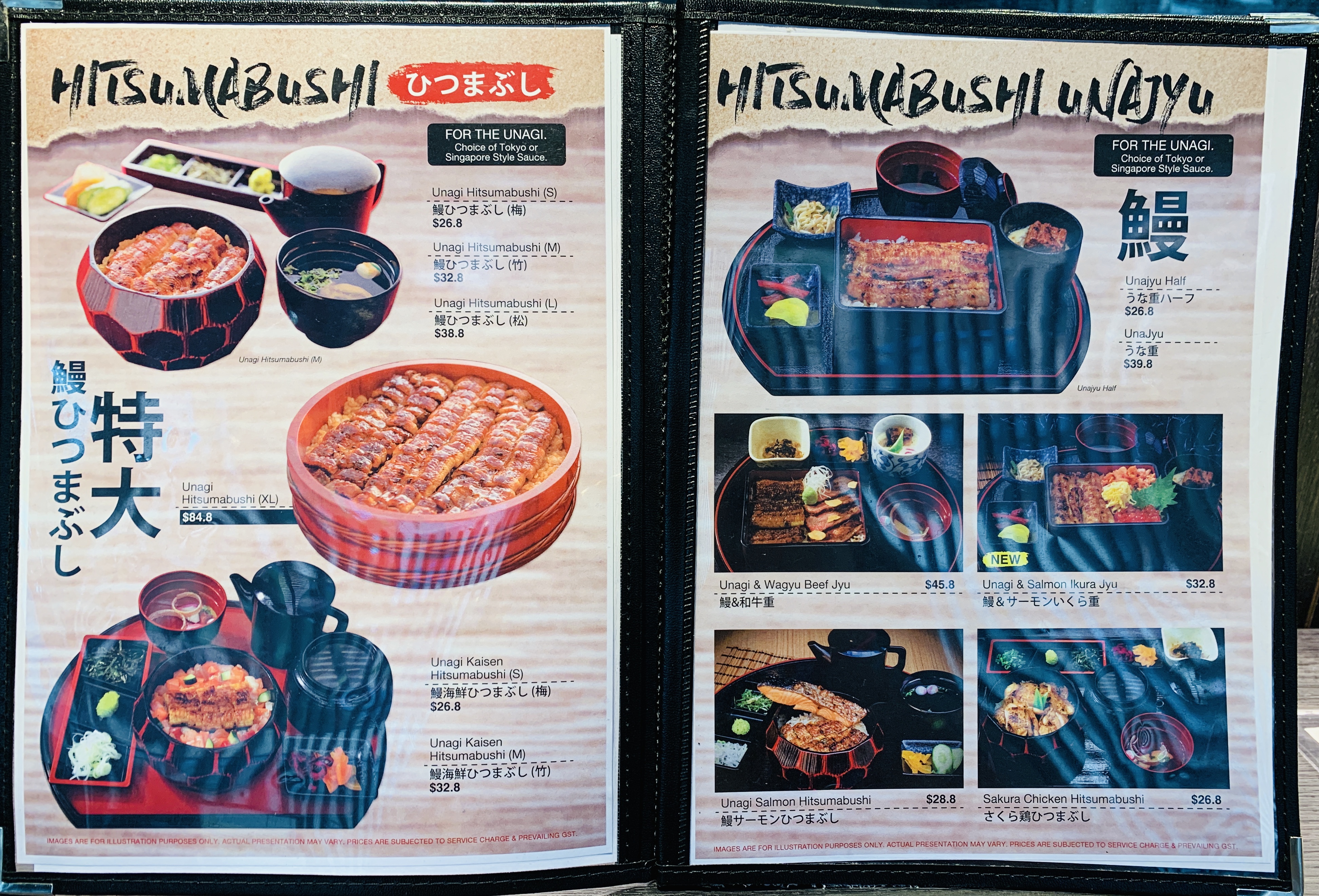 Unagi Ichinoji specializes in unagi, it's all about unagi in this restaurant. Besides Nagoya style grilled unagi, there is also seiro mushi (steamed eel) and mamushi donburi. 
Unagi Ichinoji's Hitsumabushi comes in four sizes – Small (S)[S$26.80], Medium (M) [S$32.80], Large (L) [S$38.80] and Extra Large (XL) [S$84.80]. You can choose to have your unagi cooked with original Tokyo Style Sauce or sweeter Singapore Style Sauce. 
The Hitsumabushi I have here is the Large (L) size with traditional Tokyo Style Sauce. The unagi is crispy on the outside yet melt-in-your-mouth tender on the inside. Paired with the fluffy Japanese rice, it is really "a match made in heaven". 

Unagi Ichinoji (Robertson Quay)
Address: 30 Robertson Quay, Village Residence Robertson Quay #01-05, Singapore 238251
Telephone: 62688043
Opening Hours: Daily 11.30am – 3pm (last order 2.30pm), 5.30pm – 10pm (last order 9.30pm)
Unagi Ichinoji (Suntec City Mall)
Address: 3 Temasek Boulevard, Suntec City Mall #03-307, Singapore 038983
Telephone: 67321970
Opening Hours: Daily 11.30am – 3pm (last order 2.30pm), 5.30pm – 10pm (last order 9.30pm)