I have heard many rave reviews about Violet Oon and her Peranakan restaurants. I can't really take spicy food so I have never been to any of her restaurants until my boss brought us there a few days back.
Violet Oon – Design
Violet Oon restaurant in ION Orchard spots a modern-Victorian look with black metal frames with gold-rimmed glass doors. It's classy and gorgeous. Emerald-green shelves divide the space into different sections and drop-down glass lights gives the place a touch of warmth.
Violet Oon – The Food
I like that Violet Oon' menu is concise with just 6 pages, which includes soups, starters, salads, mains, noodles & rice and nonya dishes.
Here are some of the dishes that I have tried:
Gado Gado [S$20] is an Indonesian salad of tempeh, fried bean curd, hard-boiled eggs, potatoes, long beans, cabbage, cucumber and lontong rice, served with peanut sauce and prawn crackers. This is perfect for sharing, the mildly-spicy creamy peanut sauce makes everything taste so good.
Hainanese Pork Chop [S$39] is a fusion of Hainanese and Western cuisine. The main pork chop uses kurobuta pork loin, which is coated with cream cracker batter and deep-fried till golden. The pork chop is tender and juicy, it tastes even better with the accompanying house-made tomato reduction. I don't really like the steak cut fries, but the small green peas are delightfully refreshing.
VO's Shepherd's Pie with House Salad [S$28] is made following a traditional English recipe. The shepherd's pie is creamy and delicious with creamy mashed potato and juicy minced beef.
I personally feel there is nothing special about Roasted Sarawak Black Pepper Tiger Prawn Pasta [S$31] except that the tiger prawns are huge and very succulent.
The Beef Rendang [S$28] looks like blocks of dry beef covered with reddish-orangey gravy, but I was amazed at how utterly tender the beef is when I took a bite.
Buah Keluak Ayam [S$28] is a popular classic Peranankan dish that features spicy chicken stew cooked with buah leluak nut. Buah keluak is an acquired taste, but it does give the chicken stew a deep richness.
Babi Pong Tay [S$21] is another famous Peranakan dish where pork belly is slow-cooked with dried mushroom and bamboo shoots. The top layer is so tender, it literally melts in the mouth!
The fragrant and spicy chilli padi garlic sauce used in Udang Goreng Chilli [S$36] really brings out the sweetness of those deep-fried prawn.
Chap Chye [S$19] is the Peranakan version of vegetable stew where mixed vegetables and beancurd skin are braised in rich prawn bisque.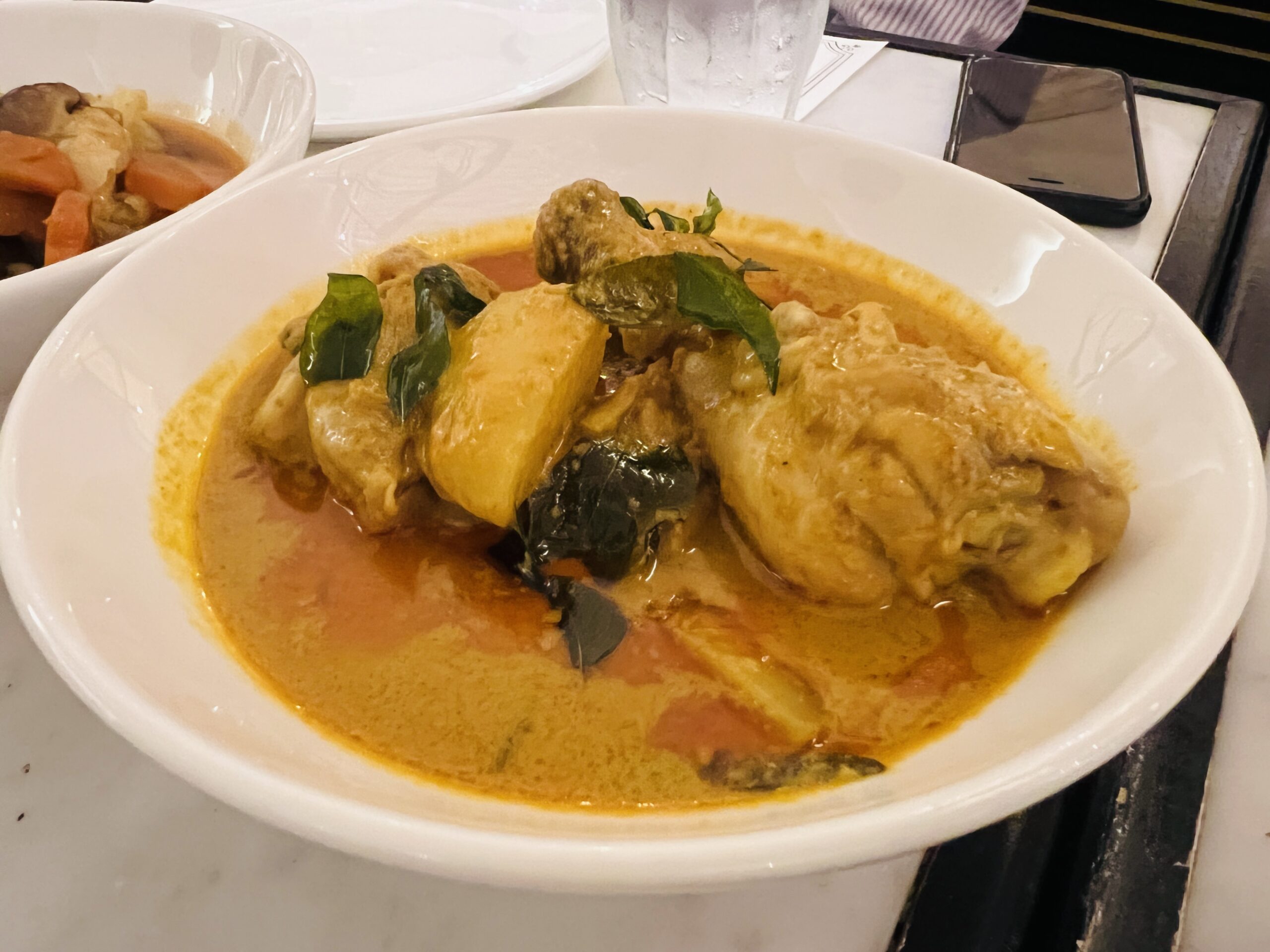 There's nothing really special about VO Chicken Curry [S$25] but I like the curry is aromatic without being overly spicy.
Violet Oon (ION Orchard)
Address: 2 Orchard Turn, ION Orchard #03-28/29, Singapore 238801
Telephone: 98349935
Opening Hours: Daily 12pm – 10pm
Violet Oon (National Gallery)
Address: 1 St. Andrew's Road, National Gallery Singapore #02-01, Singapore 178957
Telephone: 98349935
Opening Hours: Daily 12pm – 3pm; 6pm – 10.30pm
Violet Oon (Jewel)
Address: 78 Airport Boulevard, Jewel Changi Airport #01-205/206, Singapore 819666
Telephone: 98349935
Opening Hours: Monday – Friday 12pm – 10pm, Saturday – Sunday 11.30am – 10pm
Email: eat@violetoon.com