I decided one day that I want to start a healthy lifestyle so I walked from Bukit Batok to Chinese Garden. There is a slew of Chinese restaurants underneath the HDB block diagonally opposite the Chinese Garden MRT station and one of them is Xiao Yao Ge 逍遥阁. 
Xiao Yao Ge 逍遥阁 specializes in Northeastern Chinese, Sichuan dishes and BBQ. The dining area upstairs with seating capacity of 10-20 people even allows you to sing karaoke while dining. Xiao Yao Ge 逍遥阁 is the only restaurant in the west with such facilities. 
There are well over 150 dishes to choose from, there is something for everyone. If don't can't read the ordering form that is all written in Chinese, refer to the menu which has beautiful images and English translations.
There is a wide variety of barbecue food available, from vegetables to meats to seafood. 
The presentation is not that nice, all the grilled items are thrown onto one plate. There is Grill Fresh Mutton 烤羊肉串 [S$1 per stick], Grilled Roast Pork and Needle Mushroom 五花肉卷金针菇 [S$3 per stick], Grill Chicken Wing 奥尔良烤翅 [S$2 per stick], Grill Bread Slice 烤面包 [S$1 per stick], Grill Mantou Slice 烤馒头 [S$1 per stick] and Grill Mushroom 烤蘑菇 [S$1 per stick].  
I highly recommend this Grill Eggplant with Garlic 烤茄子 [S$5]. The eggplant is tender and juicy, the minced garlic adds a lovely aroma to the eggplant. 
Xiao Yao Ge 逍遥阁 has your usual Sichuan dishes such as Boiled Sliced Meat/Fish [S$12] and Chong Qing Grilled Fish. For something a little different, try Boiled Chilli Bull Frog 馋嘴牛蛙 [S$15]. The tender frog meat is cooked with loads of dried chilli and peppercorns, you will definitely get the kick. 
Sour Spicy Potatoes 酸辣土豆丝 [S$8] is about the only Sichuan dish I can eat and actually like. It is sour and only slightly spicy, the potato strips are soaked in cold water after cutting so they are extremely crunchy.
Streaky Pork and Cabbage Soup 五花肉炖白菜豆腐 [S$10] is one of the most traditional Northeastern Chinese soups. It is made with simple ingredients of cabbage, pork and tofu, it's such a simple yet comforting soup that goes well with any dish. 
Double Cooked Pork Slices 锅包肉[S$14] is one of the most classic of Northeastern Chinese cuisine. The pork slices are marinated, fried till golden and re-fried with sweet and sour sauce. The pork slices are tender on the inside and crispy on the outside, the double frying makes the pork slightly chewy. 
I normally have Sautéed Tomato with Egg [S$8] but Egg with Chilli and Green Onion 酱炒蛋椒葱 [S$8] is an interesting alternative. The chilli gives the dish some heat while the onion adds a little sweetness. 
This is actually supposed to be Cumin Beef 孜然牛肉 [S$12] but I got them to change it to mutton for an additional S$2. I personally feel Dong Bei Xiao Chu's is still the best. There is too much cumin and sauce that the taste of mutton is almost gone. 
I am surprised that Korean Cold Noodle 东北冷面 [S$7] has not been made into Singapore's national dish given how the sweet and sour cold noodles is perfect for Singapore's hot weather. The buckwheat noodles are a little chewy, just the way I like it. Accompanying the noodles are cucumber strips, radish strips, kimchi, two slices of beef and half a hard-boiled egg.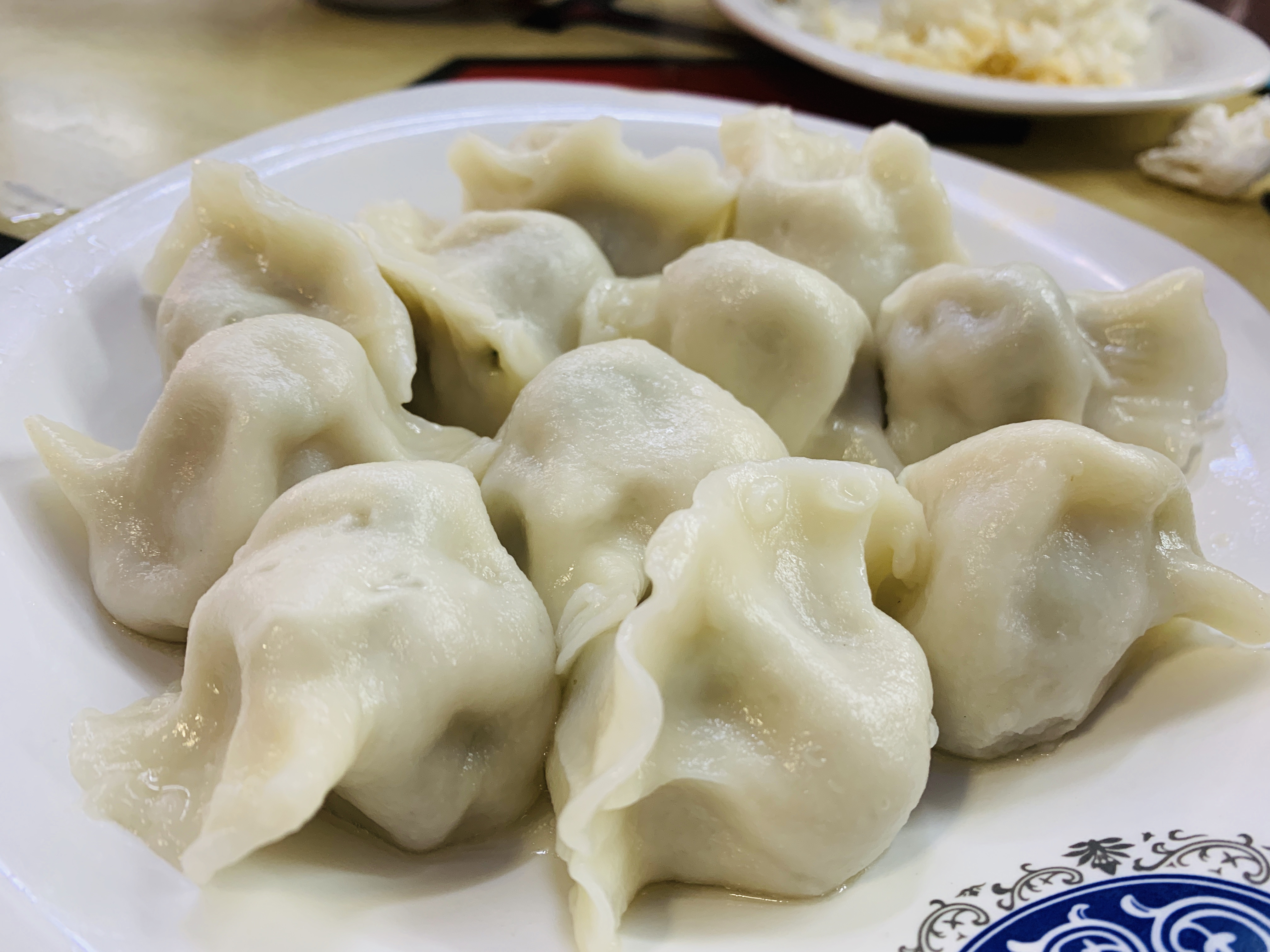 Dumplings [S$7] is such an inherent part of Chinese cuisine, it's impossible not to find dumplings in a Chinese restaurant. Xiao Yao Ge 逍遥阁 offers dumplings with 3 types of filling: pork with celery 猪肉芹菜水饺, pork with cabbage 猪肉白菜水饺 and pork with leek 猪肉韭菜水饺. The fillings are fresh and the dumplings are delicious. 
Wash everything down with some icy-cold beer. I have drunk quite few different brands of beer but TsingTao Beer and Snow Beer are still two of my favorites. I like their light taste. Both beers are priced at S$6 per bottle. There is an ongoing promotion of 4 Tsingtao Beer for S$16 or 4 Snow Beer for S$20. 
Xiao Yao Ge 逍遥阁 
Address: Block 350 Jurong East Avenue 1 #01-1227 Singapore 600350 
Telephone: 66775043
Opening Hours: Daily 11am – 12am