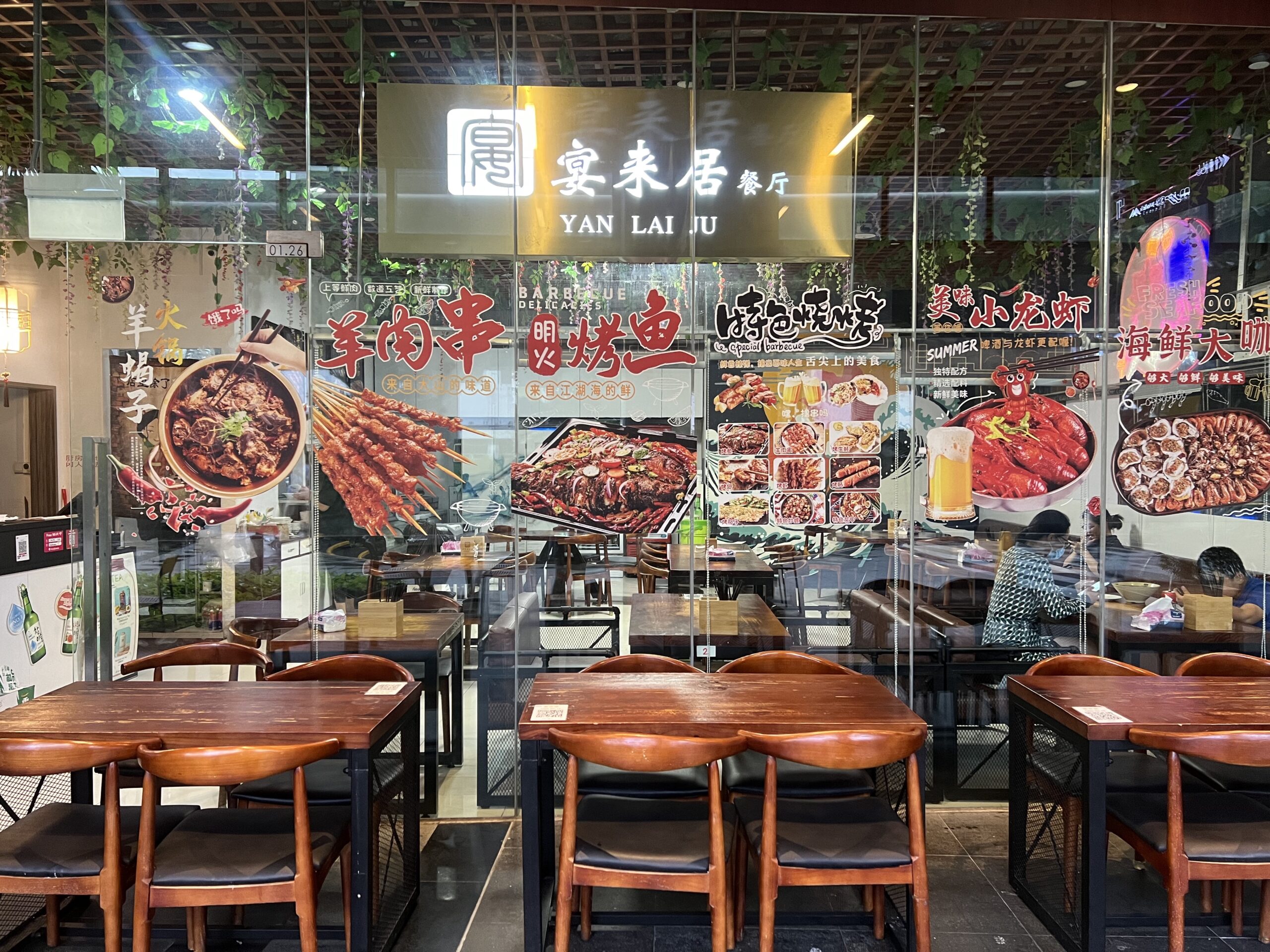 I was strolling around Vision Exchange after having dinner at A Kitchen when I discovered another Northeastern Chinese restaurant by the name of Yan Lai Ju 宴来居.
While there is always a long queue at A Kitchen, there are only a few diners at Yan Lai Ju 宴来居. A Kitchen's strategic location right in front of the entrance might have played a part, but is that all to it? I decided to try out Yan Lai Ju 宴来居 for myself to find out.
Yan Lai Ju – The Food
Chinese barbecue or skewers is only available after 5pm. There's supposedly an option to choose between Local Flavor 本地口味 and Heavy Flavor 东北口味. But I overheard a lady from another table that it tastes the same no matter which flavor you choose.
I order Grilled Mutton BBQ 羊肉串 [S$1.50 per stick, minimum 2 sticks] at every Northeastern Chinese restaurant because I just can't get enough of it. The mutton skewers here are a little tough and much too spicy even though I ordered "small spicy".
Orleans Chicken Winglet 奥尔良鸡中翅 [S$2] and Grilled Sweet Corn 烤玉米 [S$1.60] tastes pretty ordinary. Roast Pork Roll Noodle Mushroom 烤五花肉卷金针菇 [S$2] is a lot smaller than I expected and they are a little dry and rubbery.
Pickled Cabbage with Fish Slice 酸菜鱼 [S$24] is much easier to eat than grilled fish because there are no bones. But the fish slices are a little on the soft side which means the fish slices are not very fresh.
You can't really go wrong with Sautéed Potato, Green Pepper and Eggplant 地三鲜 [S$12] for it is such a classic and easy dish.
Conclusion
Yan Lai Ju is a good place to have some affordable Northeastern Chinese skewers and dishes with family and friends. The shorter or lack of queue is another plus point.
Yan Lai Ju
Address: 2 Venture Drive, Vision Exchange #01-25/26 Singapore 608526
Telephone: 69700010
Opening Hours: Sunday – Thursday 10.30am – 10.30pm, Friday – Saturday 10.30am – 11pm
Website: https://yan-lai-ju-chinese-restaurant.business.site