I recently went on a hiking trip in Singapore which ended with dinner at a fusion restaurant called 3 Monkeys.
There is a signboard outside the restaurant that says this restaurant serves Singapore-brewed craft beers. I was intrigued so I decided to check out this trendy little restaurant.
It's a riot of colors from the colored neon lights on the walls. I love the monkey-themed decor of the restaurant which brings a cheeky vibe. You can find posters of King Kong, Monkey God and many others.
3 Monkeys – Food
The food at 3 Monkeys is a mix of fusion Western dishes with burgers and pastas.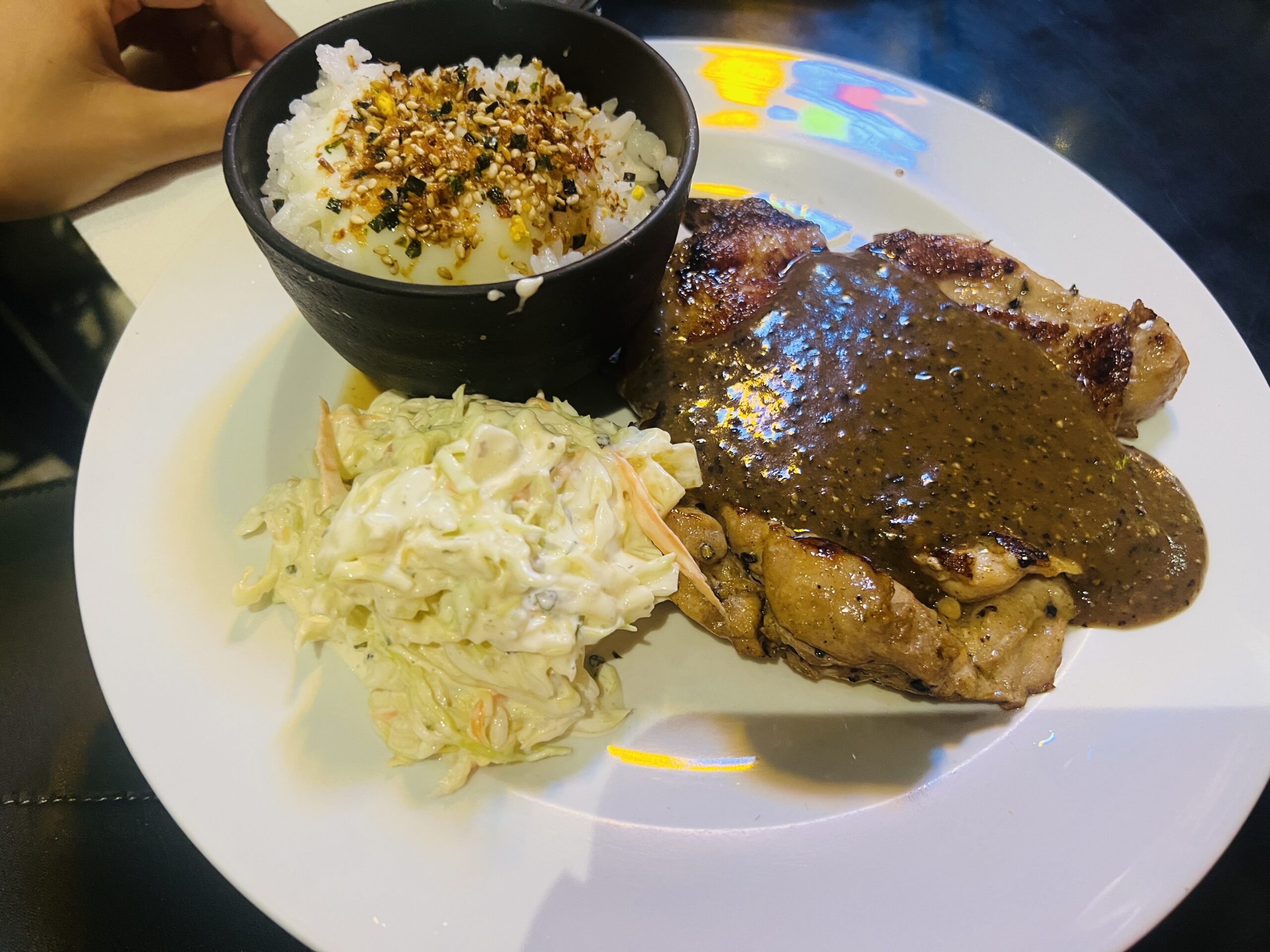 Traditional Chicken Chop [S$13] is one of the most popular dish at the restaurant. The chicken chop is tender and juicy, plus you get to choose the sauce and two sides.
Apparently, the Big Bird Burger [S$18] is so huge that two person can share one. The combination of XL fried chicken cutlet, homemade slaw, bacon, big bircheddar, tomato, lettuce and smoked chiptole mayonnaise is quite a sight.
Anyone who loves a goof beef burger will love the Black Beauty Beef Burger [S$19]. That black pepper crusted patty with bacon, Swiss cheese, truffle jam, truffle mayonnaise and black pepper sauce hits all the right spots. I love the fragrant aroma of truffle that elevates the whole burger experience.
Another beef burger option is King Kong Beef Burger [S$18]. This glorious beef burger comes with bacon, cheddar, fried egg, jalapeños, caramelized onions and chiptole mayonnaise.
3 Monkeys – Drinks
You can order craft beers at the bar counter. The craft beer menu are written on black plagues below the red neon "凉茶" signage.
This is 1 Night in Cologne [S$11] by Alive Brewing Co. It is exactly as the description says: floral, malty, refreshing.
There are many non-alcoholic options available. Homemade Lemon Tea and Strawberry Lychee Iced Tea are crowd favorites, there is also a good selection of teas and coffee.
They also have some superb milkshakes, such as this Chunky Monkey [S$8.50]. Doesn't chocolate ice-cream with frozen bananas, vanilla ice-cream, nutella peanut butter topped with crunchy malt balls sounds absolutely divine?
3 Monkeys
Address: 112 Pasir Panjang Road, Singapore 118544
Telephone: 64713224
Opening Hours: closed on Mondays, Tuesdays – Sundays 11.30am – 3pm, 6pm – 10pm
Facebook Page: https://m.facebook.com/3monkeyssg/