Singapore has no shortage of interesting cafes. From dreamy Kreams Krafthouse to Harry Potter-themed Platform 1094, there is something for everyone. I recently visited another interesting cafe in Telok Ayer Street called My Awesome Cafe. 
This cafe is housed in the shophouse that used to be Chung Hwa Free Clinic. You can still see the facade with the Chinese words in black on the pillars at the entrance to the cafe. 

Following the retro theme of the shophouse, My Awesome Cafe is decorated in a distinctively vintage look. The white walls are left unfinished on purpose and the furniture are all thrifted from around the island. The strings of colorful paper filled with well wishes from patrons that are strung across the ceiling reminds me of the Tibetan Buddhist prayer flags. The warm glow from Japanese paper lanterns and fairy lights on the ceiling gives the cafe a cosy atmosphere. 
A smorgasbord of vintage items decorates the service counter. Tingkat containers line the uppermost shelve, vintage cups and utensils hangs on the metal rack below.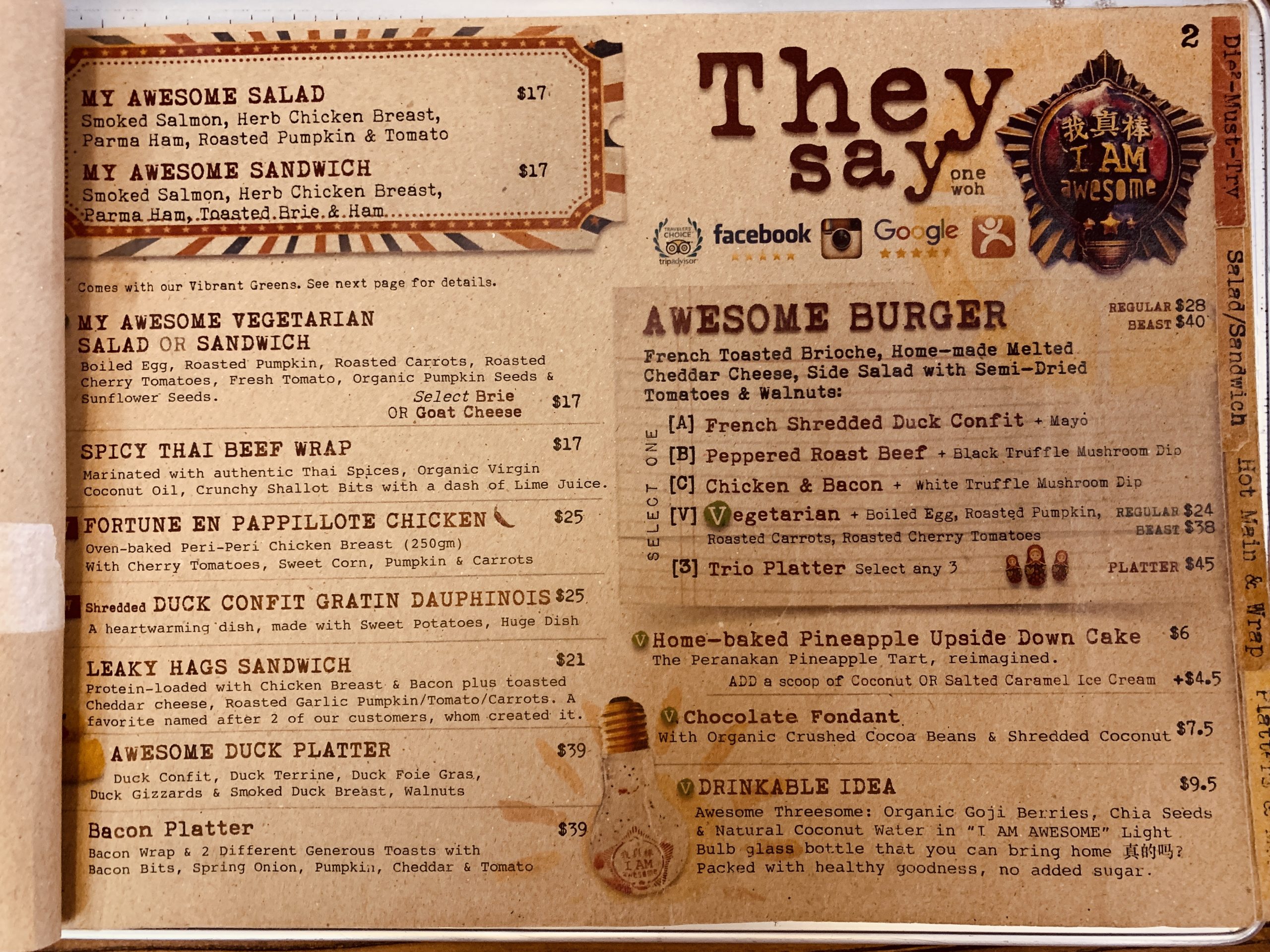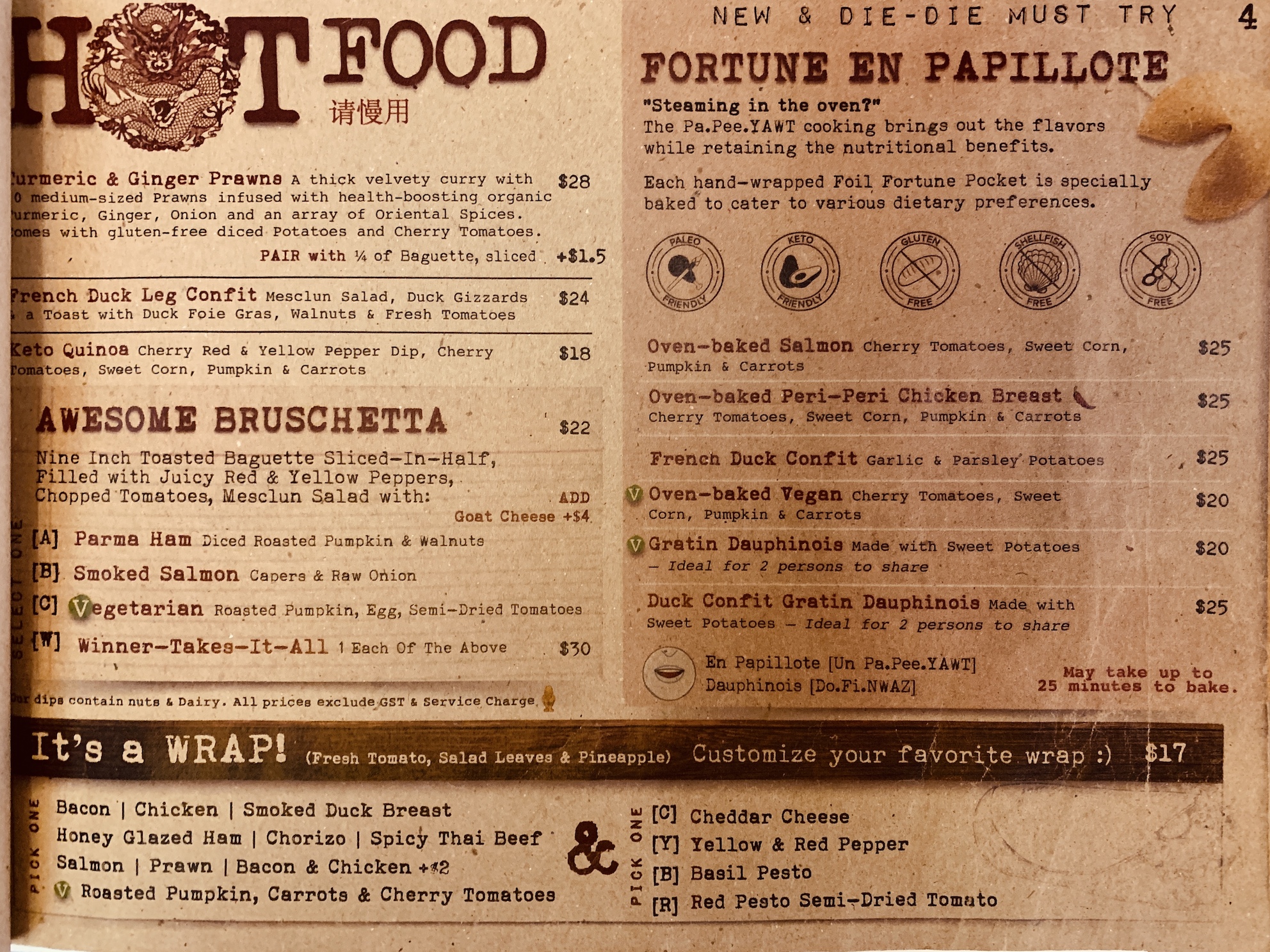 My Awesome Cafe is not only a cafe, it is a full-fledge restaurant. You can get everything here: breakfast, organic teas, coffee, smoothies, salads, wraps, burgers and drinks.

This is what I chose for breakfast: Toasted Brioche + Smoked Salmon + Organic Oat + Super Berries Organic Tea [S$18].

I am very sensitive to caffeine so I got this Super Berries Organic Tea [S$5] instead. The sourish taste is perfect for waking me up. Berries contain antioxidants which helps to keep me healthy and give me glowing skin.

For those who love coffee, I recommend Latte [S$5] which is served in glass cups commonly found in hawker coffee stalls. My friend says the latte is thick and rich.
You can also get other items such as this Spicy Thai Beef Wrap + Cheddar Cheese [S$17]. The melted cheddar cheese gives the flavorful wrap a creamy finish. 
Crab & Semi-Dried Tomato Salad [S$19] is supposed to be a popular salad at My Awesome Cafe and it definitely does not disappoint. 5 types of air-flown salad leaves and oven-roasted garlic vegetables (pumpkin, cherry tomatoes and carrots) makes up the base and garnished with organic pumpkin seeds and sunflower seeds. It is a healthy salad with loaded with healthy vegetables, protein and nuts. 
I really wanted to try the Awesome Burger [S$28 for Regular, S$40 for Beast] which every other table seems to be ordering. But I was too full from the hearty breakfast and salad, so I will be back to try it another time. 
Not only is My Awesome Cafe Instagram-worthy with its rustic vintage decorations, the generous-portioned food is wholesome and delicious as well. 
My Awesome Cafe is very popular, I highly recommend getting a reservation in advance especially for weekends. 
My Awesome Cafe 
Address: 202 Telok Ayer Street, Singapore 068639
Telephone: 87981783
Opening Hours: Monday – Friday 11am – 10.30pm, Saturday – Sunday 10am – 10.30pm
Website: http://www.myawesomecafe.com
Facebook Page: https://m.facebook.com/myawesomecafesingapore/