Colony at Ritz-Carlton is one of the buffets that I have been meaning to try but never got around to. I have heard so many good reviews, it feels like I already know the place before even visiting it.
Colony – Decor
I love the high arched glass roof which allows natural light to illuminate the place. The high arched glass roof also makes the place look tall and elegant.
Wooden panels with asymmetrical black panels shield diners from prying eyes.
Colony – The Food
Before we start, here is Colony's weekday lunch buffet menu for your reference.
Buffet Prices:
Weekday + Saturday Lunch Buffet: Adult S$74, Child (6-12 years) S$37
Sunday Champagne Brunch: Adult S$198 – S$798, Children (6-12 years) S$99, Child (3-5 years) S$49.50
Sunday – Thursday Dinner Buffet: Adult S$92, Child (6-12 years) S$46
Friday – Saturday Seafood Dinner: Adult S$112, Child (6-12 years) S$56
The Ice Bar
I always start any buffet with seafood. I wish there were freahly-shucked oysters but the snow crabs and bright-red poached prawn are pretty good. There are also fresh scallops, black mussels, flower clams and white clams.
We had a pregnant lady among our midst and as we all know, pregnant ladies should not eat raw food. A kind Indian chef kindly cooked the seafood for her and he did such a fine job.
Next are my favorite – sashimi. The thick slices of salmon and tuna sashimi are plump and juicy, perfect with freshly-grated wasabi and soya sauce. There are 5 types of pickles which really cleanses the palate. There are also an assortment of beancurd skin sushi and shrimp sushi which looks rather stale but tastes alright.
If you are a fan of cold cuts, there is air-dried beef, air-dried pork and assorted cheese platter to indulge in.
The chef at the Local Delights station makes really good Popiah and Kueh Pie Tee.
There is a variety of greens at the Salad Bar such as rocket and romaine as well as some not-so-common ones like radicchio and lollo bionda. Create your salad with condiments such as edamame and tuna chunk and dressings such as thousand island and balsamic vinaigrette.
There is even a sake section where you can enjoy snacks to go with the free-flow sake.
The Grill & Rotisserie
Cooked foods are housed in a dimly-lit room at the end of the restaurant.  The first station is the Singapore Heritage Corner where you can get Chicken Rice, Roast Duck, Crackling Pork Belly, Char Siew and Chicken Satay.
You can get freshly-cooked pasta made to your liking at the Pasta Station. The pasta selection changes according to the ingredients the chef has.
I have never seen so much truffle on a Truffle Carbonara which really brought the dish to a whole new level.
The Oven-Roasted Turkey and Oven-Roasted Ham tastes so good with raspberry sauce. Pan-Seared Salmon, Kurobuta Pork Collar and White Clam in White Wine Pimento are super tasty too.
The Wok
The Wok is where you can find all the stir-fried dishes. The star here is hands-down Salted Egg Chicken Wing. Remember to take some of the salted egg fish skin on the side, they are every bit as good as Ervin's.
My stomach can't really handle spicy food but the assortment of curries and naans at The Tandoor are just too tempting. I took some Garlic Naan and Butter Chicken which tuned out to be excellent.
The Steam Basket
A selection of 5 dim sum varieties is available at any one time at The Steam Basket. I thought these are real mushrooms but they are actually Salted Egg Custard Bun and they taste so frigging good!
Don't forget to try some noodles at the Noodles station. You can get Colony Laksa, Wanton Noodle (Soup/Dry) or Zha Jiang Noodle.
The Patisserie
There is a dazzling array of desserts at The Patisserie, from cakes and tarts to cookies and chocolate pralines.
I can't decide what to take so I ended up taking one of everything.
There is an assortment of nonya kuehs to choose from.
There is even a chef to make Peanut Wrap which is a popular Taiwanese snack.
You can choose from 5 flavors of ice-cream and garnish it with toppings of your choice.
The Fruit Stall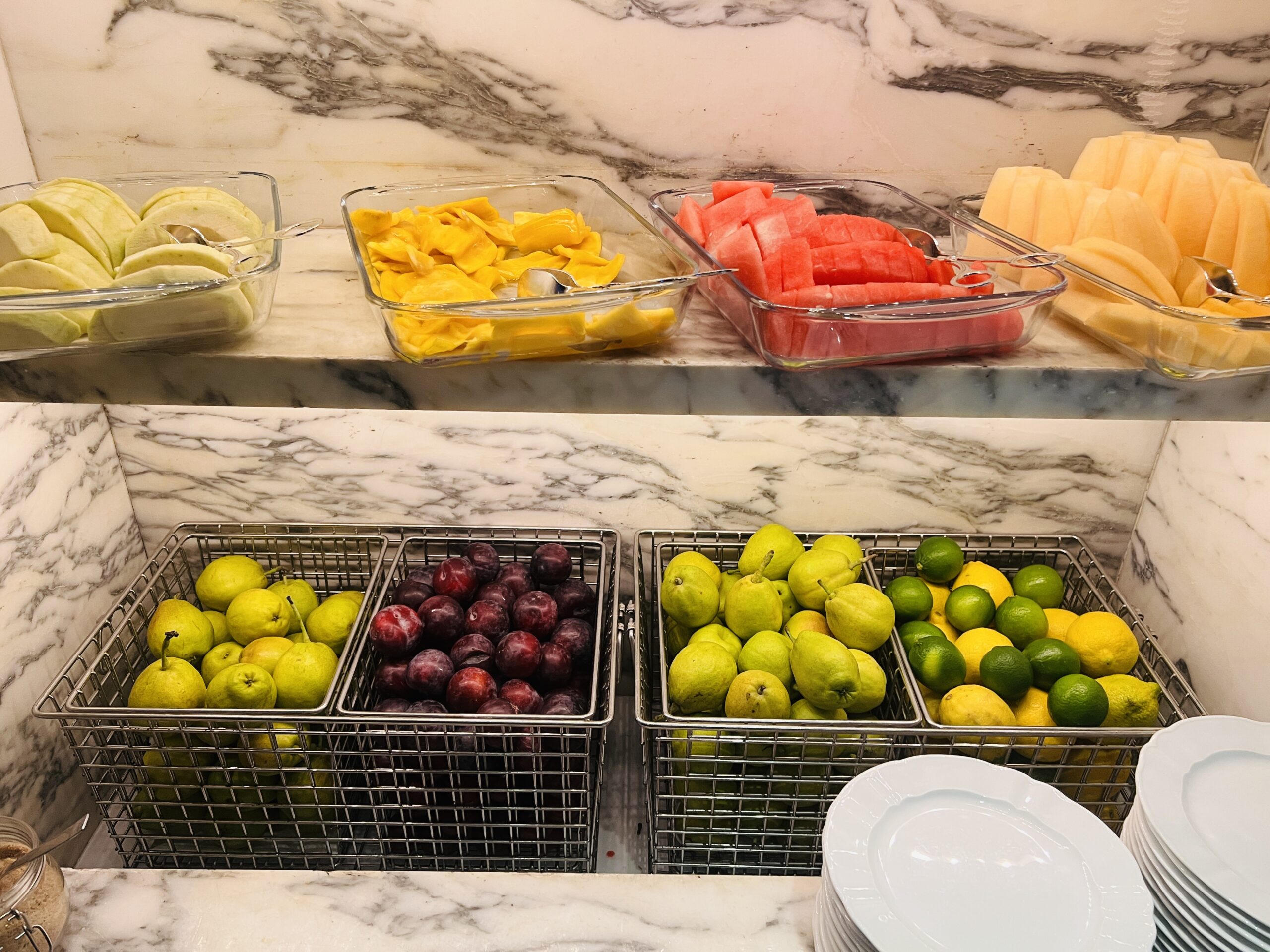 Opposite the cooked foods is another small room where you can get cut fruits and freshly-juiced fruit juices.
The standard selection includes apple, mango, orange, pineapple or pink guava juices. Alternatively, you can pick the fruit from the selection and the staff will juice it for you on the spot.
Colony
Address: 7 Raffles Avenue, Singapore 039799
Opening Hours: Monday – Friday 12pm – 2.30pm, 3.30pm – 5.30pm, 6.30pm – 10.30pm; Saturday- Sunday 12pm – 2.30pm, 6.30pm – 10.30pm
Telephone: 64345288
Website: https://www.ritzcarlton.com/en/hotels/singapore/dining/colony