Located just a few shops away from Dong Bei Xiao Chu 东北小厨 opposite Hong Lim Complex, there is another restaurant named Dong Bei Ren Jia 东北人家. This restaurant also specialises in Northeastern Chinese cuisine and judging from its menu, most of the dishes are the same. 
Dong Bei Ren Jia 东北人家 is much more popular than Dong Bei Xiao Chu 东北小厨. There is always a long queue whenever I visited and you may have to wait for more than an hour on weekends. 
I decided to try out Dong Bei Ren Jia 东北人家 for myself and see if it is really better than Dong Bei Xiao Chu东北小厨.
There is ample seating at Dong Bei Ren Jia 东北人家 with seats on both the first floor and second floor. The red wooden tables are accompanied by red cloth chairs that lends a spot of colour to the restaurant. 
Dong Bei Ren Jia 东北人家 has most of the Northeastern Chinese dishes. There are cold dishes (凉菜), stir-fried dishes (炒菜), seafood dishes (海鲜), braised dishes (炖菜), soups (汤), dumplings and staples (饺子,主食), desserts (甜品) and beverages (酒,水,茶).
Out of all the meat dishes in Northeastern Chinese cuisine, Stir-fried Mutton with Cumin 孜然羊肉 [$14] is my absolute favourite. Northeastern China's proximity to Inner Mongolia can be seen in the usage of spices such as cumin in Northeastern Chinese dishes. Compared with Dong Bei Xiao Chu 东北小厨, the mutton slices in Dong Bei Ren Jia 东北人家's version are more tender while Dong Bei Xiao Chu's mutton are more leathery. The intense cumin taste brings back fond memories of my childhood.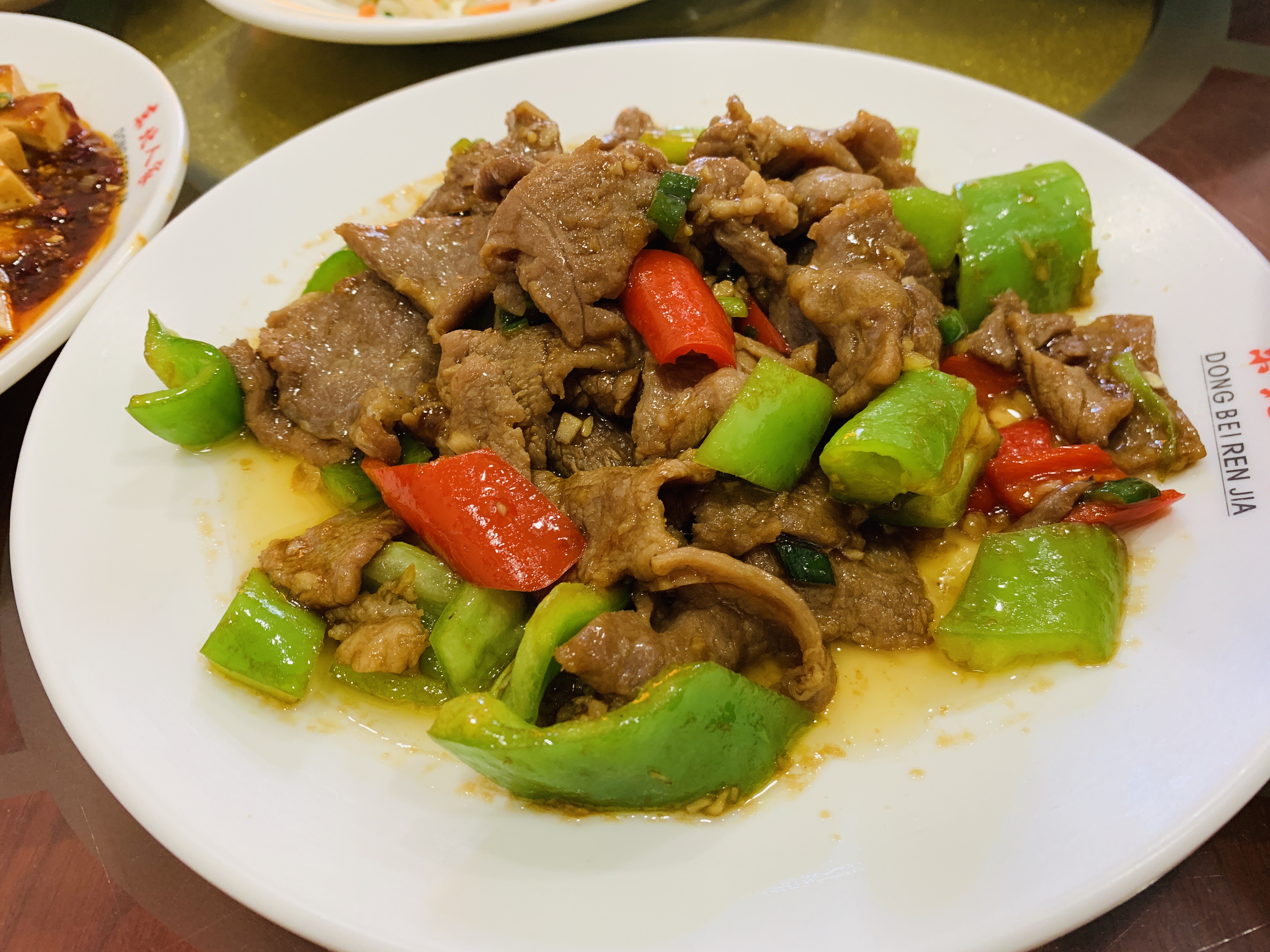 For something a little healthier, try the Stir-fried Beef with Bitter Gourd 苦瓜牛肉 [$10]. The beef slices are tender and the bitter gourd is not too bitter. Bitter gourd has many health benefits such as cancer prevention and reduce blood sugar.
Sautéed Hot and Sour Shredded Potato with Green Pepper 酸辣土豆丝 [$6] is one of the most classic Northeastern Chinese dish and it is one of my favourite too. The potato strips are refreshing and crunchy, with slight spiciness and sourness from the dried chilli and lime.
Sichuan Mapo Tofu 麻婆豆腐 [$6] is worldwide popular although it is not really a Northeastern Chinese dish, it originated from Sichuan. Northeastern China has a similar dish, but without minced meat in it. Nevertheless, the spiciness and fragrance makes it a popular dish even in Singapore.
I personally feel that the Northeastern Chinese way of steaming fish is one of the healthiest way of cooking fish. The lack of fanciful ingredients means that the fish must be very fresh in order for this dish to taste good. Dong Bei Ren Jia 东北人家's Steamed Fish 清蒸鱼 [$32] uses stripped bass but you can use any white fish. Steamed with ginger, scallions and fish sauce, the fish meat is tender and sweet. 
Laver and Tofu Soup 豆腐紫菜汤 [$6] is a simple and classic soup that is simple and refreshing. There is laver, carrot, tofu and scallions. If you have no idea which soup to order, this is the go-to soup.
Dumplings are a staple in Chinese cuisine and even more so in Northeastern Chinese cuisine. Dong Bei Ren Jia 东北人家 offers 4 types of dumplings and this Pork and Leek Dumpling 三鲜水饺 [$6 for 10 pieces] is my favourite. The filling is fresh and generous and the dumpling skin is not too thin or thick. 
Beef Noodle (Soup) 麻辣牛肉面 [$5.50] reminds me of Din Tai Fung's Special Braised Beef Noodle Soup with Beef Brisket with additional spiciness. I wish the noodles could be a little more springy but the fragrant and spicy broth more or less makes up for it. 
I frequently crave Cold Noodle (Soup) 冷面 [$7] in Singapore's humid weather. This dish comes from the Korean ethnic minority group in China and it is very similar to Korean cold noodles. The sweet and sour broth is paired with buckwheat noodles, cucumber, beef slices, hard-boiled egg and sweet pickled cabbage. Cold, sweet and spicy, it is the perfect noodle to have in Singapore's hot weather. 
If the cold noodles, dumplings and beef noodles is not to your taste, there is always Northeastern Chinese Fried Rice 东北炒饭 [$5]. It is a homely dish of fried rice with egg, pork, cucumber and carrot that reminds you of home. 
Although Dong Bei Xiao Chu 东北小厨 and Dong Bei Ren Jia 东北人家 have many similar dishes, I personally feel that Dong Bei Ren Jia 东北人家's dishes are more exquisite as compared to Dong Bei Xiao Chu东北小厨's "countryside-style" dishes. However, Dong Bei Xiao Chu 东北小厨 also offers barbecue items such as meat skewers which Dong Bei Ren Jia 东北人家 does not have. 
Dong Bei Ren Jia 东北人家
Address: 22 Upper Cross Street, Singapore 058334
Telephone: 62245258
Opening Hours: Daily 11am – 11pm