Singapore was and still is predominately a Chinese country. Chinese stand for more than a third of Singapore's population. With the influx of people from mainland China who came to Singapore to look for better opportunities, Singapore is looking more and more like "little China". This phenomen is especially evident in Chinatown, the part of Singapore where most Chinese congregate. 
There are restaurants that cater to the different dialact groups in Chinatown such as Hokkien, Cantonese and Hakka. There are also restaurant that are region-specific such as Sichuan and Hunan cuisines. 
Those who who know me personally will know that I grew up in North-Eastern China. North-Eastern China has many speciality dishes that gave fond memories to my childhood. After a few unhappy dining experiences at some so-called "North-Eastern" restaurants in Chinatown, I was ready to admit that there is no decent North-Eastern Chinese restaurant in Singapore. 
My girlfriend introduced Dong Bei Kitchen to me, promising me that this restaurant makes authentic North-Eastern Chinese dishes. I was a little skeptical but I decided to check out it out.
Located opposite Hong Lim Complex, Dong Bei Xiao Chu (东北小厨) is just a short distance away from the Chinatown station on the North-East (purple) Line and Downtown (blue) Line.
The glass door of the restaurant is filled with photographs of dishes that I remembered from my childhood. So far so good.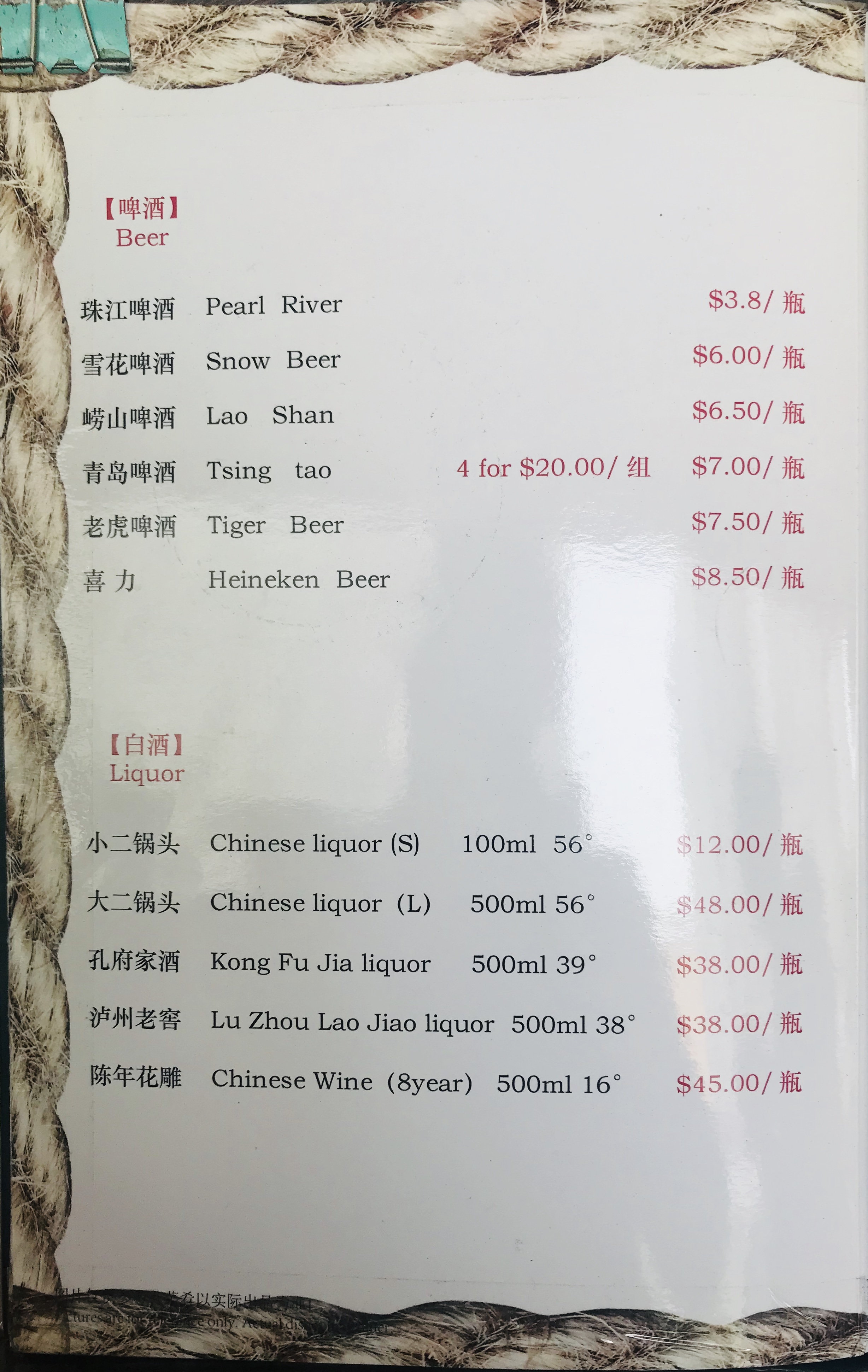 Dong Bei Xiao Chu (东北小厨)'s menu is filled with professionally-taken photographs of all the dishes available, with English and Chinese translations. Foreigners and Chinese patrons alike should have no problem ordering food here. 
There are more than 100 main dishes and 28 barbecued food available and new dishes are added all the time. 
Green bean noodles are more commonly known as "liang pi" in North-Eastern China. It is commonly eaten during summer with various combinations of ingredients. Green Bean Noodle with Cucumber Salad 东北拉皮 [$10] is the most classic of North-Eastern "liang pi". Dong Bei Xiao Chu makes their "liang pi" with green bean powder which gives the noodles a firmer bite. The green bean noodles are mixed with cucumber slices, morsels of pork and a vinegar dressing. 
Those who want "liang pi" with a spicy kick can go for Sichuan Green Bean Noodle Salad 川北拉皮 [$8]. There is no meat in this "liang pi" so it is suitable for vegetarians. It's just green bean noodles with sliced cucumber and carrots in a spicy mala dressing.  
Hot & Sour Shredded Potato 尖椒土豆丝 [$6] looks deceptively simple but to make sure the potato remains crunchy is an art in itself. It is exactly as how I remembered from my childhood. 
Stewed Chicken with Mushroom 小鸡炖蘑菇 [$14] is a classic example of North-Eastern China dish. Pieces of chicken are stewed with straw mushrooms and vermicelli in a aromatic broth. It is a very countryside-style kind of dish. The portion is huge, one pot of this dish can easily feed 3-4 people. 
You can find Cold Noodle 冷面 [$6] in many Korean stalls and restaurants because it originated from Korean ethnic minority group. (No, it is not a part of South or North Korea, but a minority group in China). Dong Bei Xiao Chu's version is 100% what I remember from my childhood. Chewy buckwheat noodles are served with beef slices, sweet and sour pickle and egg in a sweet and sour soup. It is served cold, the sweet and sour taste makes it great for Singapore's humid weather. 
Caramelised Sweet Potato 拔丝地瓜 [$12] was and always will be one of my childhood favorite dessert. Pieces of sweet potato are coated in a layer of caramelised sugar. When you try to separate the sweet potato pieces, the "sugar strands" that are formed are known as "ba si". 
Grilled Mutton 烤羊肉串 [$1 per stick] are about 5 times more expensive than in China, but the taste is exactly the same as I remembered from my childhood. There is a good ratio of lean and fat lamb cubes with cubes of lamb fat in between. The skewers are generously-seasoned with cumin powder which gives it its distinctive flavor. 
Snow Beer 雪花啤酒 is one of the most popular beer in China. This lager beer was first named Manchuria Beer when it was first established in 1934. Manchuria is modern day Shenyang, China. Shenyang was my hometown, this beer gives me a sense of familiarity. It is very light and refreshing, the perfect compliment to any meal. 
There is a wide range of North-Eastern China dishes which brings back memories of my childhood. Dong Bei Xiao Chu's generous portions make it the perfect place for family gatherings or large group of friends. If you are ready to try a different type of Chinese food, do give Dong Bei Xiao Chu(东北小厨)a try. 
Address: 12 Upper Cross Street, Singapore 058329