The words "boulanger" (French for "bakery") evokes the picture of a small French bakery shop filled with freshly-baked goodness. Add "artisan" to it and it sounds even more promising.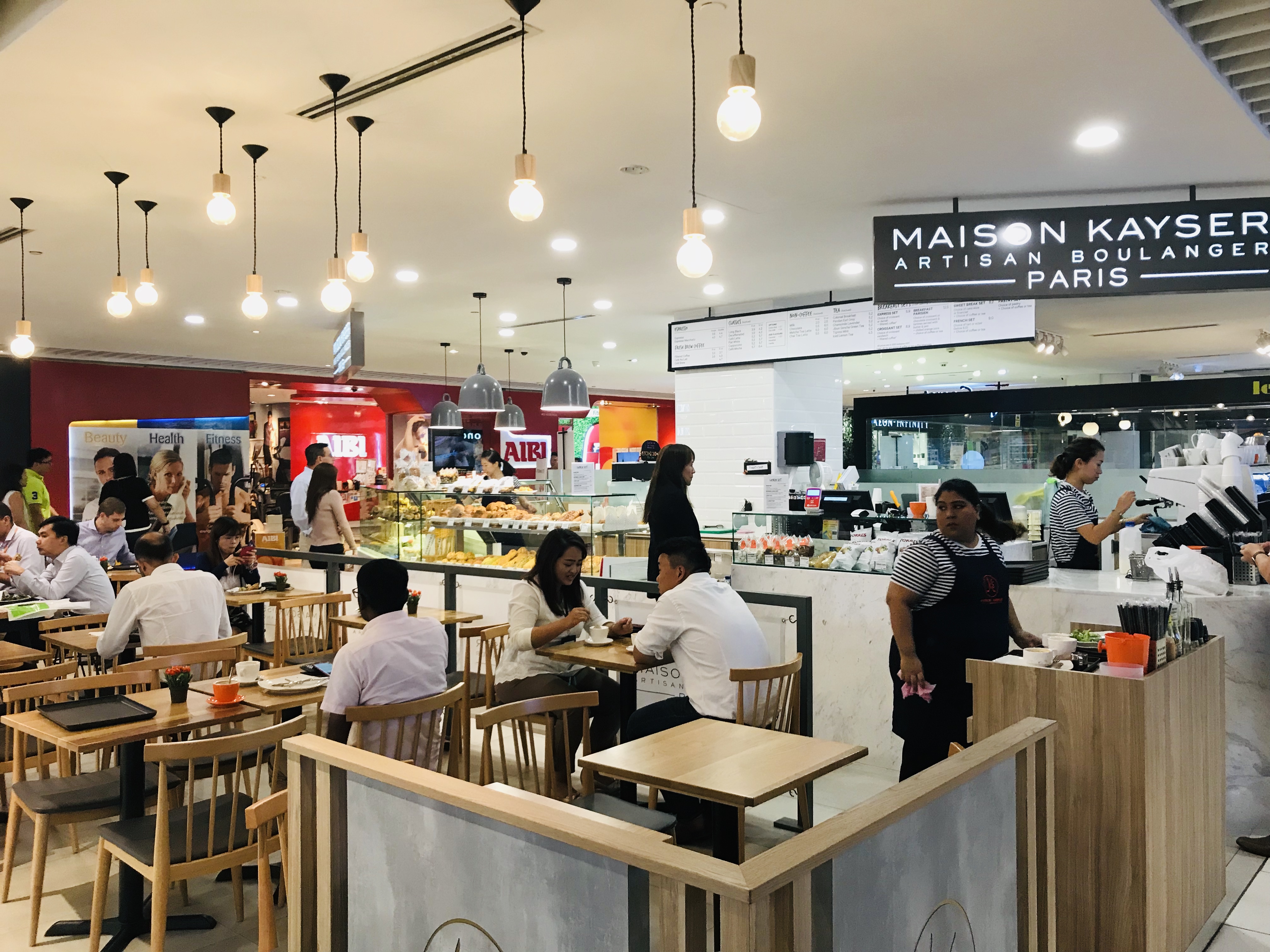 It was this mental image that drew me to Maison Kayser's outlet in Suntec City. Maison Kayser is opened by Eric Kayser, a world-renowned French artisan Boulanger. 
Eric Kayser opened his first bakery, Maison Kayser, in Rue Monge of Paris in 1996. Maison has since expanded into 120 shops in 24 countries. It's flagship outlet in Paris continues to be the cradle of Maison Kayser where natural leaven is made and exported to Maison Kayser shops all over the world. 
Maison Kayser is world-famous for their Croissant [$3.20]. It was awarded the title of "best criossant" in Japan and Paris. Flaky and buttery, it is indeed a delight to bite into one but so are most of the non-rewnowned ones I have had. It is nice, but not that exceptional. 
The Maison Kayser outlet at Suntec City Mall offers Lunch Sets for those who work there. Soup Set [$10.50] gives you a large soup, a dessert below $7 and a choice of soft drink or filtered coffee. Express Lunch Set [$11] is sandwich/croque/large salad with either soft drink or filtered coffee. Light Set [12.50] is quiche/croissant sandwich/mini salad + dessert below $7 or soup + soft drink/filtered coffee. The most expensive Gourmet Set [$15.90] is sandwich/croque/large salad + dessert below $7 + soft drink/filtered coffee. 
The Financier [$5.20] sold at Maison Kayser's Suntec City outlet are really hard-shelled cupcakes. Traditional French financier are supposed to be small rectangular almond cakes. Beside the original version, there are also Raspberry Financier, Chocolate Financier and Pistachio Financier, all priced at $5.20. That's some really expensive cupcakes.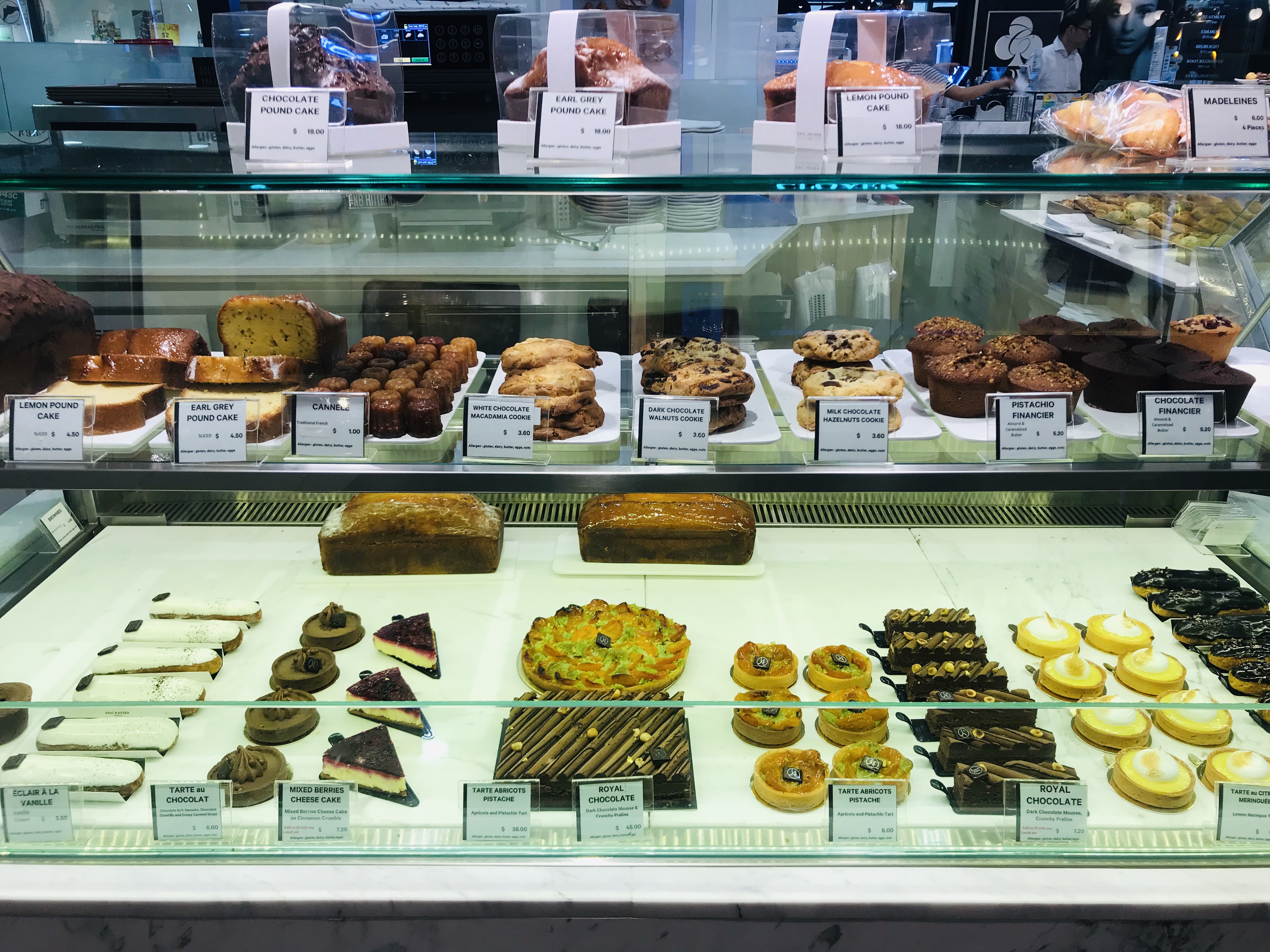 Another thing that Maison Kayser is famous for are their eclairs. This is Eclair A La Vanille [$5.50] which basically translates into Vanilla Eclair. The choux pastry is light and airy and the vanilla cream inside is creamy and luxurious, but nothing overtly special about it. Also available in chocolate flavour, Eclair Au Chocolat [$5.50]. 
Besides classic French breads and pastries, Maison Kayser also has a curated selection of international goods sourced from their shops all over the world. American Beef Pie [$7.50] is one such example, although I am pretty disappointed because I was really expecting huge chunks of beef. Instead, all I taste is the greasy outer pastry shell with a pathetic amount of beef stew inside. 
All in all, I think Maison Kayser is just an overpriced  bakery that is still riding on its creator's success and fame. It is a good place to bring dates or business meals because the food looks good. Otherwise, I would rather go to Artisan Bolangerie Co. or Duke Bakery for artisanal breads I can actually taste the difference. 
Maison Kayser (Suntec City) 
Address: 3 Temasek Boulevard, Suntec City Mall #02-601/601A, Singapore 038983
Telephone: +65 98397252
Maison Kayser (Raffles Place) 
Address: 63 Chulia Street, OCBC Centre East #01-01, Singapore 049514
Telephone: +65 65331104
Maison Kayser (My Village @ Serangoon Garden) 
Address: 1 Maju Avenue #01-26/27/28, Singapore 556679
Telephone:+65 65098184
Maison Kayser (Scotts Square) 
Address: 6 Scotts Road, Scotts Square #B1-25, Singapore 228208
Telephone: +65 66363672