Muslims are no longer just restricted to Swensens and fast food such as Burger King and 4 Fingers Crispy Chicken. Halal-certified restaurants of various cuisines have been popping up in Singapore. There is Badoque for Western fare and The Ramen Stall for Japanese lovers.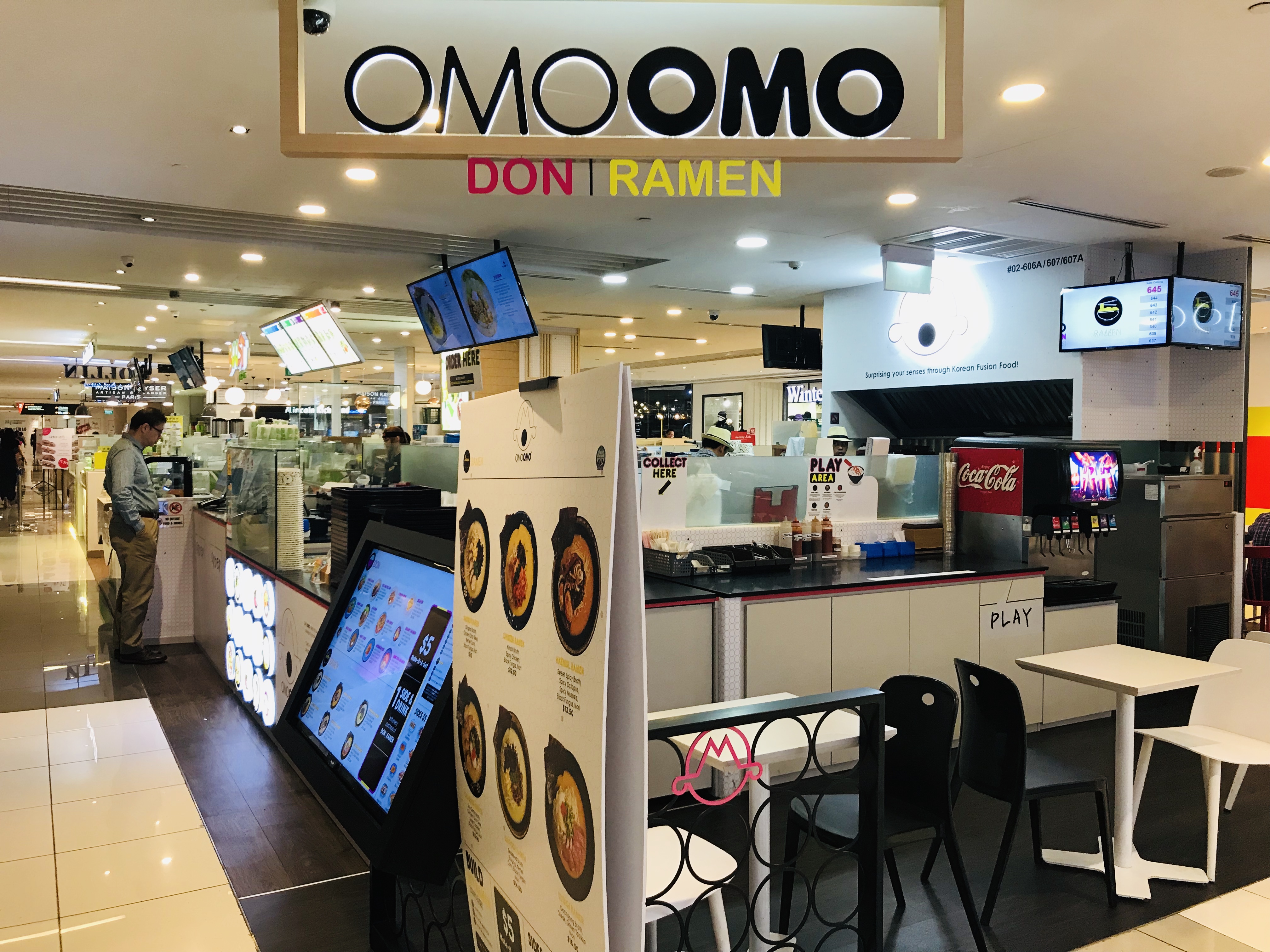 Omoomo is a newish restaurant at Suntec City Tower 3 that is halal-certified. There are only 2 type of food served here: don or ramen. 
You have to order your food at the self-service machine. Omoomo only accepts Nets, MasterCard and UnionPay. 
You can either order one of the 12 don and 6 ramen options, or create your own don and ramen. The ramen broth and don base starts at $8 and you choose 1 or more protein and condiment. 
There is an assortment of sauces a available to make your meal even more tasty. Take your pick from Yuzu Wasabi, Bibimbab, Teriyaki, BBQ Mayo, Cho Gochujang and Chilli Flakes. 
Vegetarians and the health-conscious will like Vegan Tofu [$5]. The sliced tofu are served cold with BBQ Mayo sauce and topped with chopped spring onions and corn.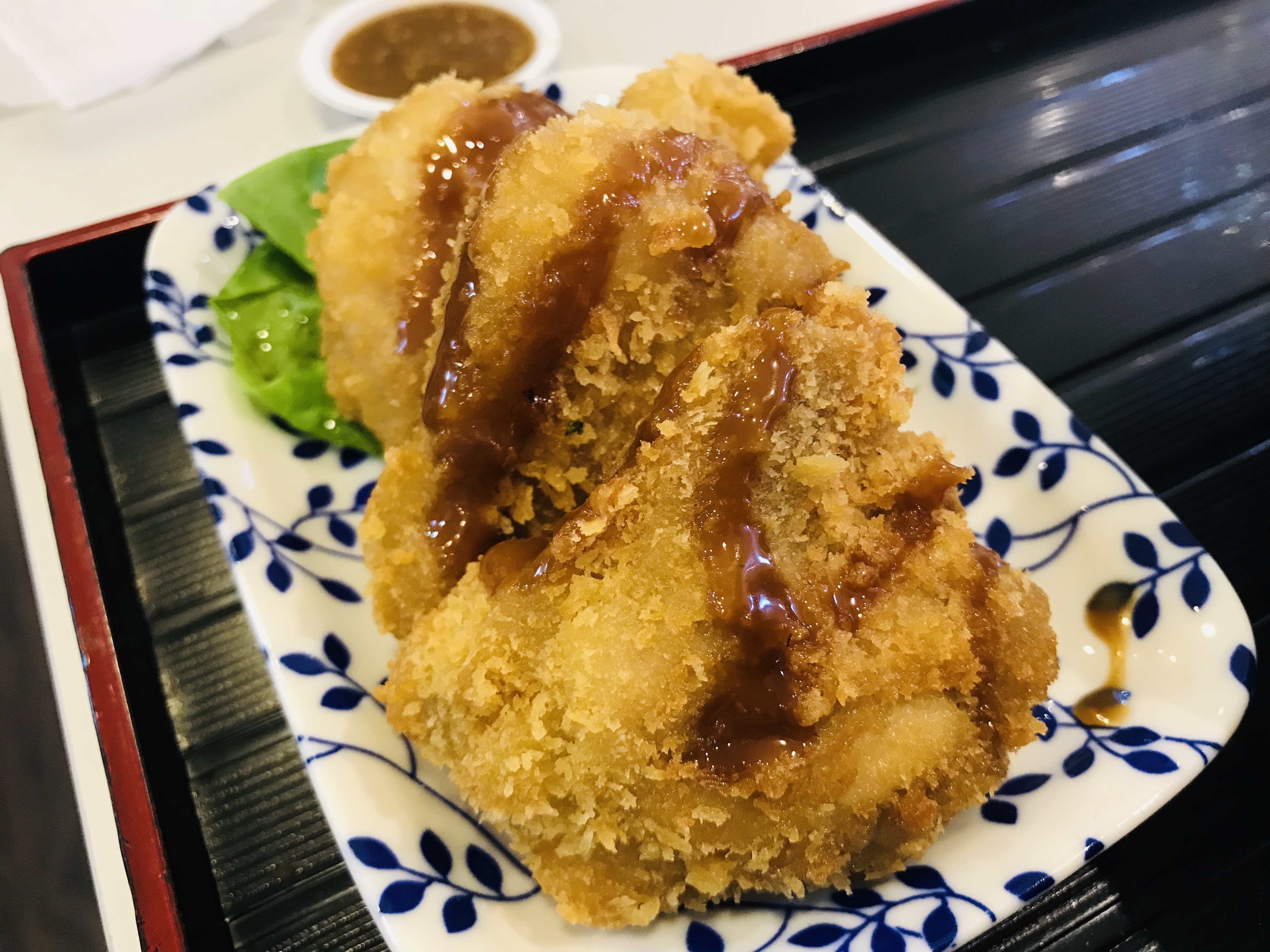 It's a little weird having Chicken Karaage [$5], a Japanese dish, at a Korean restaurant. Nevertheless, the two pieces of chicken karaage are perfectly fried. The outside is crispy while the chicken inside is tender. 
Moo Gogi [$10] comes with fragrant Korean white rice topped with bulgogi (stir-fried beef), onsen tobikko, strips of seaweed and bibimbab sauce. Mix everything up for a classic bowl of Korean bibimbab. You can always get the premium Yes Sir! Yes Sir! sirloin steak version or Coach Moo [$12].
There are 11 more don options to choose from, prices range from $8 to $12. The dons have basically three type of ingredients – beef, chicken and seafood.
Chicken: Chicken Chat [$8] / Curry Lane [$11] / Ji-Ji Don[$10] / Kim Chick [$10] / Bird's Nest [$10]
Beef: Yes Sir! Yes Sir! [$12] / Coach Moo [$12] /Moo-Gogi [$10]
Seafood: Dear Ebi [%9.50] / Grainy Salmon [$10] / Octagon Pop [ $9.50]
Bulgogi Ramen [$14.50] is an interesting fusion of Korean and Japanese. Everything from the seaweed broth to the kernel corn, black fungus and nori are all Japanese, served with bulgogi, which is Korean stir-fried beef. 
Omoomo also has a kids meal where a main (Teriyaki Chicken Don / Bulgogi Don / Udon (Soup) ) + side + drink is only $8. No one said you have to be a kid to order this meal. This is perfect for all the ladies who want to try the food at Omoomo but don't want to finish a whole serving. 
To tell the truth, Omoomo's food is not that fantastic, average at best. But the fact that it is halal-certified means that Muslims finally have a place where they can try some of the Korean foods that they have seen in Korean dramas and variety shows.
Omoomo Food Concepts (Suntec City)
Address: 3 Temasek Boulevard, Suntec City Mall #02-606A, Singapore 659245
Telephone: 63651512
Opening Hours: Daily 10am – 1opm
Omoomo Food Concepts (Kallang Wave Mall)
Address: 1 Stadium Place, Kallang Wave Mall #01-40, Singapore 397628
Telephone: 67021836
Opening Hours: Daily 11.30am – 9 .30pm
Omoomo Food Concepts (Northpoint City)
Address: 930 Yishun Avenue 2, Northpoint City South Wing #B1-193, Singapore 769098
Telephone: 65656003
Opening Hours: Daily 11.30am – 10pm
Omoomodon (Downtown East)
Address: 1 Pasir Ris Close, Downtown East Avenue #02-321/322, Singapore 519599
Telephone: 67021835
Omoomodon (The Star Vista)
Address: 1 Vista Exchange Green, The Star Vista #02-14/15, Singapore
Telephone: 66943111 / 67341863
Opening Hours: Daily 11am – 9.30pm)