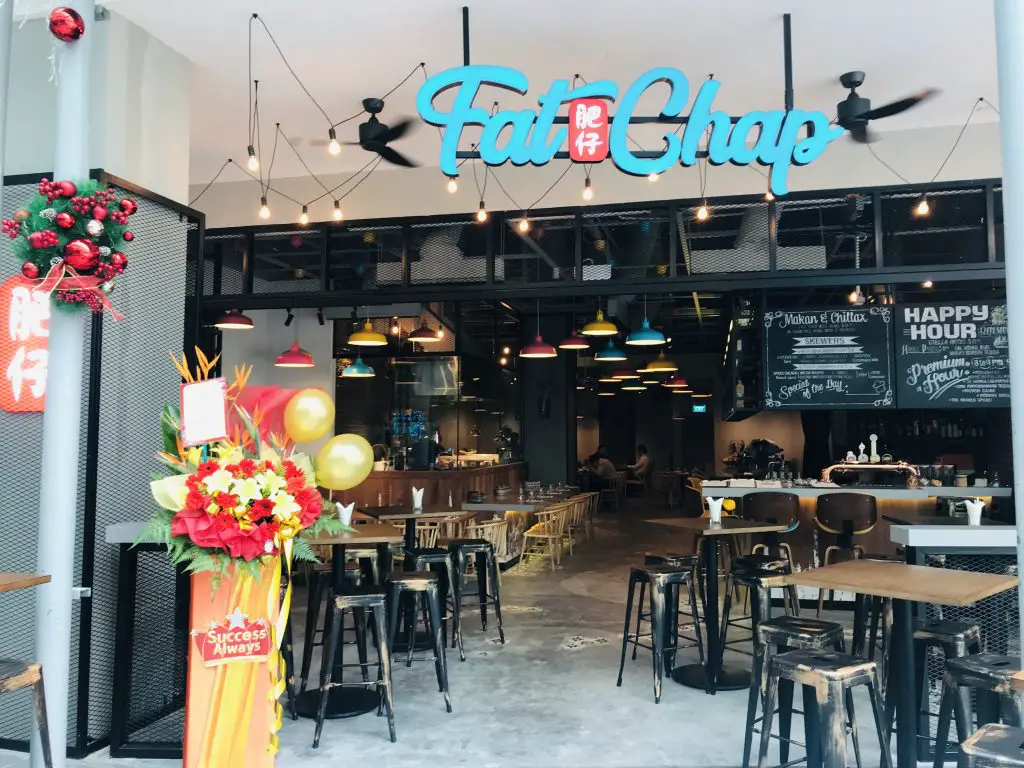 Suntec City Mall welcomes a new addition to its vibrant dining scene. Located at ground floor of Tower 4, a few steps away from Promenade exit, Fat Chap serves Asian food with a twist.
Run by the same people from "1855 The Bottle Shop", Fat Chap's interior is spacious and minimalistic while the wooden tables and chairs adds a little warmth. 
Chef Selemat Susanto draws inspiration for the dishes from his childhood in Indonesia and from his travels around Asia. You can see the full menu here. 
The 16 Grains Japanese Rice Bowl [$12] is only available during weekday lunchtime, Monday – Friday 11am – 3pm. The ricebowl consists of Japanese cucumber, cherry tomato, corn, edamame, gari shoga, furikake and an onsen egg. You can choose two skewers from a selection of 12 vegetable and meat skewers. It is healthy option for lunch and very value-for-money too. 
Crispy Pig's Ear [$12] is supposed to be one of the signatures of this restaurant. The pig ears are dehydrated and sliced before being deep-fried and tossed in homemade curry powder mix. Crunchy and salty, they go perfectly well with the accompanying homemade achar but they are much too salty to be eaten alone. 
If Crispy Pig's Ear is sold out (which happens quite often), Crispy Chicken Skin [$8] is a good alternative. The chicken skin are perfectly crispy and not as salty as the Crispy Pig's Ear. It's really addictive, you might find yourself ordering a second serving without realizing it. 
Marinated Whole Squid [$15] is served with "nam jim" which is Thai dipping sauce. The squid reminds me of ERGON's Grilled Octopus on Hummus with OliveOil Vinaigrette on Sourdough Toast. The grilled squid is tender and juicy, the dipping sauce give the otherwise bland squid a sharp tanginess.
Oxtail Soup [$20] is another one of the speciality dishes of Fat Chap. Cooked with potatoes, carrot and tomatoes, the oxtail is tender and delicious. The soup looks clear but it is actually very flavorful. 
Balinese Pork Ribs [$28 for Half, $45 for Full] reminds me of Morganfield's Sticky Bones, but more sweet and less tangy. The pork ribs are basted with Indonesian "BBQ" glaze. This is like the Indonesian version of the Chinese char siew, the sweeter version. It is served with a sauce made of chilli and lime and a small salad to counter the sweetness of the pork ribs. 
When night falls, Fat Chap turns into a drinking place with a fully-stocked alcohol list. The bartender can make many different cocktails, mojitos and mocktails. There is also gin, vodka, tequila, bourbon, rum and whiskies (blended/malt/Asian). 
Fat Chap's spacious interior and large portions makes it an ideal place for large groups of friends and family to gather and enjoy some delicious Indonesian-Asian dishes. 
Fat Chap
Address: 3 Temasek Boulevard, Suntec City Tower 4 #01-643, Singapore 038983
Telephone: 68365994
Opening Hours: Monday – Thursday 11am – 11pm, Friday 11am – 1am, Saturday 11am – 11pm, Sunday 11am – 5pm
Website: https://fatchap.sg