I was making my way to Y Cube Mookata Buffet when I noticed a long queue at the entrance of Thai Supermarket in Golden Mile Complex. I didn't have the time to queue then but I made a special trip to find out what so many people were queuing for. It turned out to be a fried fritters stall called Golden Banana.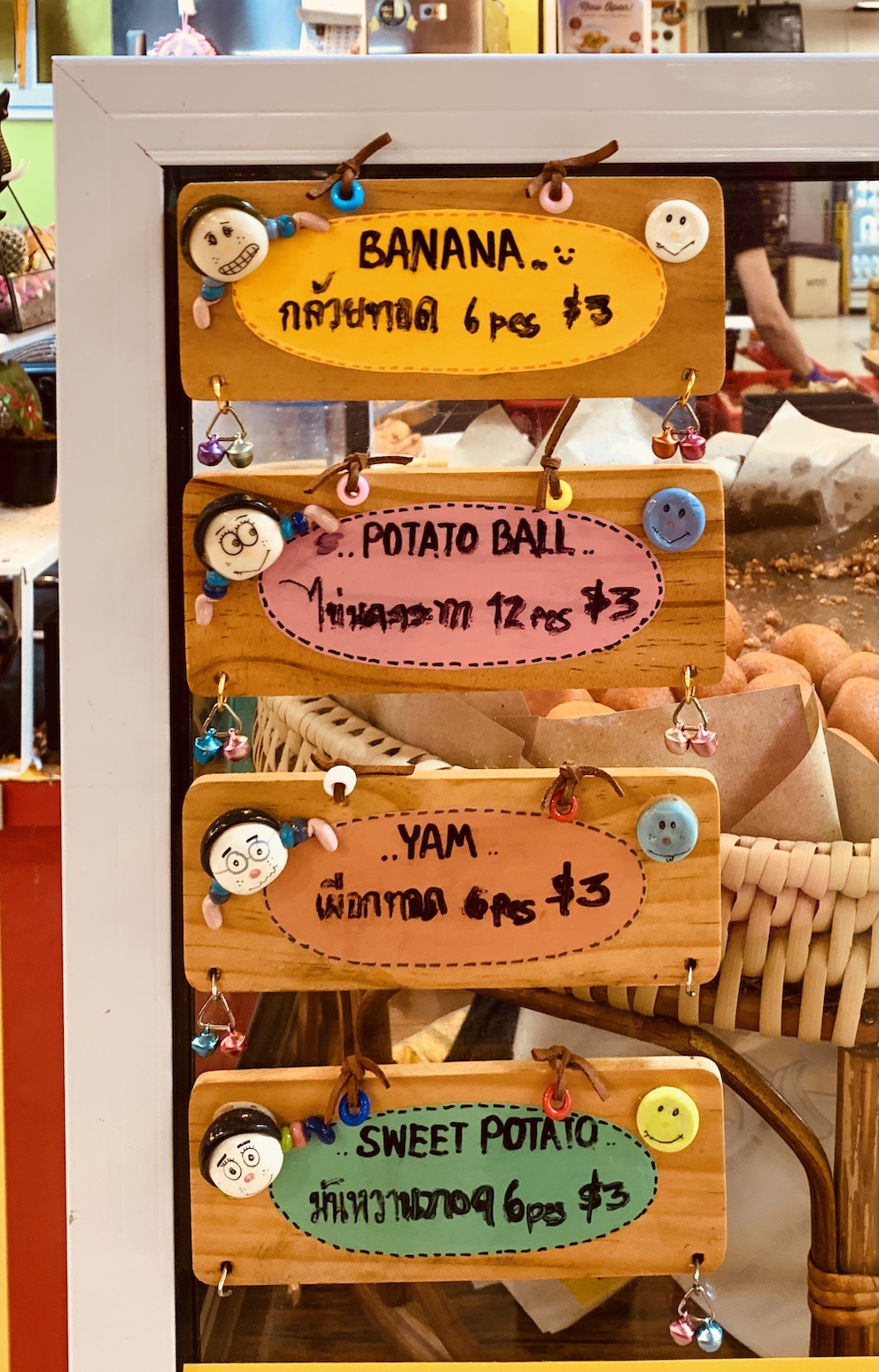 Golden Banana offers 4 types of fried snacks: Banana [6 pieces for S$3], Potato Ball [12 pieces for S$3], Yam [6 pieces for S$3] and Sweet Potato [6 pieces for S$3]. 
There was only Potato Ball and Banana on the day I visited. If you want to try a little of everything, you can get a bag of mixed fritters for S$4. 
Golden Banana – Potato Ball
Just look at those perfectly golden brown exterior, they make my mouth water. You can taste a hint of saltiness in the batter which balances out the sweetness.

It looks as if it's hollow inside because the batter has puffed up from frying. The sweet potato core inside is chewy while the exterior is crunchy, it's the perfect bite-sized snack. I just can't stop popping them into my mouth, even though they are really quite oily. 
Golden Banana – Banana 
These fried bananas fritters remind me of the Indonesian snack goreng pisang commonly found in Singapore. They are similar but not quite the same. Goreng pisang usually uses bananas that are larger, sweeter and drier. The Thai bananas here have a delicate balance of sweet and sour. 
The fritters are studded with black and white sesame seeds which gives it even more texture. 
I didn't get to try the fried Yam and Sweet Potato but I am really sad about it. I am not a fan of yam in the first place and I eat the healthier steamed sweet potato almost everyday.
Golden Banana's fried fritters are far from healthy given how oily they are, but they are so sinfully delicious. They are fine for the occasional indulgence, just don't eat too much. 
Golden Banana 
Address: 5001 Beach Road, Golden Mile Complex, entrance of Thai Supermarket, Singapore 199588
Opening Hours: 24 hours