I recently discovered an all-you-can-eat mookata restaurant in Golden Mile Complex called Y Cube Mookata Buffet.
This mookata buffet promises free-flow seafood such as   crayfish, mud crabs, tiger prawns, squid, oysters and clams, meats such as pork belly and shabu beef and vegetables too.

It's sounds like such a great deal that I rounded up a couple of my friends to try it out. 
Y Cube Mookata Buffet – Interior
The restaurant looks bright and clean with wood-patterned floor and red-brick-pattern pillars. 
White fluorescent lights and light bulbs strung across the ceiling keeps the restaurant brightly-lit. 
Y Cube Mookata Buffet – Ingredients 
This is the order chit or order form. As you can see, there are many seafood, meats, vegetables and other steamboat must-haves. 
I was pleasantly surprised by the freshness of the ingredients, especially the seafoods. Even though this is a eat-all-you-can buffet, this restaurant did not scrimp on the quality of the ingredients.

I am absolutely in love with the succulent Bamboo Clam, La-La, Flower Crab and Oyster Meat. Shabu Beef is slightly thick but Pork Belly and Black Pepper Chicken are delicious.
Beancurd Skin tastes divine after soaking up the soup and the mushrooms – Enoki Mushroom, Shimeji Mushroom , King Mushroom and Oyster Mushroom – is perfect grilled or cooked in soup. 
Y Cube Mookata Buffet –

 

Drinks and Ice-Cream 
The buffet includes free-flow drinks and ice-cream too. I was expecting ice lemon tea and coke but it is actually diluted fruit syrups. 
There are Blackcurrant, Orange, Honeydew, Winter Melon and Fruit Punch. There is also Thai Milk Tea. 
The fruit syrups reminded me of the ones I used to drink in the school canteen as a child, bringing back nostalgic childhood memories. 
We were so full from the food that we didn't have any stomach left for ice-cream.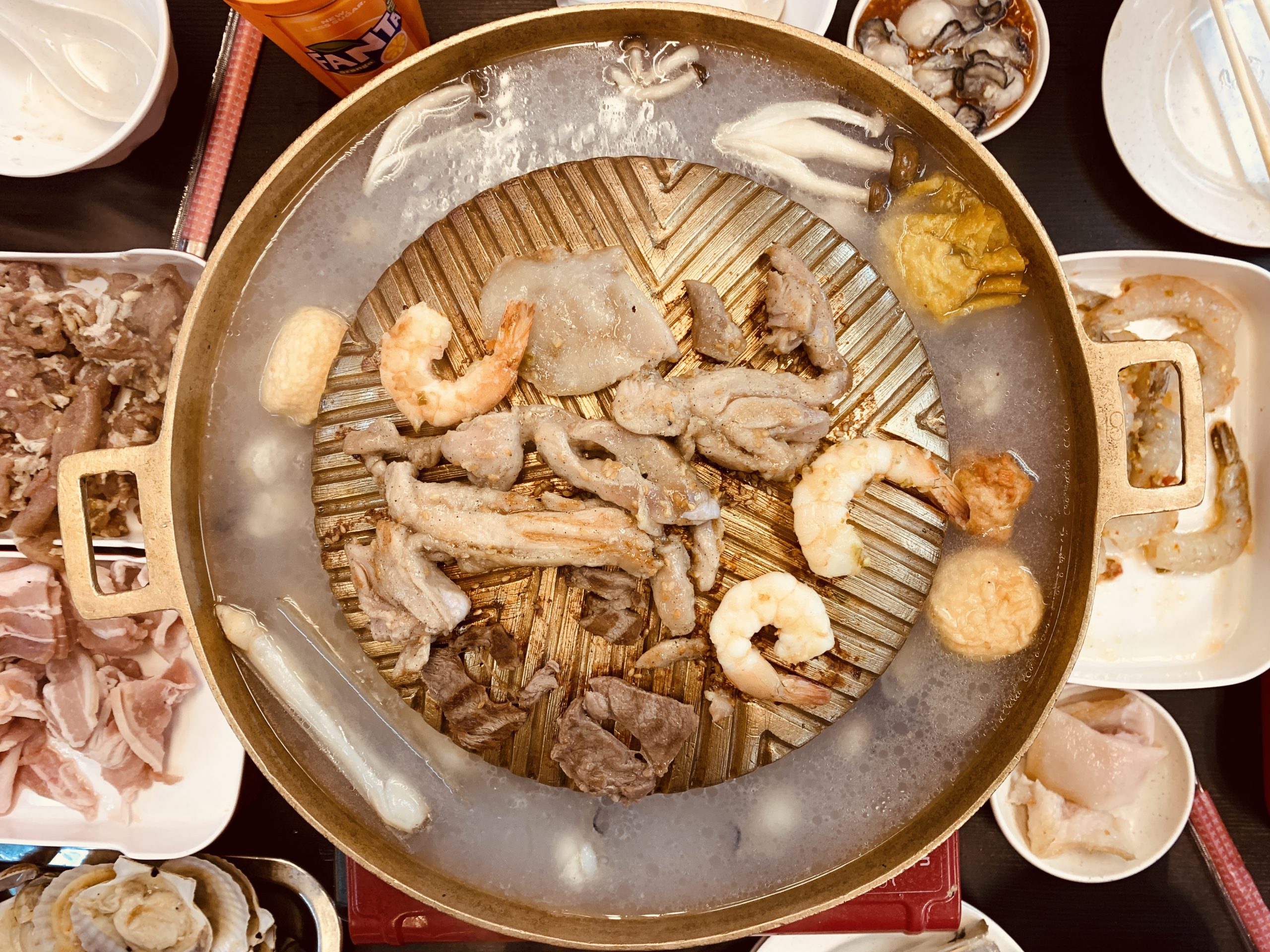 Y Cube Mookata Buffet is a good choice if you are looking to have affordable mookata with good quality ingredients. It is perfect for large group gatherings. It is open till 6am everyday which makes it the perfect place for late night supper. 
In view of the recent no dine-in regulations due to Covid-19, Y Cube Mookata offer mookata at home with free delivery. The S$69 set includes mookata grill plate, portable stove and gas and ingredients such as pork belly, vegetable platter and seafood platter. You can find out more from their Facebook page. 
Y Cube Mookata Buffet
Address: 5001 Beach Road, Golden Mile Complex #02-45, Singapore 199588
Telephone: 91599152
Opening Hours: Daily 12pm – 6am 
Facebook Page: https://m.facebook.com/ycubemookata