No one has heard of Harmony Nasi Lemak. I mean, no one. Not even those who work in Suntec City Mall knows there is such a restaurant. 
Harmony Nasi Lemak is also known as OSG, the music bar and kitchen just behind the taxi stand outside Suntec City Tower 1. It is called Harmony Nasi Lemak during the day and OSG at night.  
OSG is a music bar that has a wide range of wine, whiskey and sake. There are many drink promotions to keep people coming back for more. There is live music and even open miccrophone night where you can sing to your heart's content. 
Today I want to focus on the restaurant's daytime operation which goes by the name of Harmony Nasi Lemak. Why they decide to serve nasi lemak instead of any other dish is a mystery to me, but I kept seeing their advertisement so I thought I would check it out. 
The moment I laid my eyes on the exterior of the restaurant, the "Trump-Kim Chi Nasi Lemak" caught my attention. Apparently, they were featured on Straits Time's Trump-Kim Summit: 10 Places to Go for Summit-Themed Food and Drinks. 
True to its name, Harmony Nasi Lemak offers … nasi lemak.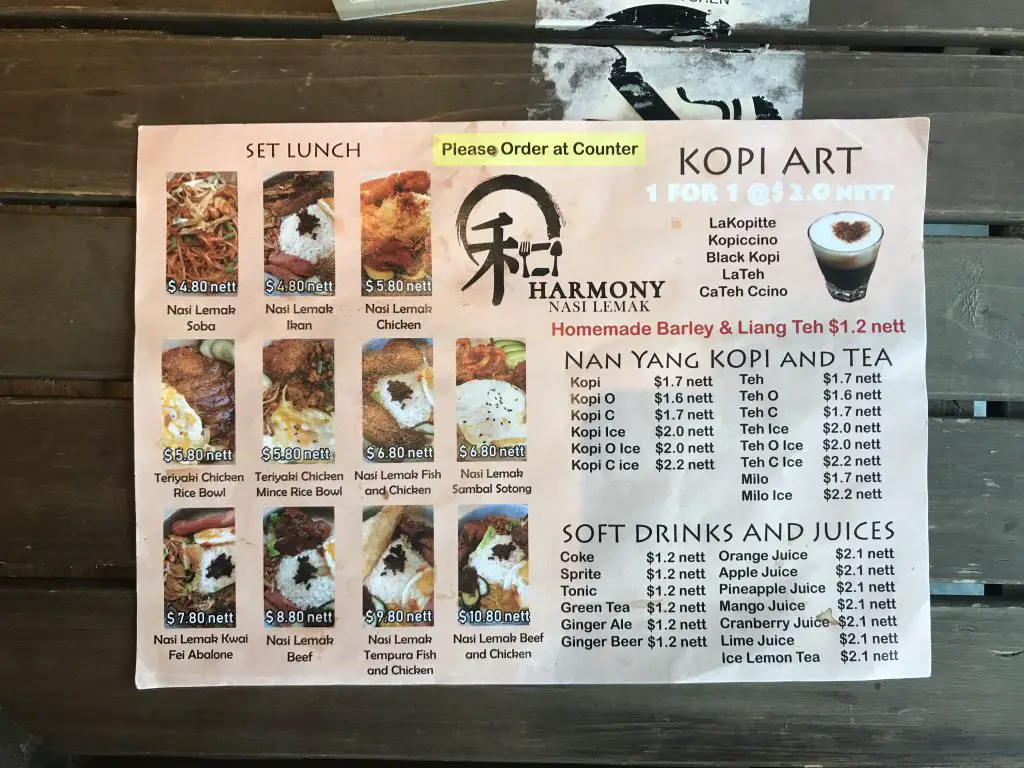 There are  11 nasi lemak options to choose from. You choose your main dish and the plate comes with your usual nasi lemak condiments. 2 pieces of fried half-sausage, ikan bilis and peanuts, 2 pieces of cucumber, a dollop of chilli and a fried egg. 
You can help yourself to the homemade soup which changes daily. 
There are chicken, fish and vegetarian options available. Prices start at $4.80 for Nasi Lemak Soba to $10.80 for combined plates such as Nasi Lemak Beef and Chicken. This is Teriyaki Chicken Rice Bowl [$5.80]. The chicken is well-marinated in teriyaki sauce and the rice and condiments work well together. 
The beauty of Harmony Nasi Lemak is really not the nasi lemak but its peacefulness. Not many people know about this place so you can have your meal in peace and quiet. You can stay as long as you want without feeling guilty about holding people up. 
Plus, all prices are nett. There is no GST or service charge. 
Harmony Nasi Lemak
Address: 3 Temasek Boulevard, Suntec City Tower 1 #01-510/511, Singapore 038983
Telephone: 81290981
Website: http://www.HarmonyNasiLemak.com/
Email: zach@osgbar.com