Even though it is located in Novena, Hong Kong Street Restaurant Novena remains very much a family-style restaurant. You will see multi-generation families enjoying a meal together on weekend dinnertime.
There are more than 100 dishes to choose from. There is a large selection of soup, meat, seafood, vegetable and rice/noodles dishes.
The Food
Prawn & Minced Meat Rolls 虾枣 [Small S$14, Medium S$20, Large S$25] reminds me of the Prawn Rolls I had at Keng Eng Kee. The sweetness of the prawns and minced pork works really well together while the frying gives it a crispy finish.
You can never go wrong with Prawn Paste Chicken 虾酱鸡 [Small S$15, Medium S$21, Large S$25]. The chicken winglets are well-marinated in prawn paste while the skin is fried till crispy golden-brown.
Just the fish head used in Steamed Song Fish Head in Black Bean Sauce 鼓汁蒸松鱼头 [$25] is already so big, I can just imagine how huge the fish must be. The fish head is very fresh, the fish meat is firm and tender.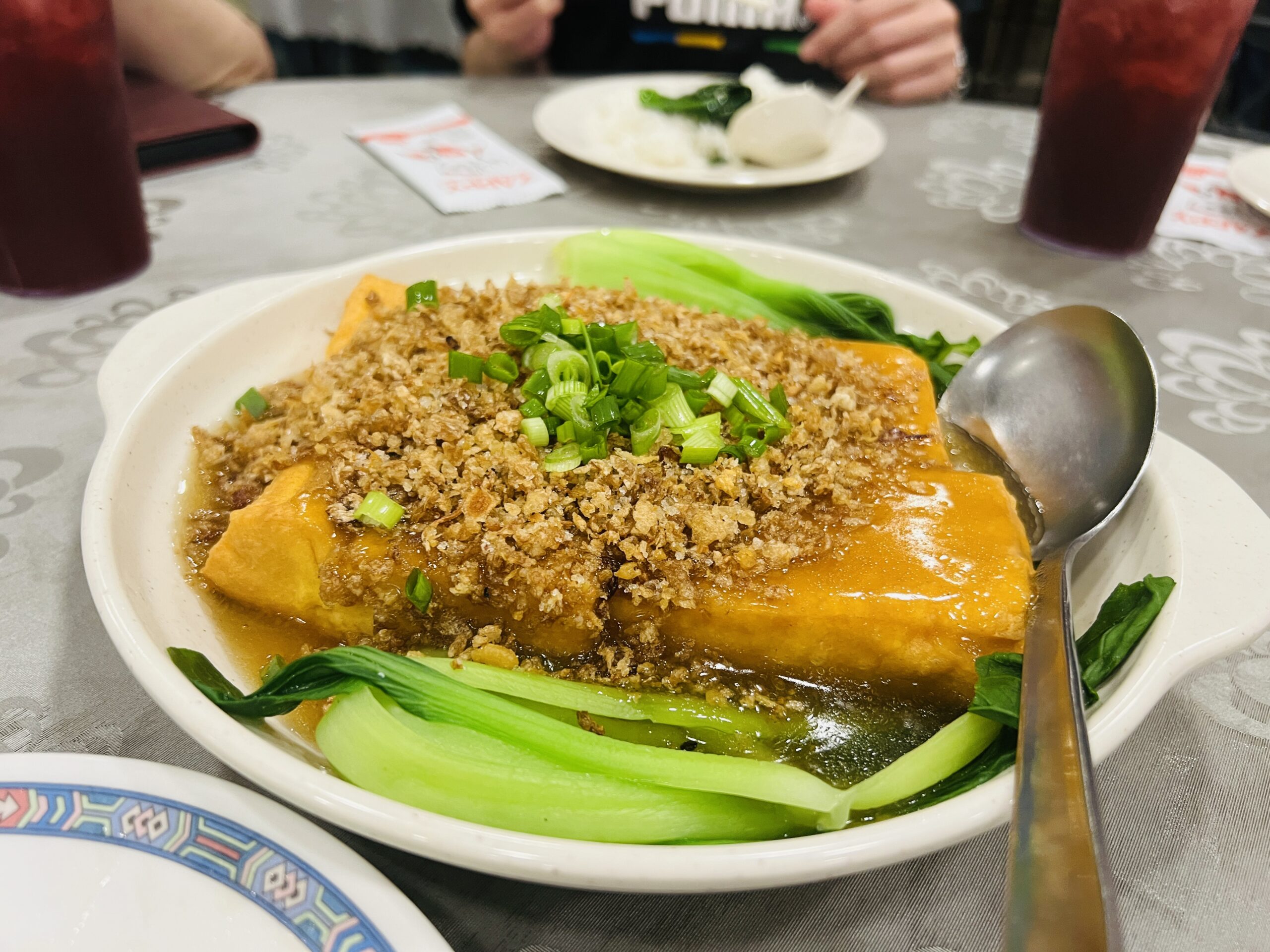 Homemade Tofu with Cai Poh 菜脯冬豆腐 [Small S$15, Large S$24] is a homely dish that reminds one of home-cooked food. The freshly-made tofu is so tender while the cai poh gives it a touch of saltiness.
Sambal Kangkong 马来风光 [Small S$12, Medium S$17, Large S$20] is another one of their signature dishes, but it's spicy.
For those of us who can't eat spicy food, we will stick to good-old Hong Kong Kai Lan (Stir-Fried) 香港芥蓝 (清炒) [Small S$12, Medium S$17, Large S$20].
Fried Beef Hor Fun (Dry) 干炒牛肉河粉 [Small S$9, Large S$16] is another must-try. Replacing the sticky gravy of their wet counterpart is hor fun that ample "wok hei". The beef pieces, enveloped in corn starch, are tender and juicy.
The meal ends on a perfect note with traditional Red Bean Pancake 红豆窝饼 [S$11++] for dessert. It is crispy and not too sweet, what more can one ask for?
Hong Kong Street Restaurant Novena
Address: 273 Thomson Road, Novena Gardens #01-01, Singapore 307644
Telephone: 62523132
Opening Hours: Daily 11am – 2.30pm, 5pm – 10pm