Last Sunday, I finally got a chance to explore Jurassic Mile in Changi with my friends on bicycles followed by lunch at Kota88 Restaurant.
Kota88 Restaurant seems really popular. The restaurant was bustling with families, there were even people on crutches. Is the food so good that even mobility issues can't stop them from coming? Let's check it out.
The Decor
Kota88 is located in a shophouse along East Coast Road. The interior is clean and spacious with retro oriental vibes. On the wall are pictures of old Shanghainese posters and old calendar dates in photo frames.
The highlight of the restaurant is the bar counter. Bottles of liquors neatly line the dark green wall shelf behind the bar counter. Sliding glass panels on the top shelf have the words "吃得满足" which means "eat to you are satisfied".
The Food
Kota88's menu focuses on Chinese cuisine with Indonesian culinary characteristics. This is because Kota88 hails from Glodok, Jarkarta's Chinatown. "Kota" means "city" in Indonesian while 88 signifies prosperity.
These are the items we have tried:
Sate Babi 猪肉沙爹 [S$18.88] is a house speciality of Kota88. You can match and mix 10 sticks of satay. We ordered 5 sticks of Sate Babi Manis 猪甜味沙爹 and Sate Babe Asin 猪咸味沙爹. The sweet version taste similar to the satay we have in Singapore but the salty version has a slightly salty taste which is refreshing.
If satay is not your thing, you will probably want to get Nasi Campur Babi 纯正印尼式猪肉配套 [S$18.88] which is one of Kota88's signature dish. On your choice of chicken rice or jasmine rice, you get a taste of everything – BBQ pork, roast pork, sweet pork satay, braised pig ear, simony, soy egg, fried prawn beancurd roll and a bowl of clear chicken soup.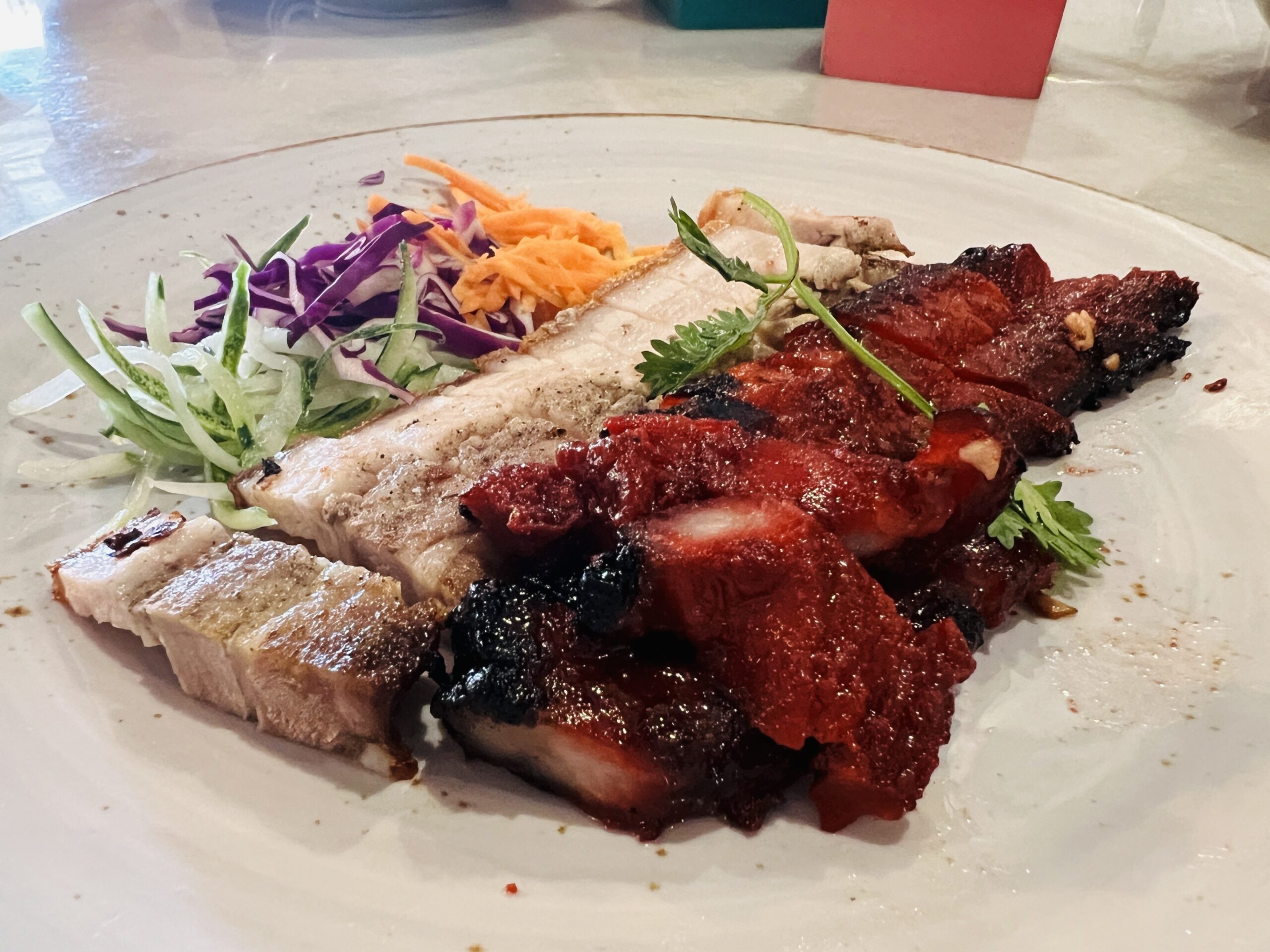 Kombo Cha Sio (100g) & Sio Bak (100g) 叉烧和烧肉 [S$32.88] are alright but I still think Xiang Mei Roasted Meat is better.
For noodles, Mie Keriting / Yamin Babi Komplit Spesial (Pork) [S$12.88]  or Mie Keriting / Yamin Ayam Komplit Spesial (Chicken) [S$12.88] are the signatures. I personally am not too fond of this. It's just Indonesian instant noodles with minced pork, charsiew, roast pork, fried wanton and vegetables, served with soup and wanton. Nothing special, and it's too salty.
Kwetiau Goreng Spesial Kota88 招牌炒河粉 [S$14.88] is a much better option. This special fried kwetiau with beef, chicken, pork, chinese sausage, fish cake and chye sim has lots of wok hey, the charredness that is characteristic of Chinese wok-frying.
If you want something to wow people on Instagram, you should definitely get Misty Mango Ice [S$14.88]. This dessert is served on a plate of dry ice which is pretty cinematic.
The dessert itself is delicious too with mango ice cream, mango cubes, black pearls, mango popping balls covering shaved ice. It is sweet and refreshing, perfect for Singapore's humid weather.
Cendol is a popular dessert in many Southeast Asian countries but Kota88 makes Es Cendol [S$8.88] special by adding jackfruit which is a nice touch.
Drinks-wise, besides the usual beers, liquors, juices and sodas, the cocktails are really good. I had Cucumber Mint Gimlet [S$13.88] which is so refreshing in Singapore's sweltering heat. There are non-alcoholic wines and mocktails too.
Kota88 Restaurant
Address: 907 East Coast Road #01-02, Singapore 459107
Telephone: 62422645
Opening Hours: Monday – Friday 11am – 3pm, 6pm – 10pm; Saturday – Sunday 11am – 10pm
Website: https://www.kota88restaurant.com/