PUTIEN specializes in heartwarming Hokkien dishes from the costal province of Fujian.
I know the flagship PUTIEN restaurant at Kitchener Road was awarded one Michelin star in 2016 – 2019 and 2021 – 2022 but is it worth all the hype?
Let's find out.
The Food
You can see the full PUTIEN menu here.
Seaweed and Mini Shrimps Dressed with Sauce 虾苗头水紫菜 [S$9.80] is one of the signature appetizers here. PUTIEN only uses the first harvest of fully-grown seaweed harvested every year. It is slightly sweet and sourish which helps to whet the appetite.
It's amazing how flavorful the Braised Bamboo Shoot [S$8.80] thanks to braising in slow heat for 8 hours.
I thought Cold Pork Trotter Jelly 家常猪蹄冻 [S$9.80] is a Northeastern Chinese dish, I was surprised to see it in a Fujian restaurant. They did a great job, the pork trotter jelly is bouncy with collagen.
Yellow croaker is a fish species native to Fujian. 100 Second Stewed Yellow Croaker 家乡焖笋干 [S$16] is another signature dish in PUTIEN. Even though the fish was only size of my hand, I was pleasantly surprised by the tenderness of Stewed Yellow Crocket with Tomato番茄黄花鱼 [S$16]. They're also the original and Chinese sauerkraut versions available.
The clear-broth Fujian Seafood Lor Mee 福建海鲜卤面 [Regular S$13.80, Medium S$27.60, Large S$41.20] is a far cry from the black goey lor mee I see in coffeeshops and hawker centres in Singapore. The sweetness from the prawns, dried clams and fresh clams gives the noodles a natural flavor.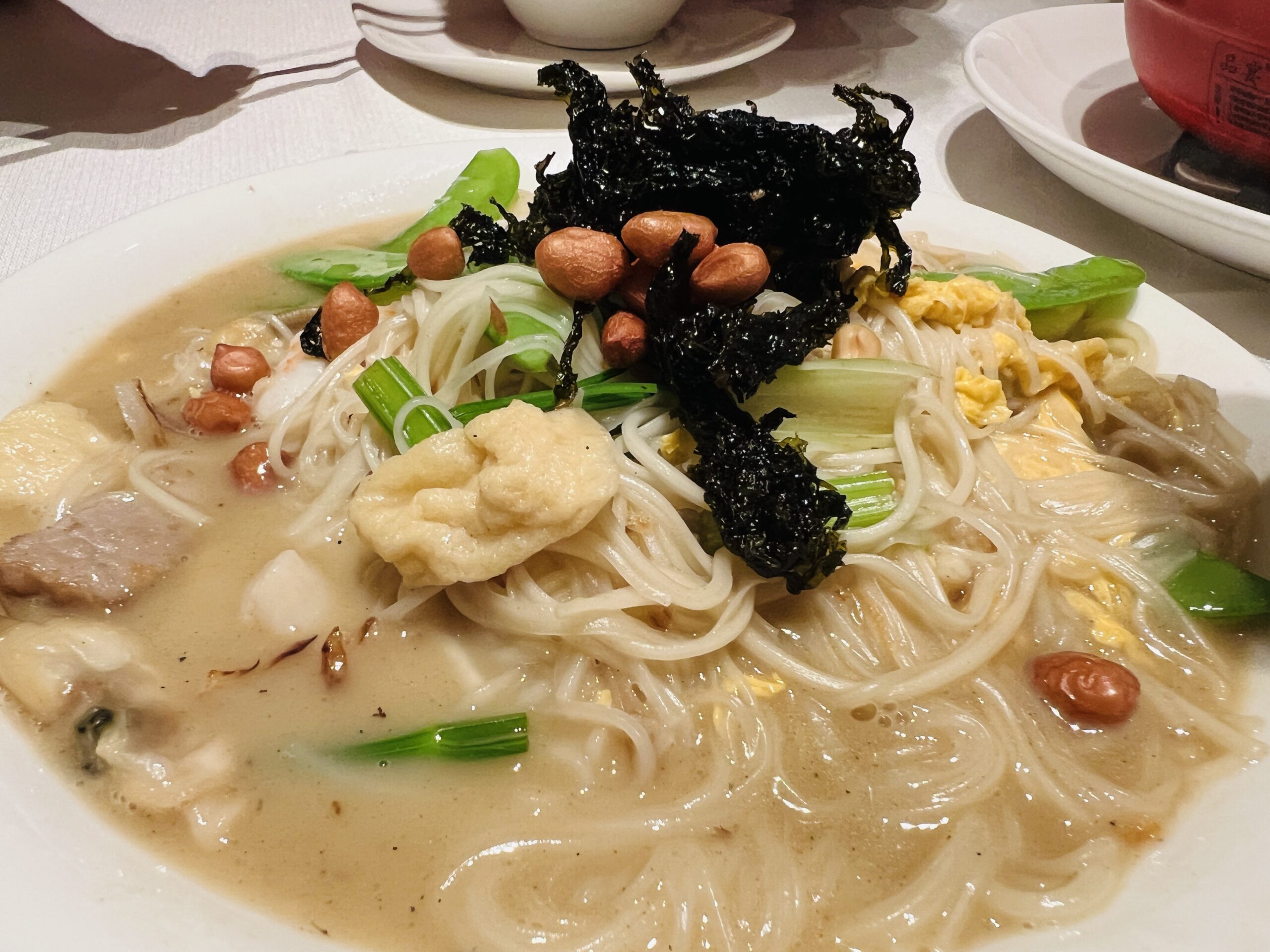 Old people love the longevity symbolism of Mazu Mee Sua 妈祖平安面 [Regular S$12.80, Medium S$25.60, Large S$38.20] so it's perfect for birthday celebrations.
Conclusion
Now I am convinced that PUTIEN is worthy of its one Michelin star. The use of fresh premium produce paired with suitable cooking method produces great-tasting Fujian cuisine.
PUTIEN
You can find the addresses and telephone numbers of all 18 outlets in Singapore and 7 in other countries here.