I have passed by Rabbit Brand Seafood Delicacies many times in Lucky Plaza. I thought "seafood delicacies" meant exorbitant prices so I never ventured in.

Yeow Seng (Seafood) Pte Ltd supplies the abalone, shark's fin and sea cucumber used in the dishes at Rabbit Brand Seafood Delicacies. 

The interior is very old-school with plastic tables and chairs which has a certain nostalgic charm to them. 
Upon looking through the menu, I realized that the prices are really quite affordable. Coupled with positive reviews from a colleague who used to eat there often, I decided to give it a try.

There are altogether 26 sets to choose from. You can literally try a different set for almost a month without repeating.
Among all the sets I have tried, I find that Set A Buddha Jump Over The Wall + Bean Sprout + Rice + Chinese Tea [S$10.15] is one of the most value-for-money set.

Buddha Jumps Over The Wall, otherwise known as Buddha's Temptation, is a variation of shark's fin soup. This dish has been a Chinese delicacy known for its rich taste since its creation in Qing dynasty.

Of course, you can't expect the full version for just S$10.15, but this simplified version has chicken pieces, shiitake mushrooms, white fungus and a small abalone. The white fungus and chicken are extremely soft from many hours of boiling. 
Set F Steamed Rice + Abalone + Scallop + Chinese Tea (Hong Kong style) [S$5.90] is another good set to get. There are chicken patty, Chinese sausage, shiitake mushrooms and a small abalone on top of steamed rice drizzled with dark soy sauce. It reminds me of steamed rice I had in Hong Kong cha chaan teng. 
Set L Shark's Fin + Top Shell in Clear Soup + Rice + Chinese Tea [S$5.90] sounds rich, but it is just a few slices of conch, shiitake mushrooms and vegetables with just a speck of shark's fin. 
Set O Australia Abalone Noodle + Sliced King Top Shell + Chinese Tea [S$5.90] is really the worst set ever. It is simply half-cooked instant noodles in a pool of abalone soup, with two slices of conch and shiitake mushroom. It is bland and tasteless, the accompanying dish of homemade XO scallop sauce barely made it edible. Totally not worth the price. 
Set S2 Braised Shark's Fin with Fried Rice, Fish Roe and Bean Sprout [S$8.05] is another set worth getting. The fried rice is soft and fragrant while the shark's fin and fish roe adds a touch of richness.

Set W Norway Salmon Fish with Japanese Stock (served with rice) [S$6.95) is one of the most popular set. The serving of salmon is pretty generous, cooked in a light-flavored broth. This is pretty value-for-money given how expensive salmon is nowadays.

Rabbit Brand Seafood Delicacies also offers quite a few tasty side dishes to compliment your meal.

I can tell that the Shishamo [S$2.25]  are freshly-fried upon order by how crispy they are. 
You will never find Home Made Spinach Beancurd [S$2.25]  anywhere else. The tofu is crispy on the outside and silky soft on the inside, the spinach on top makes it even more special.
There is nothing to rave about the Seafood Gyoza [S$2.80]. 4 pieces for $2.80, that's 70 cents per piece, quite expensive.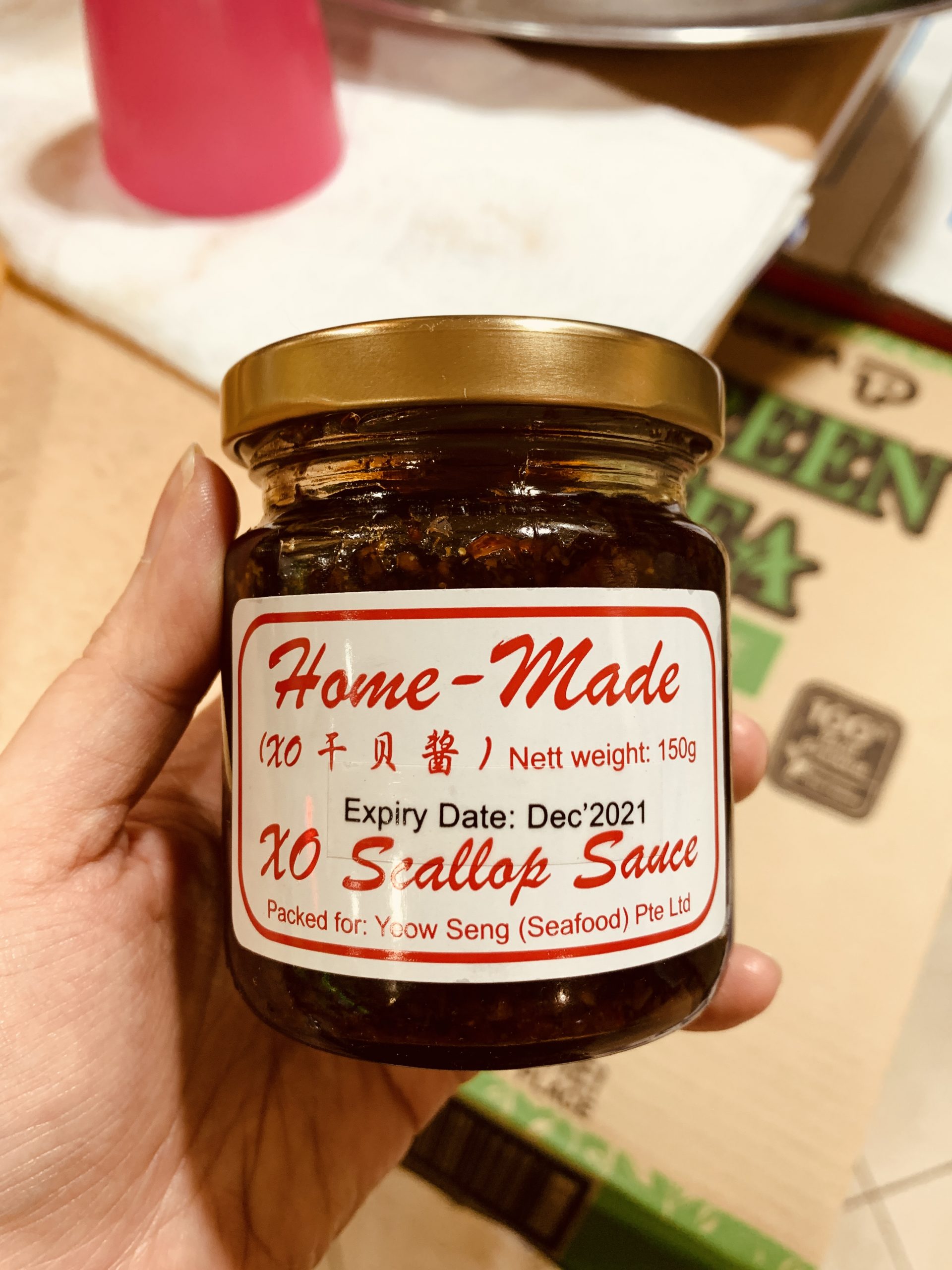 You may have noticed a small saucer of brownish sauce in every set. That is their Home-Made XO Scallop Sauce, available in bottles. It makes everything taste so much better. 
Rabbit Brand Seafood Delicacies 
Address: 304 Orchard Road, Lucky Plaza #02-116, Singapore 238863
Telephone: 67379722
Opening Hours: Monday – Saturday 11am – 9pm (closed on Sundays) 
Website: http://www.rabbitbrand.com/eshop