One day, my colleague saw me having Tai Cheong Egg Tart during lunch. We started talking about our favorite egg tarts and she insisted that Tong Hong's egg tarts are the best. I was intrigued, so I decided to try Tong Heng's egg tarts for myself.
Tong Heng is one of Singapore's oldest surviving traditional Chinese bakeries. Tong Heng started operations in the 1935 which means it has been in operation for 85 years. 
Even though there is now another outlet at Jurong Point, I still prefer going to its flagship store in Chinatown. It is located diagonally opposite Sri Mariamman Temple, around 10-minute walk from Chinatown MRT station. 
Tong Heng sells many traditional Chinese pastries and biscuits. Here are a few of their most popular items. 
While most egg tarts come in round-shape, Tong Heng's Egg Tart 蛋挞 [S$2] are diamond-shaped. The egg tarts are freshly-baked every morning and they are still warm if you get them first thing in the morning. The egg custard is velvety-smooth but it lacks the buttery richness that I love in Tai Cheong Bakery's egg tarts.

Green Bean Pastry 豆蓉酥饼 [S$2] is commonly known as tau sar piah in Singapore. There are both salty and sweet versions, I prefer the salty version.

Wife Pastry 老婆饼 [S$2] is a classic traditional pastry. The filling is a mixture of winter melon, almond paste, sesame and five spice powder. I find the flaky pastry crust too floury and the filling rather bland.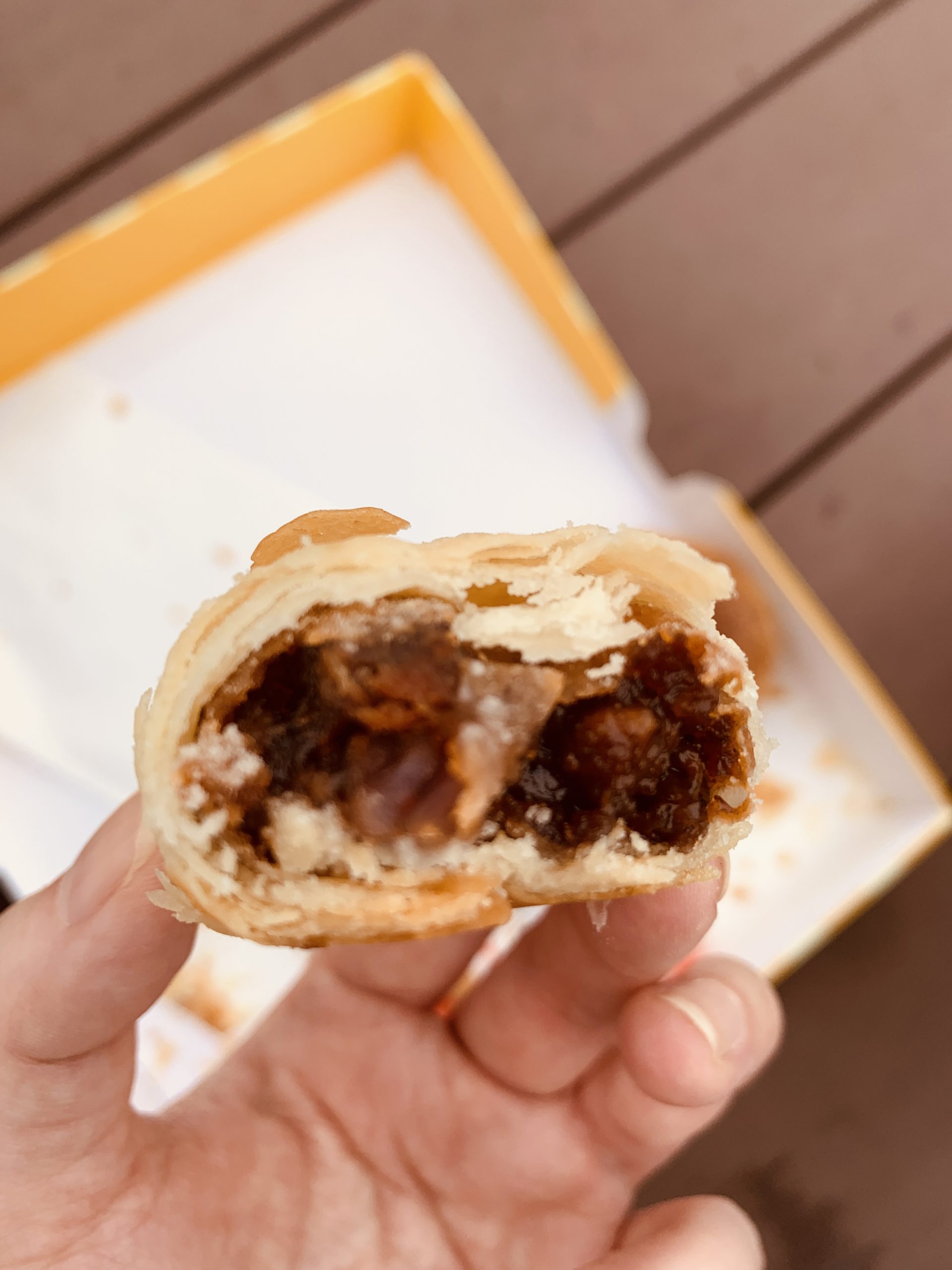 BBQ Pork Crisp 叉烧酥 [S$2.20] is another traditional Cantonese pastry. The Chinese-style barbecue pork that makes up the filling is sweet and moist. 
Cake with Sesame Paste 中式芝麻蛋糕 [S$2.20] is one of Tong Heng's new creations. It is a fusion pastry where Western sponge cake is paired with different Chinese fillings such as sesame, red bean paste and lotus paste.

I personally don't think it's a successful fusion. Both the sponge cake and sesame filling are too dry.
Besides pastries, Tong Heng also serves Cantonese desserts and drinks. I am really looking forward to trying their Sesame Soup and Steamed Egg Pudding. 
Tong Heng Delicacies (Chinatown)
Address: 285 South Bridge Road, Singapore 058833
Telephone: 62233649 / 62230398
Opening Hours: Sunday – Thursday 9am – 7pm, Friday – Saturday 9am – 8pm
Tong Heng (Jurong Point) 
Address: 1 Jurong West Central 2, Jurong Point #B1-10, Singapore 648886
Opening Hours: Daily 9am – 6pm
Telephone: 67946292
Website: https://tongheng.com.sg