I have dined at iO Italian Osteria back in 2019 and till this day it remains one of my favourite Italian restaurant. I had every intention of returning but I never got the chance until my boss brought my colleagues and I here for lunch the other day.
My boss apparently is quite the regular at this restaurant and he definitely knows what to order.
Authentic Italian Street Food
Hand Cut Potatoes, Rock Salt, Rosemary [S$9] is otherwise known as potato wedges. I love that the wedges are perfectly brown with subtle fragrance from the rosemary.
When the boss wanted to order pork belly, I thought it will be too fatty, but the boss assured us that it is not oily at all. Porchetta, Baked Pork Belly, Wild Fennel [Small S$9, Large S$18] turned out to be the highlight of the meal for me. The pork belly is rolled into log-shape with wild fennel. The wild fennel neutralizes the fattiness of the pork belly and the crackling skin adds a crunchy dimension to this interesting Italian street food.
Main Courses
Beer Braised Beef, Mashed Potatoes [S$24] is perfect. The braised beef is fork-tender while the mashed potato is creamy and smooth.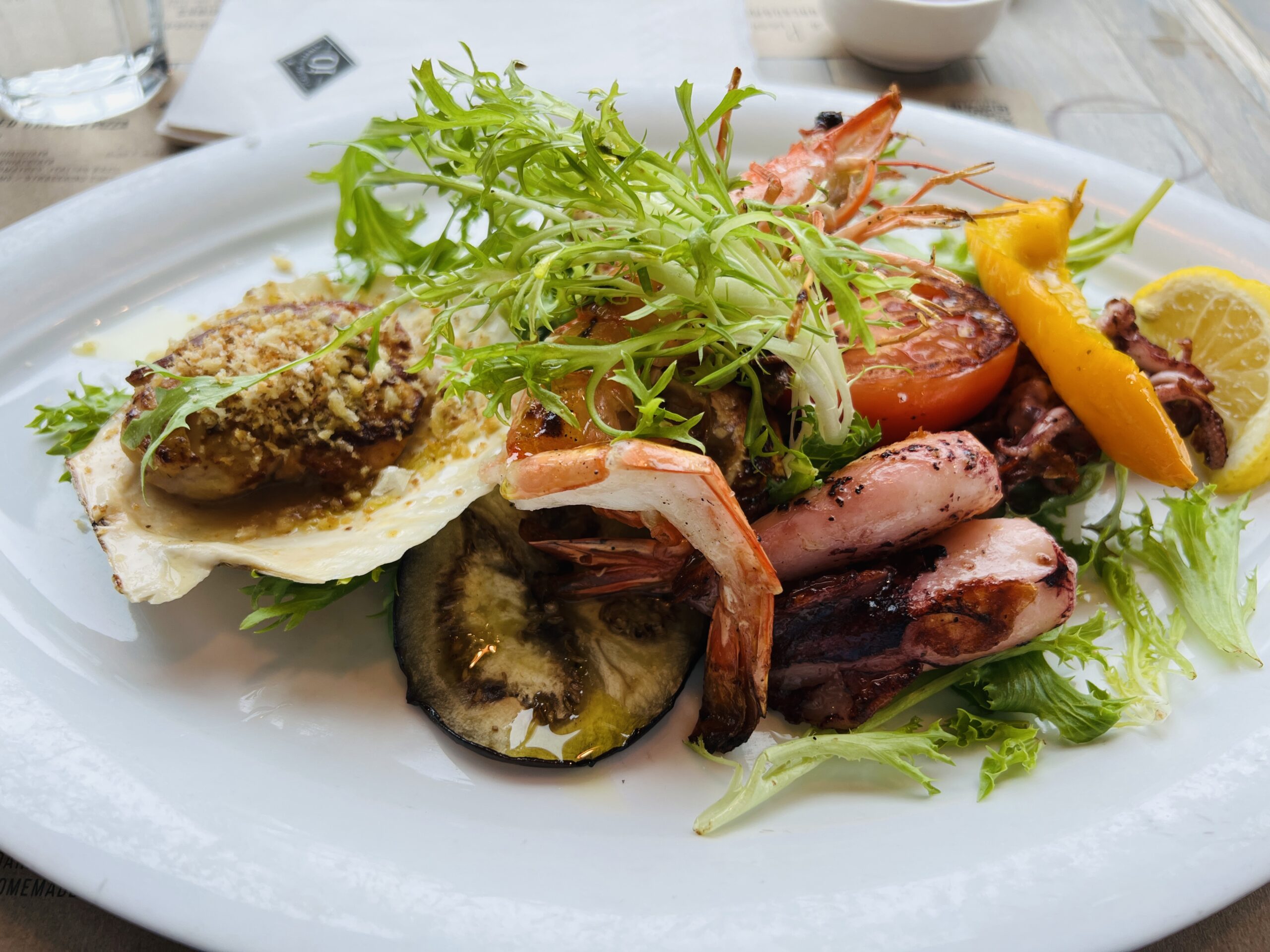 Mixed Grilled Fish and Seafood Platter [Medium S$26, Large S$50] is such a plateful of ocean delights. You get a huge prawn, grilled squid and a whole piece of grilled fish. The best part is the scallop which is really melt-in-the-mouth. There are also grilled eggplant and tomato to balance out and make the meal more healthy.
Desserts
If you love to drink milk, Panna Cotta [S$10] is the perfect dessert for you. This traditional Italian cream dessert is thick and creamy, with your choice of chocolate or strawberry jam. This is a no-fail dessert at any reputable Italian restaurant.
I had their Pistachio Tiramisu [S$14] the last time I was here and it is every bit as I remembered. The ground pistachio topping the tiramisu gives the dessert a slightly nuttiness.
Dark Chocolate Lava Cake, Espresso Ice Cream [S$16] is not as sweet and denser than the usual chocolate lava cake. The smooth and creamy espresso ice-cream compliments the lava cake very well.
Nothing beats a scoop of Homemade Italian Gelato [S$5 per scoop]. It's smooth and creamy and there are various favours to choose from. The waffle, whipped cream and chocolate drizzle makes it even more sinful, in a good way.
iO Italian Osteria
Address: 4 Hillview Rise, HillV2 #)2-01, Singapore 667979
Telephone: 67107150
Opening Hours: Monday – Friday 11.30am – 10pm, Saturday – Sunday 10am – 10am
Website: https://io-osteria.com/